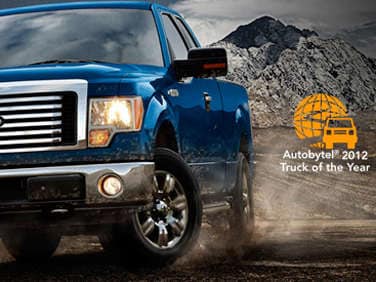 The arguments have been presented, all opinions have been accounted for and the wait is finally over: the writers and editors at Autobyel.com are pleased to announce that the 2012 Ford F-150 EcoBoost has been chosen as our 2012 Truck of the Year. Ford's decision to gamble on the fact that its loyal F-150 buyers would be willing to accept a twin-turbocharged V-6 engine as the most powerful drivetrain available outside of the Blue Oval's special models was a calculated one – but not without risk. We at Autobytel are happy to reward the decision to infuse a class-leading pickup with next-generation engine technology with our 2012 Truck of the Year trophy.
Next Generation Turbo Power
Although turbodiesel engines have been around in heavy duty trucks for years, the 2012 Ford F-150 EcoBoost is the first pickup to offer a turbocharged V-6 in a regular duty application. The EcoBoost drivetrain, which consists of a twin-turbo 3.5-liter V-6 that pushes out 365 horsepower and 420 lb-ft of torque, impresses not only with its seemingly effortless power delivery at all engine speeds but also through its solid fuel economy rating. The F-150 EcoBoost delivers 16-mpg in city driving and 22-mpg on the highway (18-mpg combined), edging out the pickup's less robust 360-horse 5.0-liter V-8 in both respective measures and coming within one-mpg of the much weaker 302 horsepower V-6 found in the base model truck. A six-speed automatic transmission is matched with the EcoBoost engine, and the F-150 can also be equipped with optional four-wheel drive.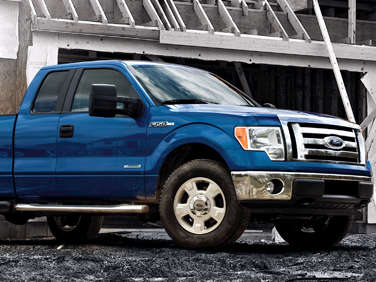 Strong All-Around Utility
Ford's full-size pickup has been the best-selling vehicle in North America for decades, and after spending some time with our 2012 Truck of the Year it is easy to see why. The 2012 Ford F-150 EcoBoost is available in a full range of body styles – Regular, SuperCab and SuperCrew – with the latter two offering an extended passenger compartment and a second set of rear doors. The F-150 also comes with either a 5.5-foot, 6.5-foot or 8-foot cargo bed, and the EcoBoost model can tow up to a startling 11,300 lbs – a number that eclipses that of the truck's base V-8 by over 1,000 lbs.
In addition to these various configurations, the EcoBoost engine is offered on seven of the 10 different F-150 trim levels ranging from the base F-150 XL up to the luxurious F-150 Platinum. Prices for this optional engine vary based on the application ranging from $895 on FX2, Lariat, FX4, King Ranch and Platinum models up to $2,200 for the F-150 XL and XLT.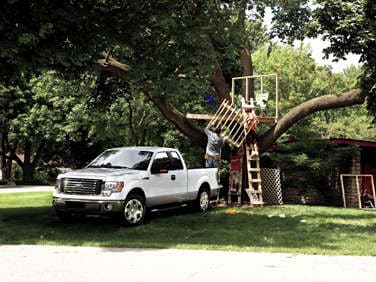 Endless Configurations
We've already mentioned that our Truck of the Year 2012 winner can be had in any of three different body styles and a corresponding number bed lengths. The 2012 Ford F-150 EcoBoost can also be ordered in a bewildering array of trim levels, allowing buyers to customize their vehicle to create anything from a barebones work truck to a loaded rolling office with all of the creature comforts and luxuries one has come to expect from a modern full-size pickup. Whether you are looking for an easy-to-hose-out vinyl floor and seat combination or a plush leather-wrapped passenger compartment dripping with conveniences, the F-150 EcoBoost has you covered.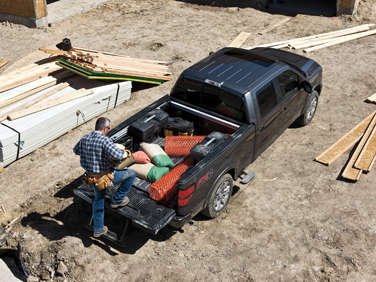 All Things To All People
Our 2012 Truck of the Year is a workhorse, but it's also a comfortable four-door people-mover. It's a no-hassle tow platform, but it's also a rugged off-road warrior that can haul a serious load in its cargo bed. The 2012 Ford F-150 EcoBoost tries very hard to be all things to all people, and like most full-size trucks it is largely successful at playing jack of all trades. However, the decision to make the pickup's twin-turbo EcoBoost V-6 second only to the range-topping 6.2-liter V-8 in terms of horsepower and torque – while maintaining excellent fuel economy – is a bold one that indicates Ford is willing to move past the accepted wisdom that eight-cylinder trucks must dominate the full-size segment. For having the strength to go against the current – and the engineering skills to pull off flawless, twin-turbo execution – we're proud to honor the 2012 Ford F-150 EcoBoost with the Autobytel 2012 Truck of the Year title.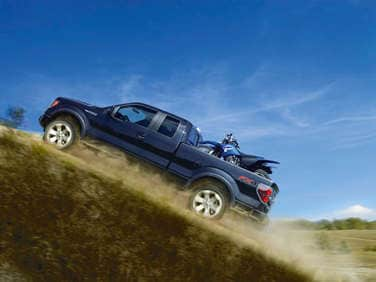 Autobytel Wants to Hear from You
The editorial staff of Autobytel has chosen the 2012 Ford F-150 Ecoboost as the best of what we have seen for 2012, and while there are many others that probably deserve some kudos as well, we'd love to hear which you would choose for yourself.
See the Autobytel 2012 Car of the Year and the Autobytel 2012 Truck of the Year.
See More of Autobytel's Picks for the Year:
 Autobytel 2012 Compact Car of the Year
 Autobytel 2012 Convertible of the Year
 Autobytel 2012 Sedan of the Year
 Autobytel 2012 Luxury Car of the Year
 Autobytel 2012 SUV of the Year
 Autobytel 2012 Luxury SUV of the Year
 Autobytel 2012 Crossover of the Year
 Autobytel 2012 Sports Car of the Year
 Autobytel 2012 Alternative Fuel Car of the Year
 Autobytel 2012 Pickup Truck of the Year
 Autobytel 2012 Van/Minivan of the Year
 Autobytel 2012 Wagon of the Year