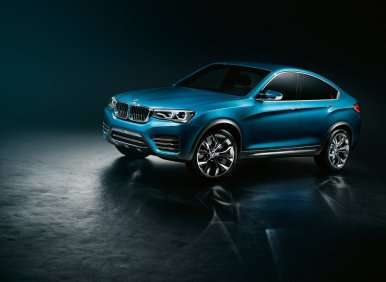 It looks like the uniquely styled BMW X6 is about to become a little less unique: When it debuts at the upcoming Auto Shanghai 2013 event in China on April 20, the BMW X4 Concept will show off the same sort of tall-car design, engaging dynamics and enhanced versatility as its bigger brother, but in a package that's about 10 inches shorter in length than the X6, with proportionately smaller dimensions throughout.
As a result, the BMW X4 Concept—which is slated to go into production next year—is just a bit longer than a traditional compact sedan, at 183 inches, while the X6, for comparison's sake, is a smidge larger than a mainstream midsizer, coming in at 192 inches.
The Bavarians haven't released much else in terms of cold hard facts about the vehicle, but the party line here is: "The new Sports Activity Coupe concept from BMW is poised to continue the success story of the BMW X6 in a new vehicle class. Eye-catching proportions, tight contours and numerous high-quality details produce an unrivalled product character brimming with emotional appeal, dynamism and the sturdiness you would expect from a BMW SAV, while at the same time holding out the promise of out-standing performance and driving dynamics."
The BMW X4 Concept also will help grow the brand's U.S. manufacturing presence, since it will be built at its facility in Spartanburg, S.C., which is home to the rest of the BMW X range as well.