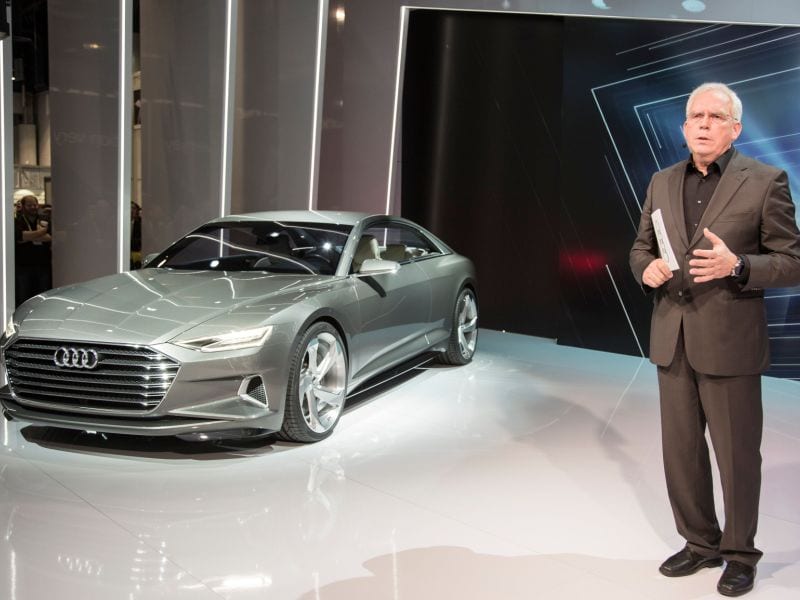 For an automaker that caters to driving enthusiasts, Audi sure is putting a lot of effort into its driverless cars. Just consider its new "piloted driving concept"—a pilot-free Audi A7 Sportback—that recently arrived at the 2015 International CES consumer electronics show. That car actually joined three other Audi vehicles at the event, but unlike that trio, the piloted driving concept arrived there under its own power, after first traveling some 560 miles from its starting point in Silicon Valley, Calif.
Now, to be clear, the car didn't make that road trip in one big chunk. But according to the brand, it did carry some lucky journalists in 100-mile driving legs "in various traffic situations on public highways." (Also along for the ride was an Audi test driver, who sat in the front passenger seat of the driverless A7 Sportback.)
To help accomplish that impressive feat, the vehicle relies on a mix of "production-ready" and actual production technologies, which provide a 360-degree radar setup with long- and mid-range sensors, along with front- and rear-facing laser scanners; also in the mix is a high-res, wide-angle 3D camera, complemented by four smaller cameras, two at the front and two at the rear. With all that tech working in concert, this Audi can provide a highway autopilot for with a speed range of 0-70 mph, with the ability to change lanes, pass other vehicles and adjust its speed to match traffic patterns.
The setup naturally provides strong audible and visual warnings when a human driver does need to take over, for urban driving, for example.
It's not clear yet when—or if—this kind of functionality will be coming to Audi production vehicles anytime soon, but the brand points out that that advance 360-degree radar system will launch along with the 2016 Audi Q7, while the enhanced sensor system already "meets financial targets for inclusion in future products."
Four-rings fans also should remember that the current 2015 Audi A7 Sportback is at dealerships now, while the brand-new 2016 Audi Q7 will be introduced at the upcoming North American International Auto Show in Detroit.