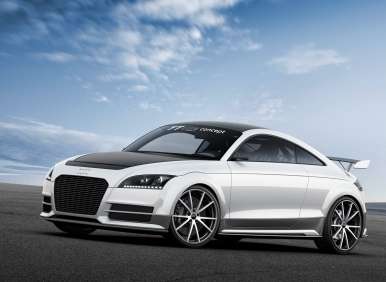 Every year in Austria, many Volkswagen enthusiasts gather and show off their modified vehicles at the Wörthersee Tour. Volkswagen has been showing up to the tour for the past few years, bringing along some modified vehicles to whet the appetite of the participants. This year, the star attraction for Volkswagen is from Audi and it's a lightweight TT concept.
The Audi TT Ultra quattro concept is light when compared to a normal TT. How light you ask? About 660 pounds. This is due to engineers modifying the body structure by adding a carbon fiber rear end, transmission tunnel, B-pillars, and body panels. Plus there is magnesium floor and door hinge components. Inside, the TT Ultra Quattro concept features plenty of carbon fiber trim and seats from the R8 GT.
Power comes from a modified 2.0L turbo-four engine producing 305 horsepower and 295 pound-feet of torque. Mated to a six-speed manual and Audi's quattro AWD system, the Audi TT Ultra quattro concept can hit 60 MPH in 4.2 seconds and reach a top speed of 173 MPH.