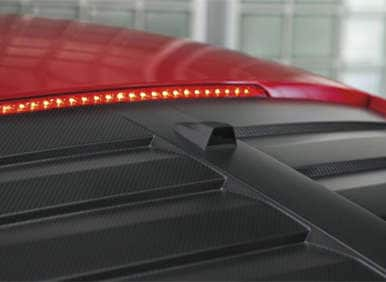 Aside from automatic dimming features and built-in compasses, little has changed with the rearview mirror of a car since... well, forever. Audi is on the verge of changing all that when it the all-electric Audi R8 e-tron goes into production later this year. The lack of a rear window in this zero-emission sports car gave Audi an opportunity to bring some automotive technology from the racetrack to the showroom. Audi's digital rearview mirror technology was present on its Audi R18 racecars at the Le Mans 24 Hours back in June, and now it will be assisting drivers in their Audi R8 e-tron street car.
Since electrical drive components are far less sexy than a powerful aluminum engine shrouded with carbon fiber, Audi replaced the R8's rear glass window showing off either a V-8 or V-10 engine with an opaque, louvered panel in the R8 e-tron eliminating all rearward visibility. To combat this problem, the Audi R8 e-tron will have a small camera transmitting its image to a digital rearview mirror inside the car. More than just a back-up camera, this system has to be operational at speed, too, so drivers can see behind them while driving. Audi came up with an intelligent camera and monitor system that not only gives a clear view out the rear of the car, but it was also designed to operate in all conditions to avoid creating a safety issue.
From the outside of the Audi R8 e-tron, a tiny camera is positioned near the roof of the car, and it is heated so it can still be used in cold-weather driving. Without a rear window to look through, drivers can see what's happening at the rear of the car on the thin, 7.7-inch display that sits where regular rearview mirror does in any car. The display that drivers will use while operating the Audi R8 e-tron uses a Samsung-developed Active Matrix Organic Light Emitting Diode (AMOLED) display screen which is the same technology already in use in cell phones and other consumer electronics. Audi says that the screen display can change in "a few milliseconds" regardless of outside temperatures; some electronic displays are notorious for slow operation in cold weather. This system is said to give the driver a larger field of vision than a conventional rearview mirror, but, more importantly, this digital rearview mirror matches the sporty, environmentally friendly purpose of the Audi R8 e-tron by being lighter and more energy-efficient than a standard LCD screen.
The Audi R8 e-tron will only be available in limited production, but we expect this unique technology to make its way to other models in the future. Speaking of this technology in regards to the future, Audi also says that it is looking into incorporating more information into the display down the road.