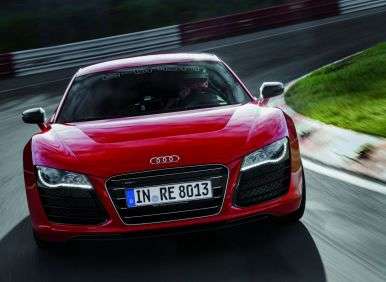 It's not for nothing that the Audi brand's credo is "Vorsprung durch Technik"—"Progress through Technology." Not only is the automaker promising to deliver the Audi R8 e-tron to dealers by the end of the year, but now it has announced that the all-electric sports car will showcase a digital rearview mirror that relies on the same technology found in the Audi R18 e-tron quattro, which earlier this year became the first hybrid racer to win the 24 Hours of Le Mans endurance classic.
It's a necessity for the R8 e-tron, since the production car lacks a rear window; it's another characteristic borrowed from the hybrid racecar. And there's an opportunity for Audi; it gets bragging rights for bringing this technology to the marketplace for the first time. (With some help from its development partner, Samsung.)
The two companies have come up with a high-tech solution that starts with a (very) small camera, featuring a lens just a few millimeters in diameter. Images from the camera are  sent to a 7.7-inch color monitor that's positioned in the same place as a traditional rearview mirror to provide an intuitive experience for the driver. He or she will be able to fine-tune the display, too, and the unit will be able to automatically cope with varying light conditions and potential headlamp glare from other vehicles. A breakthrough here is the use of AMOLED (Active Matrix Organic Light Emitting Diode) technology in an automotive setting. Until now, AMOLED systems—requiring no backlighting—have been used primarily in smartphones and similar digital devices.
As for that camera, Audi has it protected from the elements in its own heated housing, which has been aerodynamically and unobtrusively blended into the R8 e-tron's striking exterior.
Audi engineers certainly have something else up their sleeves as well: The brand claims they are "working on incorporating additional information on the monitor in the future."
That means also coming in the future will be further details about the Audi R8 e-tron and its digital rearview mirror.