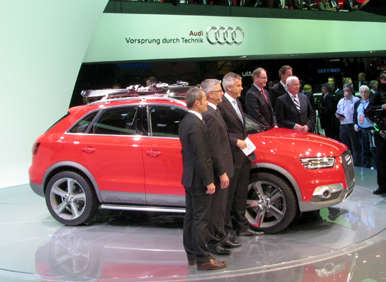 Coming off a year in which Audi set an all-time U.S. sales record, the company showcased a number of new and new-for-this-country 2013 vehicles at the 2012 North American International Auto Show in Detroit, including the refreshed Audi A5, S5 and, for the first time, the 450-hp RS5; an Audi A8 powered by a 3.0-liter turbocharged V6 engine; the A4 and S4, also spruced up for the next model year; the Audi A4 Allroad, making a return to this country after the failure of the A4 Avant; and the Audi Q3 Vail Edition, a specially kitted-out version of an Audi small crossover that celebrates that vehicle's entry into the U.S. market as a 2014 model.
The Q3 Vail Edition and S4 got the lights-and music-treatment in Detroit, with the former gathering an impressively large crowd that no doubt reflects plenty of built-up anticipation for the Q3 itself. At about 173 inches long, the Q3 is breaking new ground in this country as a compact luxury crossover that brands like BMW and Mercedes can't match—yet, anyway. The Vail show vehicle reflects a "winter sports" theme, with rugged-style design cues like flared wheel arches, running boards and aluminum roof rails; providing the motivation is a 314-hp turbocharged I5, which sends those horses through a seven-speed S-tronic transmission to the expected quattro permanent all-wheel drive system.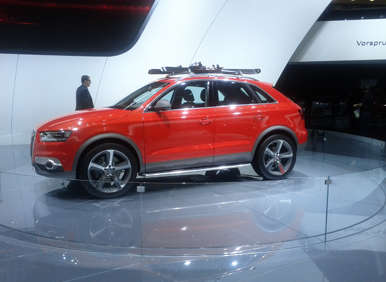 The S4—the up-level performance variant of the A4—gets a more athletic fine-tuning to the latter's new exterior appearance; the look is highlighted by a revised version of Audi's traditional single-frame grille, which tapers backward toward a redesigned hood and flanks accented by a stronger use of horizontal lines. An upgraded interior, with a new layout that adds sophisticated high-gloss and chrome accents, debuts on the A4 as well for 2013, as does Audi connect—and industry's first factory-installed WiFi-based infotainment system.
Finally, Audi also confirmed it would expand the use of its clean-diesel powerplants to more vehicles, bringing diesel variants of the A6, A8 and Q5 to America by the end of 2013.