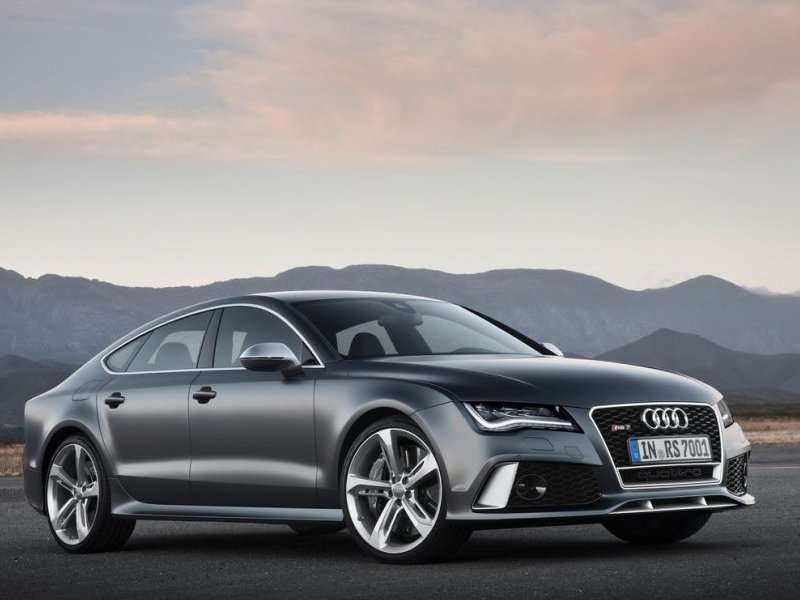 Audi RS7 3/4 in gray ・ Photo by Audi
The battle royale of luxury four-door coupes is now fully underway with Audi announcing pricing for the hottest A7 you can buy, the 2014 RS 7. The fastest RS model ever sold in North America will begin at $105,795. That price includes an $895 destination charge. To put that price into perspective, the RS 7 is about $8,130 less than its nearest competitor, the BMW M6 Gran Coupe.
For that price, you get a 4.0L TFSI twin-turbo V8 pumping out 560 horsepower and 553 pound-feet of torque. An eight-speed automatic routes the power to all four-wheels via Audi's quattro AWD system. The performance numbers are staggering: 60 MPH can be reached in 3.9 seconds and if you keep your foot on it, you can see a top speed of 174 MPH. Other performance tweaks include larger brakes and a new exhaust system.
Other tweaks to the RS 7 include new side skirts and unique bumpers, an active rear spoiler, leather interior with honeycomb quilting for the seats, and an Alcantara headliner.
The 2014 RS 7 arrives at dealers later this fall.