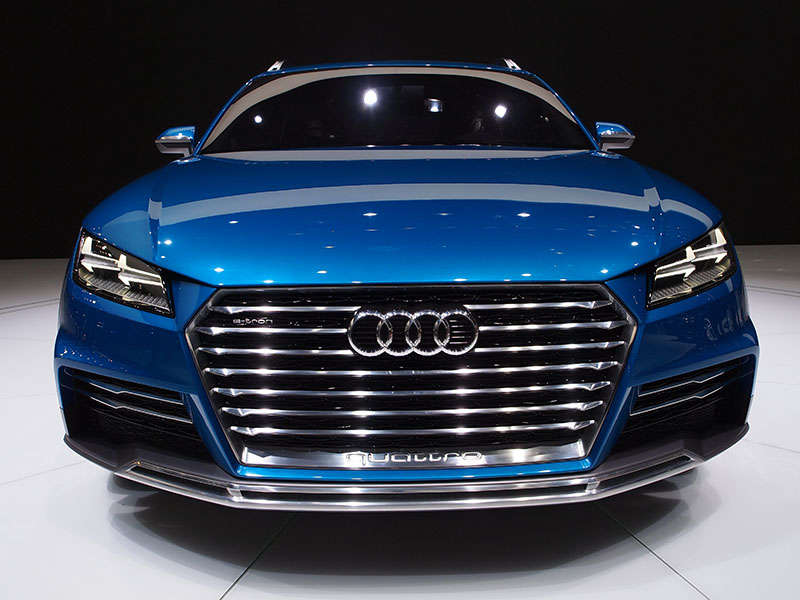 While the Audi Allroad Shooting Brake's design elements and packaging could point toward a next-generation TT sports car lineup, or a new Q1 crossover that might slot beneath the 2015 Audi Q3 that the automaker also debuted at the 2014 North American International Auto Show in Detroit, what really matters here is the application of the company's e-Tron plug-in hybrid technology in a first-ever Quattro all-wheel-drive format.
Well, that, and a refined Multi-Media Interface (MMI) system that is designed to make the technology work more like a smartphone menu and less like a Rubik's Cube.
What's New for the Audi Allroad Shooting Brake Concept:
E-Tron Quattro drivetrain
Redesigned Audi MMI technology
New configurable instrumentation
Innovative climate controls
Aluminum and CFRP body construction
Previews an unconfirmed production model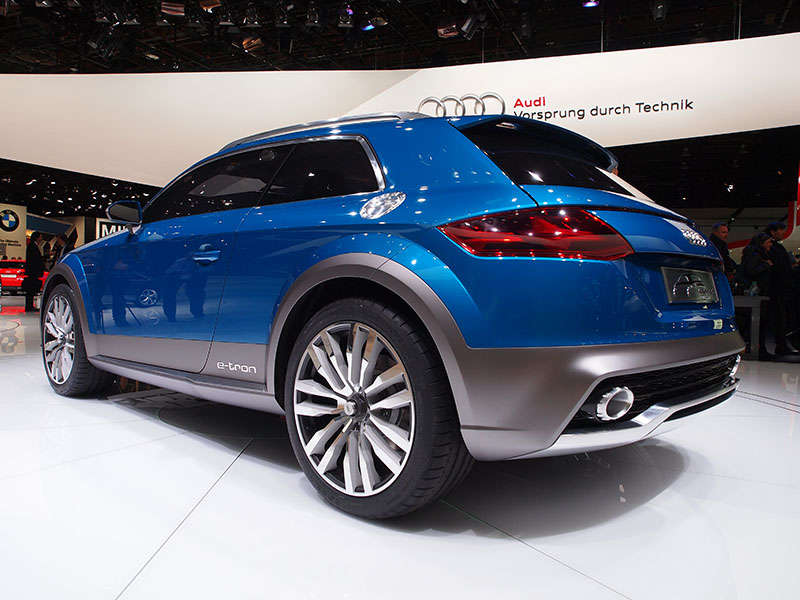 Audi Allroad Shooting Brake Concept: Styling and Design
Looking larger than it really is in the accompanying photos, the Allroad Shooting Brake is adorned with typical off-roading cues such as a higher ride height, large 19-inch aluminum wheels, flared fenders, and plenty of gray cladding along the bottoms of the bumpers and body. The concept is constructed of aluminum and carbon fiber reinforced polymer (CFRP), and is painted a lovely shade of Ice Blue.
Designed to carry four people, the Allroad Shooting Brake's driver-oriented interior features sport-bolstered front seats, leather and aluminum trim, and an Alcantara headliner. The rear seats fold down to create a level cargo floor, but Audi doesn't divulge just how much space is available.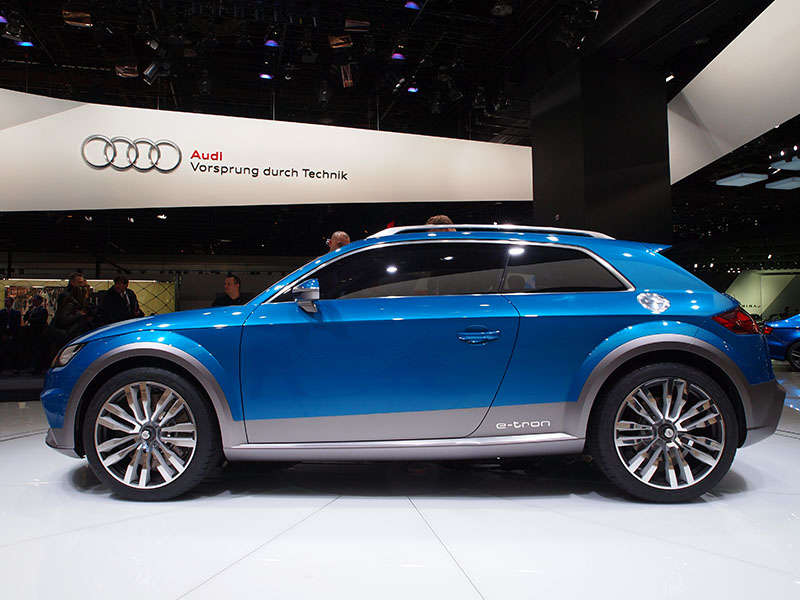 Audi Allroad Shooting Brake Concept: What's Under the Hood
The most significant thing about the Audi Allroad Shooting Brake Concept is its gas-electric plug-in hybrid drivetrain. Futuristically dubbed e-Tron, it combines Audi's familiar turbocharged 2.0-liter 4-cylinder engine with a 6-speed e-S-tronic dual-clutch transmission, two electric assist motors, and a rechargeable lithium-ion battery to generate a combined 408 horsepower and 479 lb.-ft. of torque. For the first time, Audi has devised a Quattro version of its e-Tron technology by adding a second electric assist motor for the rear wheels, effectively making the Allroad Shooting Brake Concept an all-wheel-drive vehicle.
An Audi Drive Select Management system provides EV, Hybrid, and Sport driving modes. When placed in EV mode, the car is designed to travel as far as 31 miles purely on electricity, and at speeds up to 80 mph, according to Audi. Choose Hybrid mode, and the Allroad Shooting Brake Concept delivers an estimated 510 miles of total driving range, Switch over to Sport mode to enjoy maximum horsepower and torque, acceleration to 60 mph in 4.5 seconds, and a top speed of 155 mph.
Additionally, the Allroad Shooting Brake Concept features a regenerative braking system that de-couples from the drivetrain when the car is coasting is order to extend driving range.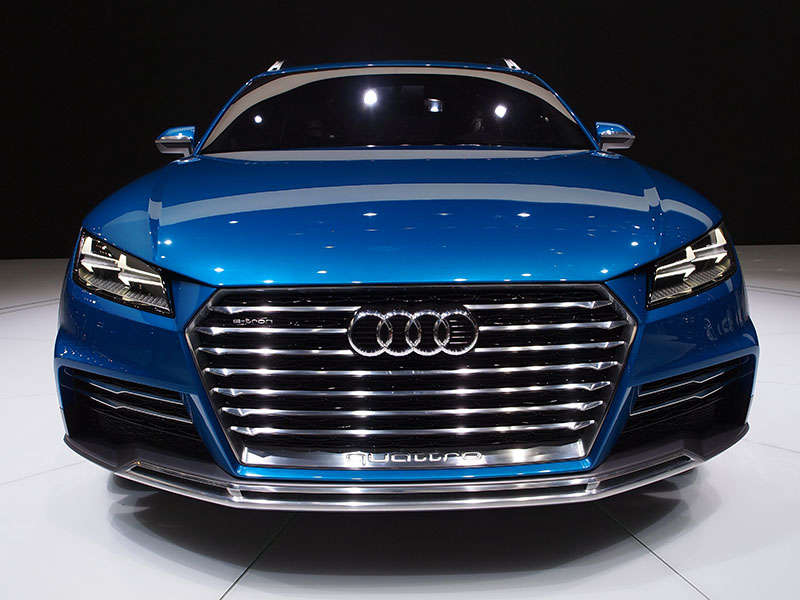 Audi Allroad Shooting Brake Concept: Features and Technology
If you've ever used Audi's Multi-Media Interface (MMI) technology, you know that in comparison to modern infotainment systems, the learning curve is steep and it doesn't always operate in an intuitive fashion. The next-generation MMI system in the Allroad Shooting Brake Concept is modeled after common smartphone menu structures, and Audi says that new steering wheel controls help the driver to operate the system in a more intuitive fashion.
New touchpad technology allows the driver to input numbers and characters, to scroll through MMI display screens, and to zoom in and out on information. Free text search is also available through the system, and the center console adjusts with the driver's seat to make sure the MMI controls are always properly positioned for use.
So then, no touchscreen technology is coming from Audi.
Audi is going to be offering Thin Film Transistor instrumentation in the future, if the 12.3-inch TFT screen inside the Allroad Shooting Brake Concept is any indication. Equipped with 3-D graphics and Classic, Infotainment, and Sport themes that display specific information depending on the selection, this feature adds a level of personalization while simplifying the cabin.
An innovative climate control system is also installed inside the Allroad Shooting Brake Concept. Large air vents contain the climate controls within them. Equipped with proximity sensors, they deploy from the centers of the vents when a hand approaches, allowing the driver or passenger to adjust temperature, fan speed, etc.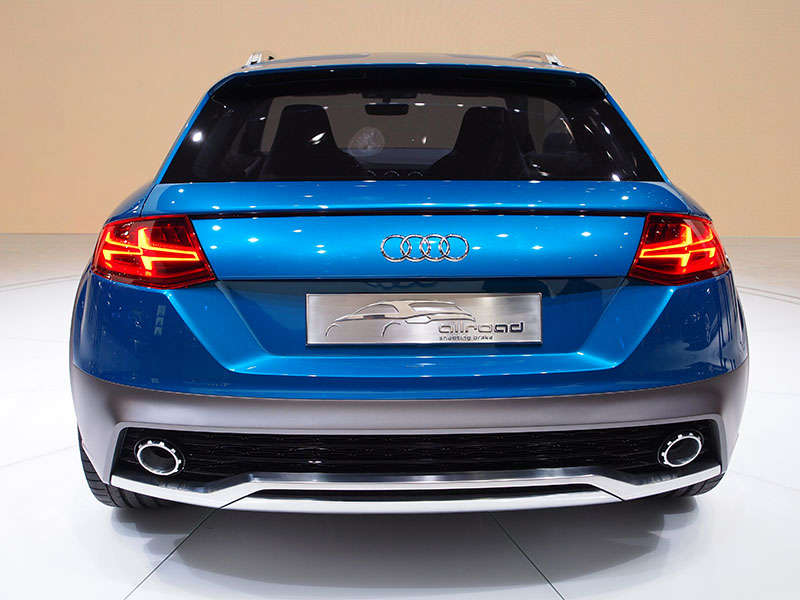 Audi Allroad Shooting Brake Concept: What Autobytel Thinks
Whether or not this Audi concept vehicle previews a new crossover or a next-generation TT, or both, is irrelevant. We're sure glad to see that Audi is planning big improvements to the MMI system, and that e-Tron Quattro powertrain is pretty cool.
Photos by Megan Green