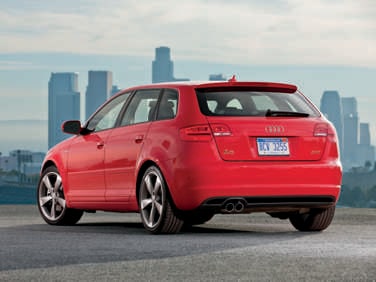 Platform sharing is a common practice across the auto industry, as car companies do their best to leverage their investments in technology and design across as many different vehicles as possible. In some cases, the same basic chassis and drivetrain are used in both standard and premium vehicles, with the key differences between these models being the styling and feature levels associated with each respective automobile. This can make it tempting for new car buyers to shop both the passenger version of a certain platform against the luxury edition – particularly if there is a significant price gap between the two vehicles.
Let's compare one standard and one premium shared platform automobile from three of the world's most prominent luxury and passenger car companies and examine the differences – and similarities – between the two.
01. 2011 Ford Taurus
The 2011 Ford Taurus is a full-size family sedan that offers two "top spec" trim levels. The Limited edition of the Ford Taurus, which retails for an MSRP of $32,155, comes with power leather seats, a rearview camera, the SYNC communications and entertainment interface and 19-inch wheels. The Taurus SHO (MSRP $38,155) is positioned as a performance model that adds a stiff suspension system, standard all-wheel drive (which is optional on the Limited), HID headlights, a more refined interior and keyless entry. The SHO also delivers more power than the Limited, offering up a twin-turbo 3.5-liter V-6 that generates 365 horses and 350 lb-ft of torque compared to the Limited's 263 horsepower, naturally-aspirated 3.5-liter V-6.
02. 2011 Lincoln MKS
The 2011 Lincoln MKS shares the Taurus' roomy interior and much of its angular styling. One of the biggest differences between the two automobiles is that the Lincoln MKS starts at $41,500 for a front-wheel drive model that features the same base V-6 found in the Ford sedan. This represents a substantial price jump over the Taurus Limited, a differential that is justified in part by the long list of standard equipment that the Lincoln provides: heated and cooled leather seats, heated rear seats, the SYNC interface, a THX sound system, dual automatic climate control and adaptive HID headlights.
The MKS starts to get considerably more expensive, however, when tacking on the high-tech options that help to further separate the Lincoln from its Ford cousin. A touchscreen navigation system, a surround sound audio system, a dual pane sunroof and adaptive cruise control are all nice to have, but they can drive the price of the Lincoln MKS well past $55,000 – especially if the EcoBoost V-6 is also added to the mix.
03. The Verdict
It is difficult to recommend the 2011 Lincoln MKS over the 2011 Ford Taurus. The Taurus SHO is not an inexpensive vehicle, but compared against a similarly-equipped version of the MKS, it does demonstrate better value. Strip away its pricy technology features, and the Lincoln does not provide a compelling argument for spending more money than one would on a Taurus. Keep those features on the vehicle's sticker, and suddenly the sedan is competing against much more appealing luxury automobiles hailing from a wide range of different brands. The 2011 Ford Taurus is definitely worth looking into for anyone who had previously considered stepping things up to a full-size Lincoln sedan.
04. 2012 Toyota Camry
All-new for 2012, the Toyota Camry continues to demonstrate why it is such a popular choice amongst mid-size sedan shoppers looking for an all-around performer. In its most comfortable edition – the Toyota Camry XLE – the vehicle comes with either a 178 horsepower, 2.5-liter four-cylinder motor (MSRP $24,725) or a 268 horsepower, 3.5-liter V-6 (MSRP $29,845). When the V-6 is selected, it also offers features such as heated leather seats, a navigation system, a sunroof, dual automatic climate control and a rearview camera. For those who desire a somewhat more responsive ride, the Camry SE trades in a few comfort features for a tighter suspension system, sport seats and a more aggressively-styled exterior look (navigation remains standard on SE models with the six-cylinder engine).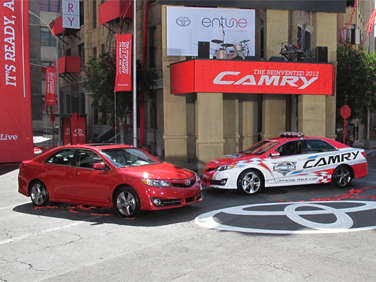 05. 2011 Lexus ES
The 2011 Lexus ES definitely shares several key chassis and engine components with the Toyota Camry. That being said, Lexus has gone out of its way to ensure that the Lexus ES offers a very different experience to both driver and passengers, especially when it comes to insulating them from the outside world. The ES (MSRP $36,725) has seen its platform isolated from the harshness of the road thanks to specially tuned shock absorbers, the judicious application of sound deadening materials and a system of bushings and foam that separates the drivetrain from the passenger compartment.
The 2011 Lexus ES also comes with a healthy amount of luxury features right out of the box, including leather upholstery, a sunroof, wood trim, a USB-compatible stereo system, Bluetooth integration, dual automatic climate control, power front seats and automatic windshield wipers. Options such as HID headlights, adaptive cruise control, a navigation system, a panoramic sunroof and heated and cooled seats can also be had with the Lexus ES. Under the hood, all versions of the mid-size sedan feature the same 268 horsepower, 3.5-liter V-6 engine.
06. The Verdict
The 2012 Toyota Camry and the 2011 Lexus ES, for all of their similarities, are fundamentally different answers to the mid-size sedan question. The Camry is a great buy for drivers seeking a reliable commuter or versatile family option, but even in XLE trim it can't match the luxury experience that is provided by the Lexus ES. The ES is completely oriented towards spoiling occupants with a level of ride comfort rarely seen in a vehicle in its price range, and it also offers access to a much more substantial number of options than are available to Camry shoppers. Although it is more expensive than its Toyota cousin, the Lexus easily backs up its demand for more dollars across the board. The Lexus ES is demonstrates just how effectively proper design can separate two comparable platforms into clearly defined passenger and premium streams.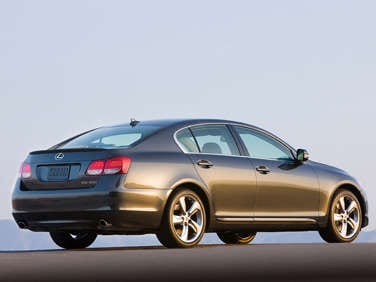 07. 2011 Volkswagen GTI
The 2011 Volkswagen GTI performance model is an entry-level hatchback aimed at drivers who are looking for a good balance between affordability, comfort and driving thrills. The practical and compact Volkswagen GTI tops out at an MSRP of $30,535 when ordered in four-door Autobahn trim, a version of the vehicle that brings with it a sport-oriented suspension system, a leather-wrapped steering wheel, heated seats with leather inserts, keyless entry, a navigation system, HID headlights and an upgraded sound system. All versions of the GTI feature a 2.0-liter, four-cylinder engine that makes use of a turbocharger to help it grind out 200 horsepower and 207 lb-ft of torque.
08. 2011 Audi A3
The 2011 Audi A3 borrows its four-door, compact wagon design from the Volkswagen GTI but it makes several important tweaks to the hatchback's spec sheet. One of the most noticeable improvements has to do with the Audi A3's interior, which embraces many of the German brand's industry-leading design practices to create a very welcoming environment. The base A3, which starts at $27,270, provides drivers with leather seats, dual automatic climate control and a high end stereo system. Moving up to the Premium Plus trim installs HID headlights, a leather-wrapped steering wheel and Bluetooth integration while adding $2,000 to the sticker price. A navigation system complete with Audi's MMI vehicle interface, can he had as an option, as can a panoramic sunroof and a sport suspension system.
The 2011 Audi A3 cribs the 2.0-liter, turbocharged four-cylinder engine from the Volkswagen GTI, making the same horsepower but throwing in the wrinkle of optional quattro all-wheel drive. The A3 can also be equipped with a 140 horsepower, turbodiesel four-cylinder engine that provides excellent fuel economy to go with its 236 lb-ft of torque.
09. The Verdict
At first glance, it might seem like the base 2011 Audi A3 is actually a better value than the more expensive 2011 Volkswagen GTI Autobahn. The price chasm evaporates quickly, however, if the Audi's equipment list is expanded to include the same level of gear as found with the Autobahn trim. Still, the availability of all-wheel drive and a turbodiesel engine are strong considerations when comparing these two compact hatchbacks, and in the minds of many premium car shoppers these differences are enough to place the A3 and the GTI in two very distinct categories.