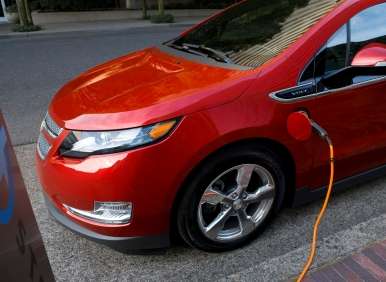 Although the Chevy Volt and Toyota's Lexus luxury brand might not seem like they have a lot in common on the surface, they both were recently recognized for ad campaigns that went much more than just skin deep: During this month's Advertising Week extravaganza in New York—billed as "the world's premier annual gathering of marketing and communications leaders"—the pair shared a GLAAD Amplifier Award for their positive representations of the lesbian, gay, bisexual and transgender (LGBT) community in their advertising.
The Volt won the prize for its "Mom, Dad, I'm Electric" ad, in which the car "came out" as equally capable of enjoying both all-electric and gasoline-powered motivation. While relying on the former, the Volt can travel some 40 miles while using no gasoline at all and producing zero emissions; if the car's battery runs low, however, drivers can enjoy hundreds of more miles of gas-fuelled range with EPA ratings of 35 mpg city/40 mpg highway/37 mpg combined.
Lexus, also with a deep history of human rights support, took home its share of the award for a print campaign celebrating the 45th anniversary of The Advocate, the nation's largest and longest-running magazine for the LGBT community. As detailed in the Lexus ad, "The world we live in has changed immeasurably in four and a half decades. At Lexus, we think much of that credit has to go to organizations like The Advocate, that help ensure equality to all people, at work, at home, and every place in between."
"Tonight's nominees and award recipients set new industry standards which underline the value of gay and transgender consumers," said Herndon Graddick, president of GLAAD, during the Amplifier Awards ceremony. "More and more companies are moving toward campaigns that include LGBT people, not only as potential customers, but as part of the American cultural fabric."