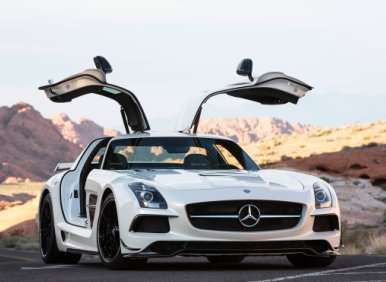 Less than two months after introducing the 2013 SLS AMG GT as its newest flagship supercar, Mercedes-Benz has one-upped itself with an even more extreme performer: The 2014 Mercedes-Benz SLS AMG Black Series. It will be just the fifth M-B product to wear the "Black Series" name when it goes on sale in the summer of 2013, when it will immediately ascend to the No. 1 spot as the most powerful and most dynamic car in the AMG lineup—in the non-electric department, anyways. While hand-built 6.3-liter V8 in the Black Series car makes a robust 622 hp, the SLS AMG Electric Drive can unleash an electrically enhanced 740 horses; but that's a story for another day.
As far as the 2014 SLS AMG Black Series itself goes, it represents a fairly significant, all-around performance upgrade over the AMG GT, backed by powertrain enhancements like:
A new redline at 8,000 rpm (up from 7,200 rpm in the SLS GT)
Air-intake improvements to complement the car's higher top engine speed
Extensive valve-train modifications, including new camshafts, cam geometry and bucket tappers
Re-mapped engine software
AMG also relied on its motorsports expertise to tighten up the vehicle's coil-over Adaptive Performance Suspension, deployed grippier tires and lighter wheels, retuned the steering system to provide improved driver control, and unleashed a comprehensive application of the AMG Lightweight Performance strategy. All told, AMG engineers managed to eliminate more than 150 lbs. worth of curb weight from the SLS AMG GT to deliver a car that sits just north of 3,400 lbs.
2014 Mercedes-Benz SLS AMG Black Series: Tale of the Tape
"The new SLS AMG Black Series is a perfect study in the 100 percent transfer of technology and engineering from motorsport to road," explained Ola Källenius, chairman of Mercedes-AMG GmbH. "We have drawn inspiration from the worldwide success of the SLS AMG GT3 … racing car on both a conceptual and a technological level. Boasting numerous lightweight components and fascinating dynamics, our fifth Black Series model guarantees pure, unadulterated 'Driving Performance.' The SLS AMG Black Series is the ultimate choice for fast laps and a highly emotional experience."
To put that boasting into context, here's how the 2014 Mercedes-Benz SLS AMG Black Series stacks up against the AMG SLS GT:
SLS AMG Black Series
SLS AMG GT
Horsepower
622 hp
583 hp
Torque
468 lb.-ft.
479 lb.-ft.
Curb weight
3,417 lbs.
3,573 lbs.
0-60 time
3.5 seconds
3.6 seconds
Top speed
196 mph
197 mph
Benz' Black Series also can be further tuned up with aero and carbon-fiber option packages, as well as a Bang & Olufsen BeoSound surround-sound audio system.
Pricing will be announced closer to the on-sale date for the 2014 Mercedes-Benz SLS AMG Black Series, but—much like the car's performance—it will no doubt be higher than that of SLS GT (which, if you have to ask, starts at $199,500).