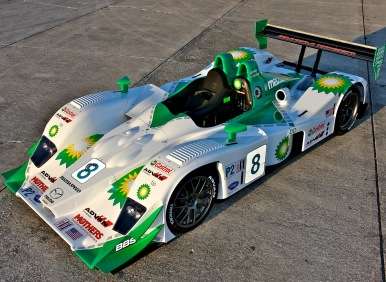 It's a whole new ballgame out there for racing fans, as more and more competitors are looking for ways to add a little extra green to the whole "green flag" business: This year already has seen a hybrid racecar from Audi win the 24 Hours of Le Mans, Dempsey Racing sign on as the first customer for Mazda's SKYACTIV-D diesel racing engine and Toyota revealed it would join the growing number of teams campaigning in the Pikes Peak International Hill Climb in electric vehicles. The latest?
The American Le Mans Series (ALMS) recently announced a partnership with Patrick Racing to explore the use of compressed natural gas (CNG) as a fuel for future entries. The first CNG-powered racers could be on the track as early as next year in the series' Prototype Challenge class, which currently showcases purpose-built cars designed by France's ORECA and motivated by Chevy LS3 V8 engines.
"We are the only racing series recognized to comply with the Green Racing protocols developed by the U.S. Department of Energy, the U.S. Environmental Protection Agency and SAE International," said Scot Elkins, chief operating officer of ALMS (and the International Motor Sports Association). "These organizations see Green Racing as a way to foster technology developments for tomorrow's consumer production vehicles, enhance national energy security, and reduce carbon emissions. We view the addition of natural gas to the Series as a means of continuing our mission to be on the front line of automotive technology advancement, while providing unequalled entertainment for our fans."  
Jim McGee—the legendary racing mechanic and team manager who has been inducted into both the Indy 500 and Motorsports Halls of Fame—will oversee the technical aspects of the development program for Patrick Racing, founded by oil/natural gas entrepreneur and racing enthusiast U.E. "Pat" Patrick. The latter's long list of motorsports achievements includes helping to found CART and the Indy Lights series, as well as backing thee Indy 500 winners in the 1970s and 1980s.
"We are excited to become a part of the world's premier sports car racing series and eager to help spread this technology to a vibrant, visible and growing element of the racing world," said Patrick. "For more than a century, racing has been at the tip of the spear in developing new technology for the transportation industry. This is in line with and in the spirit of that history."