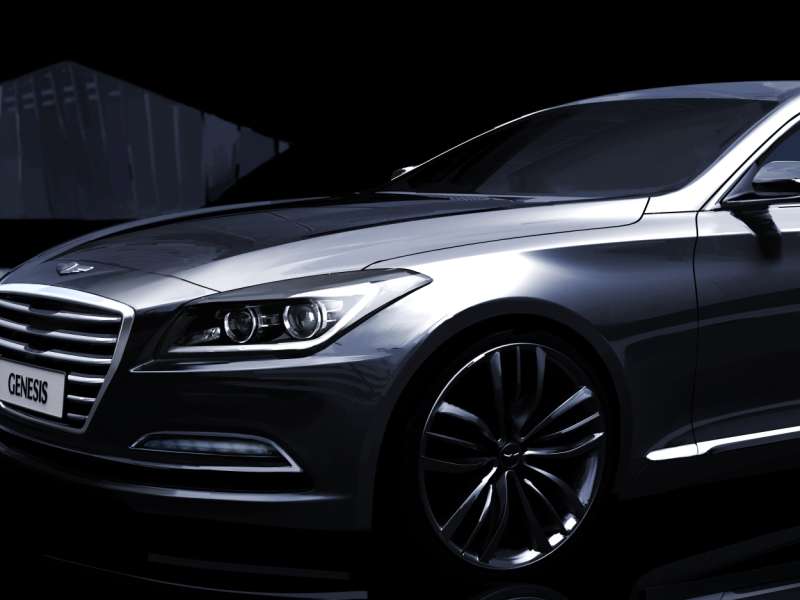 With demand for all-wheel drive at an all-time high, the redesigned Hyundai Genesis Sedan will become the first of the automaker's cars to offer AWD when it goes on sale some time in 2014. A number of Hyundai's crossover vehicles, of course, can be ordered with the technology now, but that doesn't help the brand compete in the upper-level car segments, which is where the next-gen Genesis is projected to sell.
There, AWD has become de rigueur for the leading German automakers and that's exactly who is being targeted by the latest Hyundai. Per the brand, the all-new Hyundai Genesis Sedan will provide the same levels of driving performance as offered by the "premium European brands," courtesy of significant development time at the Nürburgring. Not much else is known about the car as of yet, with Hyundai just recently showing the first renderings to the South Korean media, but by parsing the press materials, we can note that:
Developing the redesigned Hyundai Genesis Sedan was a four-year project that relied on an investment of somewhere north of $470 million.
It will introduce a new design language for the brand that will be called "Fluidic Sculpture 2.0" and be distinguished by "refined fluidic design elements, [for a] modern Hyundai look with a singular hexagonal grille, easy-to-understand and pleasant design, and rich visuotactile color, material and finishing."
The cabin will showcase Hyundai's Human Machine Interface, with enhanced ergonomics and easy-to-learn and intuitive functionality.
Safety performance is expected to be "significantly improved" through the use of an enhanced, more rigid body structure.
Hyundai's multi-mode HTRAC all-wheel-drive system will split torque between the front and rear axles for optimum performance in a variety of driving conditions.
Said Moon Sik Kwon, head of Hyundai Motor Group's R&D Center: "Launched in 2008, Hyundai's first premium rear-wheel-drive sedan, Genesis, surprised the industry with its outstanding product competitiveness. The evolved all-new Genesis is the product of Hyundai's best resources and capabilities and we strongly believe it will be a game-changer in the market."