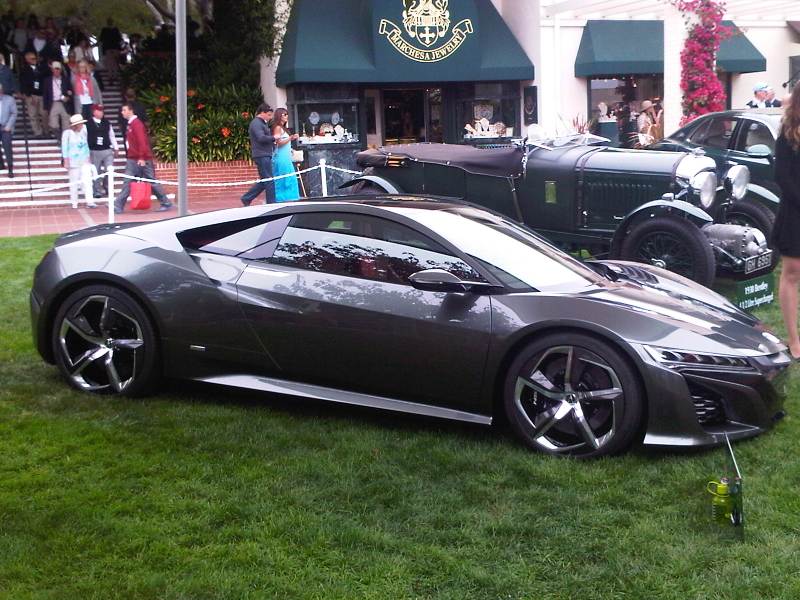 After showing two earlier concepts at previous North American International Auto Shows in Detroit, a brand-new Acura NSX production model will return to the Motor City for its world premiere on January 12, 2015. At that point, folks will be able to get their first complete look at a mid-engine supercar that is expected to redefine the Acura experience for a fresh generation of customers.
And while details about the new Acura NSX will have to wait until then as well, the brand has previously announced a number of new innovations for the car, including the first application of its Sport Hybrid SH-AWD (Super Handling-All Wheel Drive) system. The setup is part of a sophisticated powertrain that also features a V6 engine with the latest Honda VTEC technology and three electric motors: one works with the internal combustion engine to deliver electrically boosted hybrid power, while the other two are mounted at the front wheels to provide either positive or negative torque—and incredible handling prowess.
When the original third-gen Acura NSX appeared in Detroit in 2012, Takanobu Ito, president and CEO of Honda Motor Co., explained the approach this way: "Like the first NSX, we will again express high performance through engineering efficiency.
"In this new era, even as we focus on the fun-to-drive spirit of the NSX, I think a supercar must respond positively to environmental responsibilities."
The cabin of the new Acura NSX will then follow a "Human Support Cockpit" theme highlighted by "outstanding visibility, an exotic driving position and an intuitive 'SimpleSports Interface' that ... allow[s] the driver to focus on the driving experience."
It's also worth noting that the Acura NSX will have a distinctly American appeal, since it was engineered at Honda's U.S. R&D HQ in Ohio and will be built at the automaker's new and nearby Performance Manufacturing Center in Marysville, where Honda has invested some $70 million to prepare for NSX production.
Can't make it to Detroit? The reveal of the revived Acura NSX also will be shown live on the Acura YouTube channel, on January 12 at 11:50 a.m. ET.