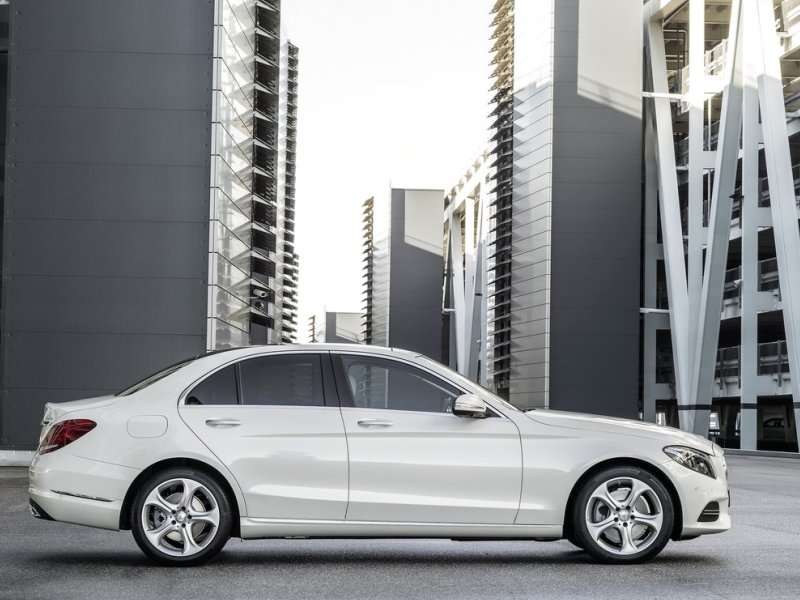 With the new 2014 Mercedes-Benz CLA now providing entrée to the brand in the compact premium segment—and helping M-B achieve record sales in November—the 2015 Mercedes-Benz C-Class moves out of "entry lux" territory and will feature just about the entire Mercedes content list when it arrives in dealerships next year. On the other hand, thanks to increased use of aluminum throughout the 2015 Mercedes-Benz C-Class, the new car is significantly lighter than the one it replaces, with corresponding improvements to both driving dynamics and fuel efficiency.
Drivers also can expect plenty of fresh technologies in the 2015 Mercedes-Benz C-Class, with segment-firsts like:
Air suspension
GPS-enabled climate control
Next-generation multimedia features
Driver-assistance systems, including most of those introduced in the all-new 2014 Mercedes-Benz S-Class and E-Class
"Mercedes at its best—that's the new C-Class, which sets new standards for the mid-range segment on many fronts," according to Prof. Dr. Thomas Weber, member of Daimler AG's Board of Management for Group Research and Mercedes-Benz Cars Development. "It is characterized by an emotional yet clear design which is continued in the high-quality and modern interior. Its efficient and high-performance engineering provides the basis for a high standard of driving enjoyment."
Now, keeping in mind that details could certainly change before the car reaches the United States, let's check out some of the preliminary highlights of the 2015 Mercedes-Benz C-Class.
2015 Mercedes-Benz C-Class: Bigger, but Lighter
An important change for the 2015 Mercedes-Benz C-Class is that it adds almost 4 inches in length. As a result, it goes from being slightly but noticeably shorter than the 2014 BMW 3-Series (182.5 inches) and Audi A4 (185 inches) to now nestling right in between the two at 184 inches. At the same time, however, the C-Class also upgrades to the longest wheelbase of the trio, at 112 inches, for improved ride and handling.
Further, because engineers were able to deploy so much more aluminum in developing the 2015 Mercedes-Benz C-Class, its larger proportions belie a curb weight some 220 lbs. lighter than the outgoing car. M-B didn't provide any hard numbers, but working backward from the current C250 sedan would mean the 2015 car would start at about 3,200 lbs.—hundreds lighter than the A4 and about 150 lbs. fewer than the 320i.
In the looks department, the 2015 Mercedes-Benz C-Class is much more expressive than past models, with a particularly detailed headlight treatment.
As explained by Gorden Wagener, vice president of Design for Daimler AG: "The new C-Class showcases automotive passion by way of a contemporary design idiom. Progressive and emotional highlights underscore the groundbreaking design style of the new C-Class and demonstrate sensual clarity. The new C-Class interprets modern luxury on a new level."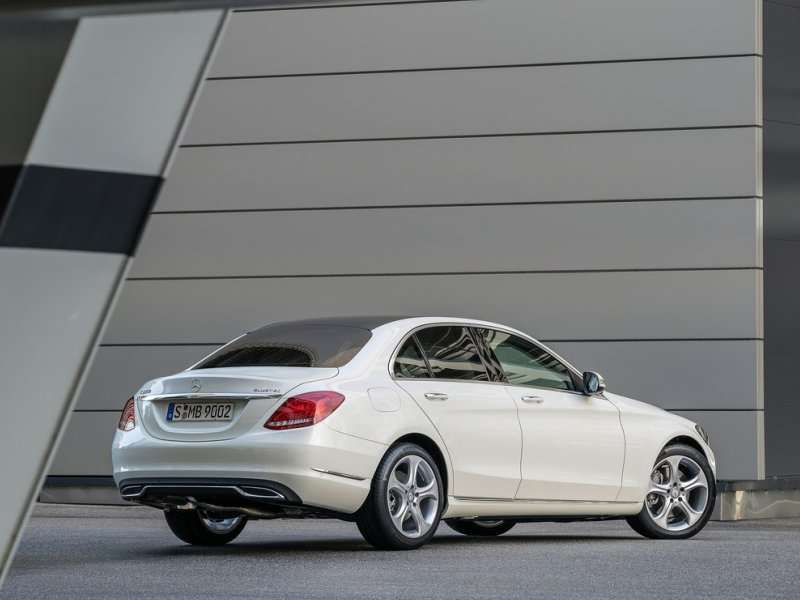 2015 Mercedes-Benz C-Class: Two New Turbos Premiere
The 2015 Mercedes-Benz C-Class first will launch in two all-wheel-drive variants, the C300 4Matic and C400 4Matic, with each powered by its own new turbocharged and direct-injected engine. Interestingly, the 2014 C-Class roster shows C250 and C300 sedans; if there's no C250 on the menu for 2015, the next-gen C-Class powertrains would fit in amongst the likely competition as follows (with 2014 C-Class numbers added for context):
2014 M-B C250—1.8-liter/I4 (turbo); 201 hp and 229 lb.-ft. of torque
2014 Audi A4—2.0-liter/I4 (turbo); 220 hp and 258 lb.-ft. of torque
2015 M-B C300—2.0-liter/I4 (turbo); 235 hp and 273 lb.-ft. of torque
2014 BMW 328—2.0-liter/I4 (turbo); 240 hp and 255 lb.-ft. of torque
2014 M-B C300—3.5-liter/V6 (naturally aspirated); 248 hp and 251 lb.-ft. of torque
2014 BMW 335—3.0-liter/V6 (turbo); 300 hp and 300 lb.-ft. of torque
2015 M-B C400—3.0-liter/V6 (turbo); 329 hp and 354 lb.-ft. of torque
In terms of fuel efficiency, the automaker expects to see fuel consumption reduced by "up to 20 percent." Direct comparisons are again hampered here by the lack of details, but if we look at the one model that we know will repeat from last year—the C300 4Matic—the numbers for the 2015 version would extrapolate to roughly 24 mpg city/+32 mpg highway/+26 mpg combined.
The only transmission announced so far for the 2015 Mercedes-Benz C-Class is an evolution of the automaker's 7G-DISTRONIC PLUS automatic, which has been retuned "in the interests of enhanced environmental friendliness and driving pleasure."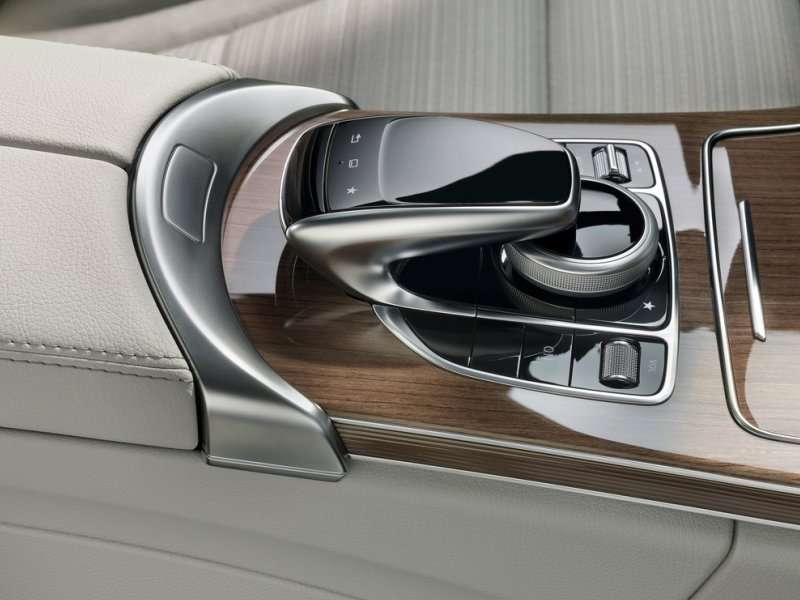 2015 Mercedes-Benz C-Class: Top Technologies
Frankly, the 2015 Mercedes-Benz C-Class offers so many technologies that we'll limit ourselves to some of the highlights of the car's highlights, such as the automaker's "Intelligent Drive" suite of driver-assistance features. Here, drivers can benefit from:
Attention Assist driver-drowsiness warning
Collision Prevention Assist Plus autonomous-braking functionality
Distronic Plus with Steering Assist semi-autonomous traffic-jam assistance
BAS Plus brake-assistance technology
Enhanced Active Lane Keeping Assist
Active Parking Assist
360-degree exterior camera technology
Traffic Sign Assist with Wrong-way Alert
Other nifty new features offered on the 2015 Mercedes-Benz C-Class will include the automaker's Airmatic suspension, with four performance settings and an "Individual" mode that allow for truly individual personalization, as well as a high-tech climate control system. Also available with an Air-Balance package that provides "active fragrancing" when necessary, the car's air-conditioning setup can leverage navigation and GPS data to, for example, automatically close the air-recirculation vents when in a tunnel.
As a final touch, the 2015 Mercedes-Benz C-Class will welcome the latest iteration of the automaker's infotainment and connectivity technology, complete with a new touchpad controller that's integrated into the center-tunnel handrest. Not only does it provide haptic feedback to the user, but it also can recognize handwriting, even numbers and special characters, in any language. An added bonus for audiophiles: The 2015 Mercedes-Benz C-Class will offer both a Burmester surround-sound system and exclusive Frontbass technology that uses space within the car's body structure to create a resonance chamber for an especially vivid listening experience.
Pricing and more info about the 2015 Mercedes-Benz C-Class will be provided closer to its U.S. on-sale date.