Lux Sedan Lightens up with 200-lb. Weight Loss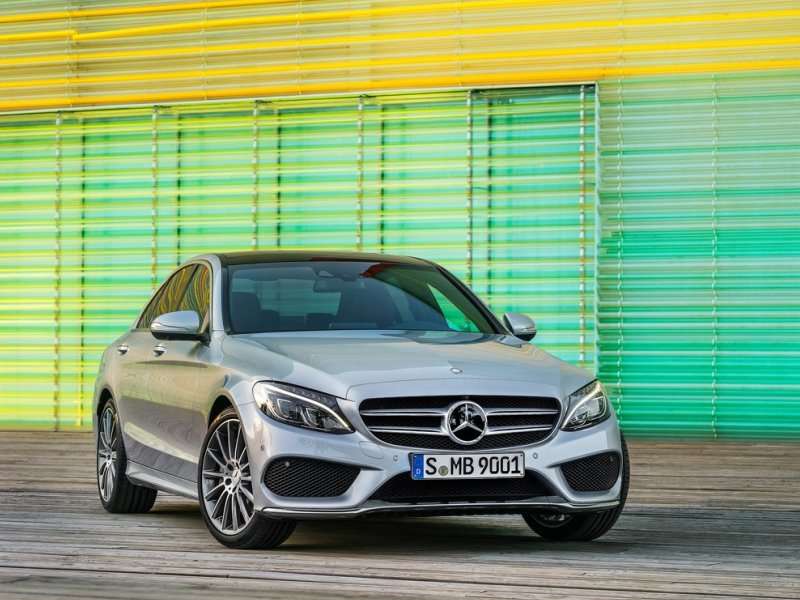 2015 Mercedes-Benz C-Class—184 inches; approximately 3,228 lbs. front view
Following a template that's becoming more and more popular in the auto industry, the curb weight of the brand-new 2015 Mercedes-Benz C-Class will be roughly 200 lbs. lower than that of the 2014 edition. Which, in turn, allows the C-Class to grow in most dimensions, pack in even more premium features than before and showcase more powerful engines, yet still maintain competitive fuel-economy ratings. That's the view from 30,000 feet anyway, with many down-to-earth details about the 2015 Mercedes-Benz C-Class still to come, but the car does seem like it will be a better fit than before for shoppers in the compact-ish lux-sedan segment.
For example, last year's C-Class was at a noticeable size disadvantage when compared to its BMW and Audi (and Cadillac) rivals, so engineers stretched the M-B sedan by 3.7 inches; per the automaker, "the additional space benefits first and foremost the rear passengers, who now travel in even greater comfort." Now, as mentioned above, M-B has not released full specs for the 2015 Mercedes-Benz C-Class, but you can get a feel for the change in dimensions by seeing how the new C-Class measures up in terms of length and curb weight:
2015 Mercedes-Benz C-Class—184 inches; approximately 3,228 lbs.*
2015 Cadillac ATS—182.8 inches; 3,319 lbs.
2014 BMW 320i—182.5 inches; 3,280 lbs.
2015 Audi A4—185.1 inches; 3,583 lbs.
2014 M-B C-Class—180.8 inches; 3,428 lbs.
*Just note: The curb weight for the 2015 C-Class is a pure guess-timate on my part and was based on subtracting 200 lbs. from the lightest 2014 model. The 2015 lineup will have a different powertrain selection, with a different model configuration from the 2014 model year, making a true apples v. apples comparison difficult. M-B itself wasn't clear about exact poundage at this time, noting simply that "The vehicle's overall weight is even reduced by around 200 lbs."—without clarifying what it had been reduced from.
2015 Mercedes-Benz C-Class: Model Lineup
Showcasing a new, more organic and more aerodynamic exterior, the 2015 Mercedes-Benz C-Class is currently scheduled to reach U.S. buyers in three different setups: 
2015 Mercedes-Benz C300, backed by a 2.0-liter, turbocharged four-cylinder engine that makes 241 hp and 273 lb.-ft. of torque and sends power to the rear wheels
2015 Mercedes-Benz C300 4Matic, with the same engine, but enhanced by the brand's 4Matic all-wheel-drive technology
2015 Mercedes-Benz C400 4Matic, capable of dialing up 329 hp and 354 lb.-ft. of torque from a 3.0-liter bi-turbo V6, and again featuring 4Matic AWD 
The 4Matic versions are expected to arrive at dealerships later this year, with the RWD sedan following early in the next. In all cases, drivers will rely on a "7G-TRONIC PLUS" seven-speed automatic transmission that has "undergone further development ... in the interests of enhanced environment-friendliness and driving pleasure."
Also, on the topic of driving pleasure, the 2015 Mercedes-Benz will serve up three different suspensions to further enhance those feelings, highlighted by the segment's first front and rear air suspension.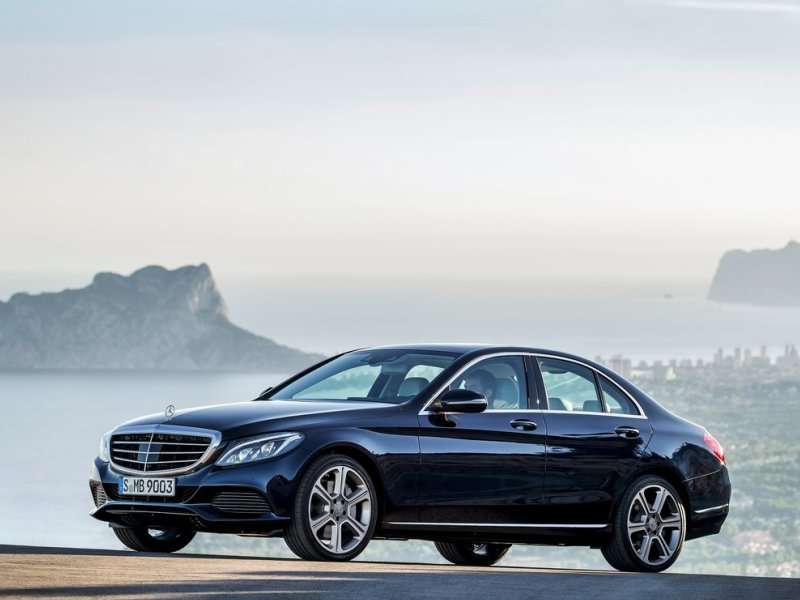 Photo by Mercedes-Benz Media
2015 Mercedes-Benz C-Class: New Features
The overall theme for the 2015 Mercedes-Benz C-Class is "upgrade to a higher class of travel," and as a result, owners will benefit from a full roster of lux features that wouldn't be out of place in the range-topping S-Class. That includes all of the expected high-tech driver-assistance measures, then also extends to benefits like a front-passenger seat with automatic child-seat recognition; leveraging an integrated "weight mat," the system automatically deactivates the front-passenger airbag if a safety seat is detected.
And that's not the only first-in-class feature that the 2015 Mercedes-Benz C-Class brings to its drivers: The car also debuts tunnel-detecting climate technology for the segment, with the system relying on GPS data to initiate air recirculation when the C-Class enters a tunnel, and allow the fresh air to start flowing again when the car is on the open road.
Also offering a complete portfolio of infotainment and connectivity technologies, the 2015 Mercedes-Benz C-Class, in the words of Daimler AG exec Prof. Dr. Thomas Weber, represents: "Mercedes at its best ... It is characterized by an emotional yet clear design which is continued in the high-quality and modern interior. Its efficient and high-performance engineering provides the basis for a high standard of driving enjoyment."