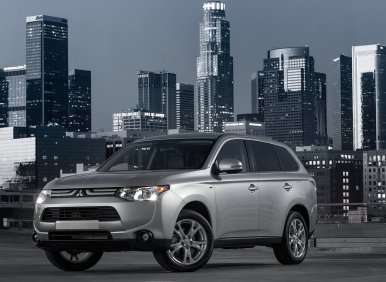 The thoroughly redesigned 2014 Mitsubishi Outlander is about to hit American dealerships, and this time around, the brand is hoping for a home run of major-league proportions. Certainly helping matters: The new proportions of the vehicle itself, which is about 200 lbs. lighter than the outgoing Outlander. The lower curb weight, combined with a more aerodynamic exterior design, is expected to deliver a more than 10 percent increase in highway fuel economy and an overall EPA line of 25 mpg city/31 mpg highway/27 mpg combined.
To put those numbers into context, the 2014 Mitsubishi Outlander is a full 5 mpg more efficient—in all phases of EPA testing—than the similarly sized 2014 Kia Sorento. Even when equipped with Mitusbishi's signature Super All-Wheel Control system, the Outlander will post an EPA line of 24/29/26, again delivering 5-mpg advantages across the board as compared to the AWD Kia.
Those numbers are for the Outlander's standard 2.4-liter I4 engine, capable of making 166 hp and 162 lb.-ft. of torque, but owners also can choose a more robust 3.0-liter V6 that offers up 224 horses and 215 lb.-ft. of twisting power. And yes, even the most powerful member of the Outlander family puts up a superior fuel-economy performance, with EPA ratings of 20/38/23—the V6-powered, AWD Sorento tops out at 18/24/20.
Of course, the Sorento's two powertrains do have advantages of 35 hp and 66 hp over the Mitsubishi duo.
Now, given the fact that we're talking about the U.S. automotive marketplace, high fuel-efficiency ratings alone aren't likely to make much of a difference on the sales charts. So it's a good thing the 2014 Mitsubishi Outlander also offers content like …
An Inside Look at the 2014 Mitusbishi Outlander
The 2014 Mitsubishi Outlander joins the ranks of next-gen crossovers with a notably clean and sophisticated exterior, highlighted by a funky, multi-dimensional front-end appearance that visually echoes the design treatment at the back. The clean and crisp approach carries over to the cabin, too, which is further distinguished by a full complement of the latest standard and available features.
For example, the standard audio setup includes six speakers and MP3 compatibility, and can be enhanced with up to nine speakers and 710 watts of Rockford-Fosgate premium listening pleasure. Mitsubishi also offers its FUSE hands-free, voice-control technology on the Outlander, as well as the latest iteration of its "MMCS High-Definition Navigation" system with 3D mapping, heated front seats, passive entry with push-button start, a selectable ECO driving mode, and cutting-edge safety measures like adaptive cruise control, forward collision mitigation and lane-departure warning.
Also in the mix from a safety perspective:
Collapsible pedals
Active stability control with traction-control logic
A tire pressure monitoring system
Hill-start assist
Seven airbags, including side curtain airbags and a driver's knee unit
Anti-lock brakes with electronic brake-force distribution
Mistubishi's Reinforced Impact Safety Evolution body structure
A hood and front fenders designed specifically to offer enhanced protection for pedestrians
A new, lighter-weight version of the automaker's Super All-Wheel Control setup also debuts as an available enhancement for the 2014 Mitsubishi Outlander, providing an added level of driver control and confidence—and now featuring an active front differential.
The party line from the automaker: "The all-new 2014 Mitsubishi Outlander is the perfect vehicle for environmentally-conscious, active individuals or families requiring a comfortable, well-equipped sophisticated crossover that provides the latest in advanced safety technologies, ecology and comfort."
Pricing for the 2014 Mitsubishi Outlander will be released closer to its on-sale date this spring.