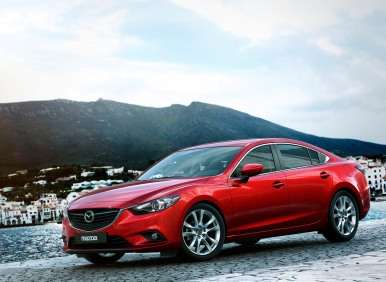 Wrapping a SKYACTIV powertrain, chassis and body structure in the striking new "KODO" design language, the 2014 Mazda Mazda6 made its public debut recently at the Moscow International Motor Show in Russia. Naturally, the car was introduced in its Russian-market configuration, which means the U.S. version will likely see at least some minor adjustments, but there's much food for thought here about how the 2014 Mazda6 will satisfy American's hunger for a zoomier, more fuel-efficient approach to the mid-size sedan segment.
2014 Mazda Mazda6: The Soul of Motion
Recent years have seen Mazda put a very strong emphasis on design, although with mixed degrees of success. The current Mazda Mazda5, for example, was supposed to herald a whole new look for the brand's lineup, based on the kind of flowing lines found in the natural world, but ended up being a bit too much for most buyers. Designers quickly addressed the situation by introducing a new look, called "KODO," or the "soul of motion," and it's the 2014 Mazda Mazda6 that will be the first production model to wear the fresh design in America.
According to Mazda, "this new family look evokes a tempered aggression, controlled yet taut beneath the three dominant character strokes that flow alongside the sculpted body."
According to Autobytel, the real-world results are more evolutionary than revolutionary, showcasing a trim and sculpted grille, with LED and "light ring" accents complementing the car's face—which bears an odd resemblance to that of the Dodge Charger. Particularly prominent are the flowing lines that provide a visual echo to the car's front-wheel arches, and new "long in front, short in back" proportions. Overall, it's a very athletic vibe, with perhaps one concern: Even with a longer wheelbase that Mazda specifically claims is meant to shorten the car's overhangs, the design puts such a strong emphasis on the front end that it still looks a bit front-heavy.
Still, the 2014 Mazda Mazda6—with best-in-class aerodynamics and a 0.26 coefficient of drag—should fit right in among the stylish next generation of mid-size sedans like the Nissan Altima, Ford Fusion and Chevy Malibu.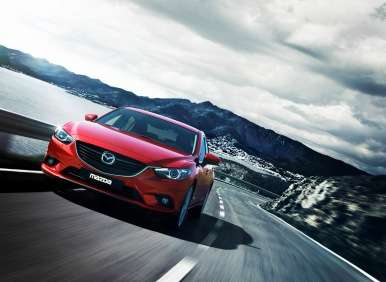 2014 Mazda Mazda6: Powertrain SKYACTIV-ity
Mazda's SKYACTIV powertrain technologies were introduced to the U.S. market in vehicles like the current Mazda Mazda3 and Mazda CX-5, and rely on a wide range of incremental enhancements, particularly in terms of friction- and weight-reduction, to deliver notable fuel-efficiency and power gains. For example, the Mazda3 enjoyed a fuel-economy boost of more than 20 percent (in combined driving) when it added a SKYACTIV powertrain in 2012—and it added 20 hp and 19 lb.-ft. of torque at the same time. 
Now, it's not 100 percent clear which engine(s) the 2014 Mazda Mazda6 will provide to American drivers—outside of a promised +40 mpg diesel—but Russian consumers will have two choices: a 2.0-liter I4 that makes 134 hp/155 lb.-ft. of torque or a 2.5-liter I4 engine that ups the power ante to 189 hp/189 lb.-ft. of torque. The former provides both DIY and automatic transmissions, the latter, just an automatic, and that's the powertrain that will almost certainly end up in the next U.S. Mazda6. The first engine would be fine in a compact—it's the one used in the Mazda Mazda3, in fact—but unsuitable for a U.S. mid-size sedan. The 2.5-liter powerplant, however, would allow the new Mazda6 to fit in among top entry-level rivals as follows:
Vehicle
Horsepower
Torque (lb.-ft.)
Mazda6
189
189
Ford Fusion
170
170
Toyota Camry
178
170
Nissan Altima
182
180
Chevy Malibu
197
191
Hyundai Sonata
200
186
Remember as well that the new Mazda6's SKYACTIV chassis and body structure rely on an extensive use of weight-saving ultra-high tensile steel, which should mean a low curb weight and a high power-to-weight ratio.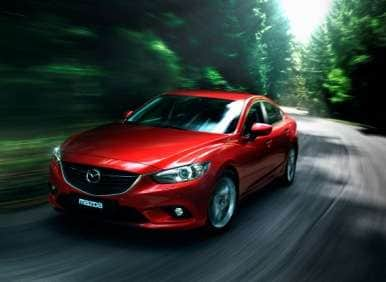 2014 Mazda Mazda6: Pushing the Efficiency Envelope
No fuel-economy guess-timates are yet available, but a class-leading performance is not out of the realm of possibility, thanks to some further advanced technologies. First, the 2014 Mazda Mazda6 will feature a cutting-edge stop/start system with what is claimed to be the quickest restart time in the industry (.35 seconds). Per the automaker, "The accelerated restart equates to a smoother, barely noticeable pick-up as well as significant improvement in stop-and-go fuel economy."
The made-over Mazda6 also will showcase the breakthrough "i-ELOOP" system for regenerative energy capture. Like the regenerative-braking technology found on many hybrid vehicles, i-ELOOP captures and stores energy that would otherwise go to waste while driving, then can use that energy to reduce the power load on the car's engine. The difference-maker here is that i-ELOOP relies on capacitors, not batteries, to store the energy.
"Compared to batteries, capacitors can be charged and discharged rapidly and are resistant to deterioration through prolonged use," according to Mazda, and, as a result, "i-ELOOP efficiently converts the vehicle's kinetic energy into electricity as it decelerates, and uses the electricity to power the climate control, audio system and numerous other electrical components."
The bottom line here: A claimed 10 percent improvement in fuel-efficiency in typical real-world driving conditions.
(Also notable from a "green" perspective is Mazda's use of nanotechnology in the 2014 Mazda6's exhaust-gas treatment, which reduces the need for precious metals.)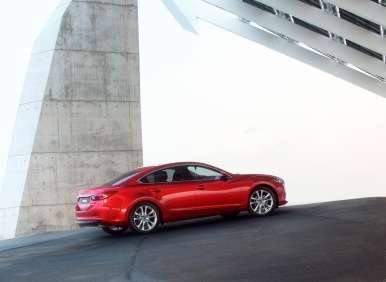 2014 Mazda Mazda6: Safety Systems in the Spotlight
As one would expect from a next-gen mid-size sedan, the 2014 Mazda Mazda6 will offer a long list of safety measures, including:
Adaptive front lighting with High-Beam Control to automatically adjust the car's headlights from high to low beams if oncoming traffic is detected
Hill Launch Assist, to prevent the Mazda6 from rolling backward on inclines when the driver switches from the brake pedal to the accelerator
Emergency Stop Signal, which causes the hazard lights to blink on and off, as an alert to trailing vehicles, if the Mazda6 driver has to brake suddenly at speeds above 31 mph
Rear Vehicle Monitoring, able to alert drivers if other vehicles are in their blindspots
Lane Departure Warning System, designed to help drivers avoid it
Smart City Brake Support, designed to automatically deploy the Mazda6's brakes to avoid or minimize the impact of low-speed collisions
Again, however, just keep in mind that these features, while confirmed for the Russian market, are not locked in for U.S. buyers. American-market specs for the 2014 Mazda Mazda6 will be provided closer to the vehicles release date early next year.