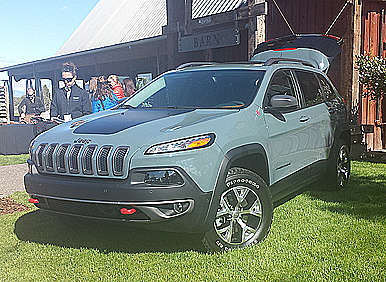 Although the style of the brand-new 2014 Jeep Cherokee may not be to everyone's likingits price should be: The dramatically designed two-row crossover/SUV—about midway in size between the Ford Escape and Chevy Equinox—will hit dealerships with an MSRP of $22,995. Getting straight to the ol' nitty-gritty here, that price tag also happens to land at about the midway point for the segment as a whole. Here's a look at where the MSRP of the 2014 Jeep Cherokee falls on a list of most-likely competitors:
2013 Dodge Journey—$18,995
2013 Nissan Rogue—$20,310
2014 Subaru Forester—$21,995
2014 Ford Escape—$22,700
2013 Honda CR-V—$22,795
2014 Jeep Cherokee—$22,995
2013 Toyota RAV4—$23,300
2014 Kia Sorento—$24,100
2013 Chevy Equinox—$24,225
2013 Hyundai Santa Fe Sport—$24,700
Customers should note, too, that the 2014 Jeep Cherokee happens to be priced $400 less than its predecessor from the brand, the now-discontinued Jeep Liberty.
The bottom line should be a strong value in one of the most popular vehicle segments in the industry. Consider: Of the 10 crossovers mentioned above, four were on the list of top-20 best-selling vehicles in May, including the Escape, CR-V, RAV4 and Equinox. In fact, that quartet combined to attract more than 100,000 customers last month, with all entries except the Toyota also scoring sales records in May. But to further help the 2014 Jeep Cherokee get in on some of that action, it also offers some nifty new hardware, including …
2014 Jeep Cherokee: Quick Spec Check
The 2014 Jeep Cherokee is aimed at next-generation customers with a full kit of standard technologies, highlighted by a Uconnect media center with a 5.0-inch touchscreen and USB port, along with Bluetooth for hands-free calling and audio streaming, 10 air bags, LED tail lamps and daytime running lamps, and a thin-film transistor LED instrument cluster. But this isn't a case of Jeep just raiding the parts bin; the brand relying on the 2014 Jeep Cherokee to showcase industry- and segment-first features like:
An available nine-speed automatic transmission
New 4-cylinder and V6 engines
Three new all-wheel-drive systems
Rear-axle disconnect (for 4X4 models)
ParkSense Parallel/Perpendicular Park Assist
The party line from Mike Manley, president and CEO of the Jeep brand: "The all-new 2014 Jeep Cherokee is entering the largest SUV segment in North America with an unmatched combination of capability, fuel efficiency, technology, safety and value. Jeep Cherokee is absolutely packed with content that includes numerous industry and segment 'firsts' that directly translate to a tremendous value for consumers shopping in the mid-size SUV segment, which boasts two million sales annually in North America and five million globally."
The 2014 Jeep Cherokee is expected in dealerships in the third quarter of this year.