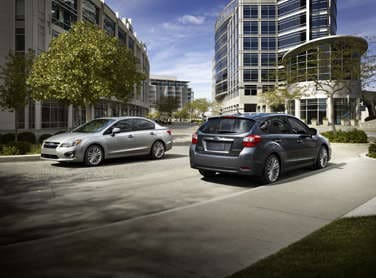 The 2012 Subaru Impreza compact sedan and hatchback are both all-new for the current model year. Despite providing a fresh platform, as well as a smaller and more fuel efficient engine, the new 2012 Subaru Impreza is priced exactly the same as the outgoing model.
Subaru has announced that the 2012 Subaru Impreza will offer a base MSRP of $17,495. The entry-level Subaru Impreza is represented by the sedan model, with hatchback editions of the compact car going for an additional $500 over that price. This version of the vehicle comes with standard features such as a five-speed manual transmission, air conditioning, electric power steering, power windows and door locks, keyless entry and an MP3-capable CD player. The least expensive version of the Impreza also offers a 2.0-liter, four-cylinder engine that delivers 148 horsepower and offers 27 miles per gallon in city driving and 36 miles per gallon on the highway. This same motor is used across all versions of the sedan and hatchback, and all-wheel drive is also included free of charge.
See more 2012 Subaru Impreza Specs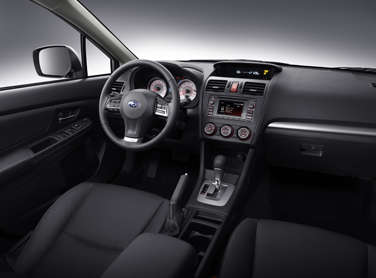 Three trim levels are positioned about the base model 2012 Subaru Impreza, starting with the 2.0i Premium (MSRP $18,795), which provides additional equipment including a cargo area cover for hatchback editions of the car, cruise control, chrome trim, a USB port, iPod and Bluetooth connectivity for the stereo system and a rear anti-sway bar. The Sport Premium trim ($20,295), which is available exclusively with the hatchback, comes with 17-inch alloy wheels, Subaru's all-weather package (heated seats, side mirrors, windshield), upgraded upholstery, roof rails, fog lights and unique exterior trim.
The top of the line Limited trim ($21,595) installs automatic climate control, the all-weather package, HD radio with an LCD display, a continuously-variable automatic transmission (optional on other editions of the Impreza), as well as leather seats, fog lights and chrome door handles. A Sport Limited model, combining the equipment found on Limited and Sport Premium trims can be had with the hatchback, but pricing has not yet been released for this version of the Impreza. A la carte options that can be had with the 2012 Subaru Impreza include a moonroof, a navigation system that offers a touchscreen interface, the all-weather package and upgraded 17-inch alloy wheels.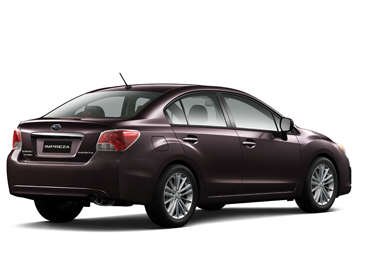 Subaru's decision to keep the 2012 Subaru Impreza's pricing identical to that of 2011 indicates that the brand is serious about introducing the much more efficient compact car to a new group of buyers – those who might have previously overlooked the Subaru Impreza due to the reputation it had as somewhat of a gas guzzler. With a solid reputation for safety and reliability, if Subaru can add frugal fuel consumption to the list of characteristics new car shoppers identify with the brand, then it should be able to maintain its exceptional growth as an automaker.