e-NV200 Now on the Road in Washington, D.C.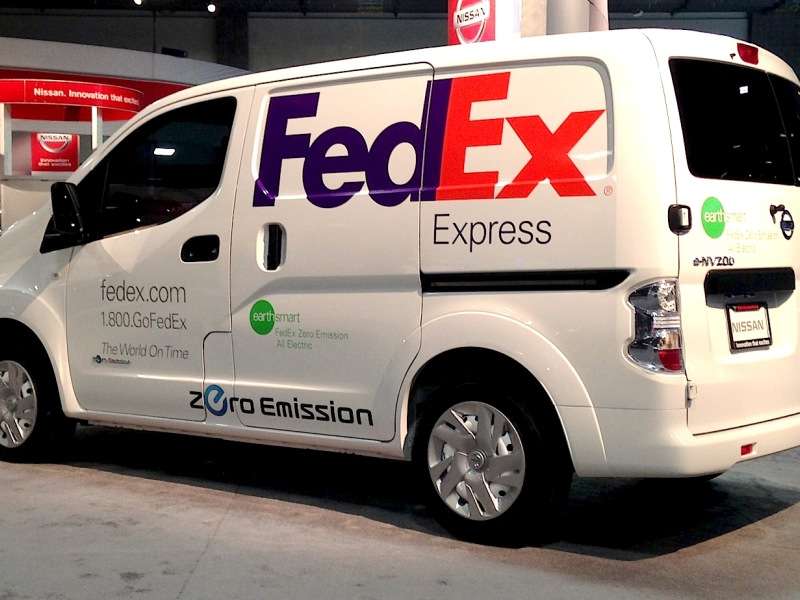 Already boasting the best-selling electric car in the country, Nissan is hoping for the same kind of success with the all-electric version of its 2014 Nissan NV200 compact-cargo van. And, as a starting point, the company has teamed up with FedEx Express in Washington, D.C., to add a Nissan e-NV200 to the latter's delivery fleet.
"As a global fleet operator serving 220 countries and territories worldwide, FedEx is committed to improving the efficiency of its vehicles as part of our EarthSmart initiatives," said Mitch Jackson, vice president of Environmental Affairs and Sustainability, FedEx Corporation. "We are pleased to continue our work with Nissan and bring the e-NV200 into test in North America."
Particularly pleasing is the fact that the e-NV200 combines almost 150 cubic feet of space for cargo with a proven electric powertrain, allowing customers to enjoy a zero-emissions driving range that's "almost similar" to that of a Nissan LEAF. Now, that's a bit on the vague side, but the LEAF is good for some 84 miles of travel on a single charge, according to the EPA, and even something less than that would be fine for an urban-based delivery vehicle like the e-NV200. The vehicle's whisper-quiet electric drive also means that it doesn't contribute to noise pollution, either.  
Nissan hasn't committed to selling the 2014 Nissan NV200 EV in this country yet, but it's scheduled to go into mass production in Europe later this year, and Erik Gottfried, Nissan's director of Electric Vehicle Sales and Marketing, reports that: "We're eager to work with FedEx and other companies to put the e-NV200 through its paces to continue to build awareness of the capability of electric vehicles and to evaluate how well it meets the needs of the commercial consumer. We'd also like to explore clever uses of EVs in work environments where carbon emissions of gas-powered vehicles make them impractical or impossible to use."
Of course, the traditionally powered 2014 Nissan NV200 offers plenty of advantages as well, including an MSRP that starts at $20,240 in a compact cargo-van configuration, as well as the "taxi of tomorrow" variant that opens at $29,700.