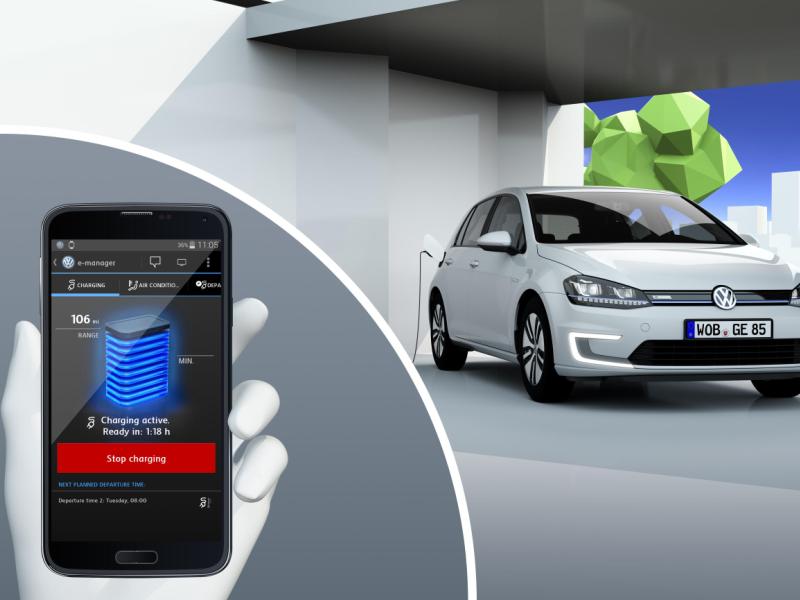 ces
At CES this year, Volkswagen presented several vehicles that showcased the further integration of computers in the automobile. No longer limited to running the car's fuel injection and ignition systems, computers are now used to run high-tech infotainment systems, manage electric vehicle charging and hybrid systems, and even to allow cars to automatically self-park. Volkswagen's main focus at the show was on four aspects: computer-controlled drive systems, smartphone and app integration, autonomous and semi-autonomous driving, and intuitive vehicle operation.
The first vehicles shown were the full electric and hybrid versions of the high-volume Golf model. The e-Golf and Golf GTE wouldn't be possible without the advanced on-board electronics and computers that control functions such as battery charging and switching between various drive sources. In the future, these vehicles will be able to automatically dock with inductive charging stations, and use their exterior lights to indicate their state of charge. The e-Station Guide will help electric car drivers find a charging station, providing them with information about the station's location and charging equipment, as well as payment options. The Digital Key will allow third parties to use a smartphone or smart watch to temporarily and safely gain access to the vehicle and start or stop the engine, presumably to move the car off the charging pad once charging is complete.
Volkswagen also showed their Connected Golf version of the e-Golf. Volkswagen pointed out that it has now been eight years since Apple introduced their first generation iPhone, which (along with other smartphones) changed the way we communicate and access information in our everyday lives. While it has long been normal practice for a phone to automatically connect to a car's hands-free system via Bluetooth and stream media to the car's infotainment system, Volkswagen is taking a significant step forward. Volkswagen will introduce the second generation of their modular infotainment platform (known as MIB II) later this year. The new systems will also make MirrorLink available, further integrating the apps and operating layout of numerous smartphones (including those from HTC, LG, Samsung, and Sony) into the car. Along with MirrorLink they will also launch AndroidAuto (for devices based on Google's Android platform) and CarPlay (for the iOS platform) under the App-Connect label. These interfaces will allow the driver and passengers in the car to use their many different smartphone apps over the infotainment system.
The Connected Golf is equipped with many other innovations as well. Media Control allows the integration of tablets and smart watches into the infotainment system, and uses a special app to create a new-age rear seat entertainment system. Regular Routes is a navigation system that automatically detects traffic disruptions along your daily commute (or other frequently travelled route), and autonomously suggests a faster available alternative route. Parking Guide helps you find parking sites that have a high probability of having available parking spaces.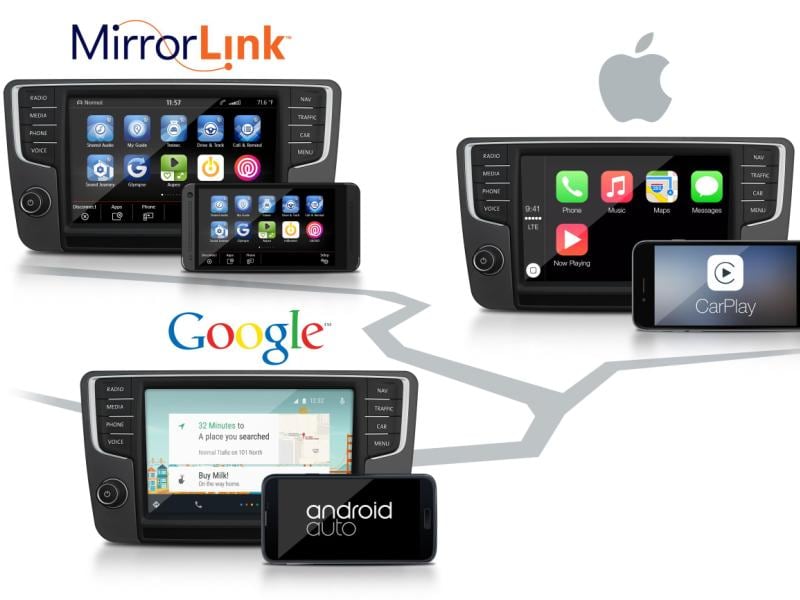 It's clear that the future will bring cars that can drive autonomously when necessary, a change that will be introduced step by step. Today's self-parking systems, such as Volkswagen's Park Assist, are one of the first steps. The system allows cars to be parked semi-automatically, with the car taking control of the steering when entering and exiting from parking spaces. At CES Volkswagen introduced an e-Golf with a more advanced version, called Park Assist: Trained Parking, where the car scans a frequently driven path to a parking space via camera, and can then park semi-automatically by computer control. In the future, it will be possible to get out of the car before it is parked, and monitor the car with a smartphone as it manuevers itself into its parking space.
Another of the concepts that Volkswagen showed was the Golf R Touch, with a concept cockpit that allows for more intuitive operations of the car's infotainment system. While Volkswagen's latest infotainment systems already use proximity sensors to detect the approach of a hand, the next step is use cameras to not only detect hand gestures, but also to understand and assign meaning to them. The Golf R Touch allows the driver to use gesture control to control displays and functionality without having to use a touchscreen, increasing convenience while reducing driver distraction.
While most of these technologies are only concepts for now, some of them (including MirrorLink, AndroidAuto, and CarPlay support) will be coming soon to VW's Golf range, including the e-Golf, Golf GTE, Golf GTI, and Golf R, as well as to Volkswagen's other models.