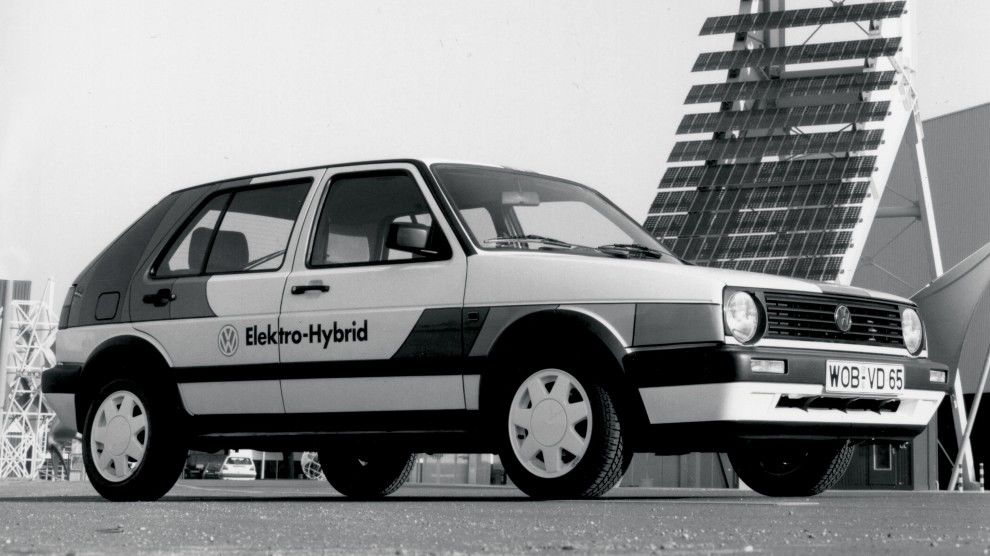 Volkswagen currently offers two electric cars, the e-Golf and the e-up!, as well as a plug-in hybrid, the XL1. The benefits of electric cars include lower energy costs, decreased emissions (especially local emissions), and lower maintenance costs (no regular oil changes and fewer moving parts). While Volkswagen has only recently started offering electric vehicles for sale to the general public, they have been working on electric and hybrid vehicles for quite some time.
In 1976 they fitted a Golf with a 20 horsepower electric motor, creating the Golf I CityStromer. It was capable of 50 mph and had a range of 31 miles from its lead acid batteries. In 1989 Volkswagen created the Golf II CityStromer with a limited production run. Its 25 horsepower motor allowed a top speed of 62 mph, and its gel batteries gave it a range of 35 miles, though performance wasn't great with a 0-31 miles per hour run taking 13 seconds. They followed this up with another limited production model in 1993, this time with a range of up to 56 miles.
The newest electric version of the Golf follows the tradition, and the e-Golf looks very similar to the normal gasoline powered versions. When compared to the previous electric Golfs it has significantly more power as well as greater range. The electric motor produces a generous 115 horsepower, but more importantly 199 lb-ft of torque that is available from a standstill. The e-Golf can sprint from 0 to 37 miles per hour in 4.2 seconds, and has a top speed of 87 miles per hour. With a full battery charge the vehicle has a range of up to 118 miles, and recuperation is used to recharge the battery when braking. The high voltage battery in the e-Golf should have a long life, and Volkswagen is proving an eight year guarantee on it.
The e-up! is a smaller electric vehicle, powered by an 80 horsepower electric motor that generates 155 lb-ft of torque. Top speed is 81 miles per hour, and 0-62 miles per hour takes 12.4 seconds. Volkswagen says that 80% of motorists drive less than 31 miles a day, so the e-up!'s range of 99 miles should be more than adequate for the daily commute.
The XL1 is an extremely aerodynamic and fuel efficient plug-in hybrid. With a body made from carbon fibre-reinforced plastic to reduce weight, a drag coefficient of only 0.189 (making it the most aerodynamic mass produced vehicle), brake recuperation, and hybrid technologies, the XL1 is rated at an almost unbelievable 261 miles per gallon on the European test cycle.