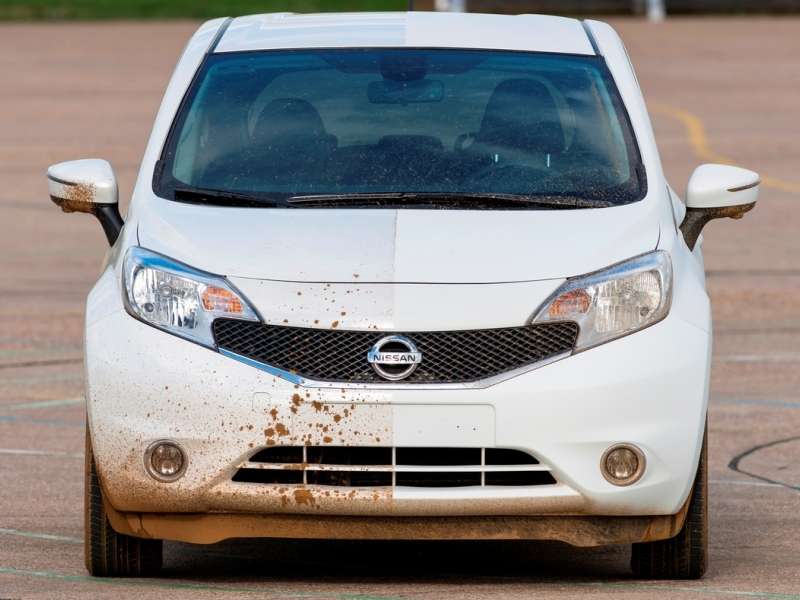 Nissan has been testing a self cleaning concept car in Europe. The car uses an innovative nano-paint technology called Ultra-Ever Dry by UltraTech International to help keep the car clean and potentially make washing your car a thing of the past.
Ultra-Ever Dry is a superhydrophobic (extremely hard to wet) and oleophobic (oil repelling) coating that promises to keep objects dry by repelling water, some oils, wet concrete, and many other liquids. Since Ultra-Ever Dry repels dirty water and thick oils the surface should remain mostly clean. Any dust or dirt can be easily blown or rinsed off. No water also means that ice shouldn't be able to form on the coating, and it can also prevent corrosion and help extend product life.
Nissan is the first manufacturer to test the technology, and they will assess the real world effectiveness of the coating over the next few months in a variety of different conditions. The coating appears to be meeting expectations so far, and seems to repel rain, spray, frost, sleet, and standing water. If the testing continues to go well, Nissan may consider offering the coating as an aftermarket option in the future.
While this Nissan is only a concept, if you want to have your own self-cleaning car (or bike, or almost anything really) Ultra-Ever Dry (as well as other similar coatings) can be found for sale online.