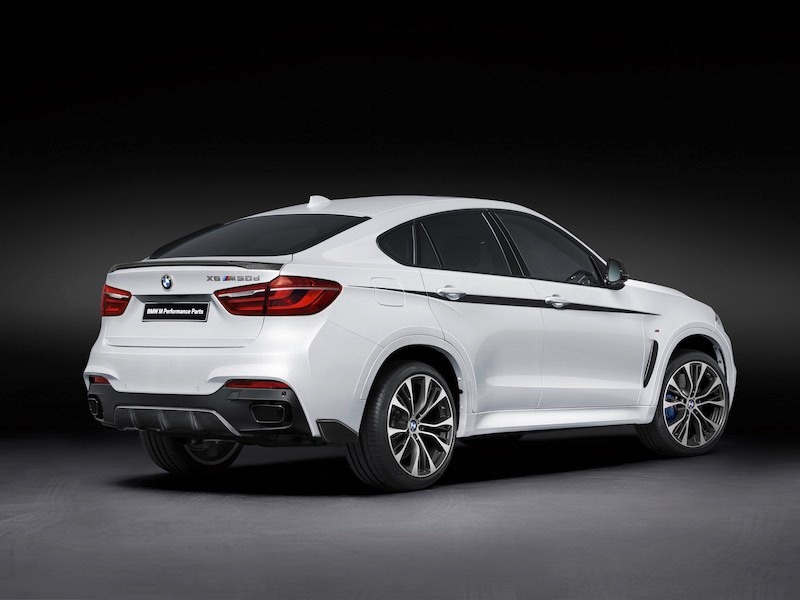 bmw x6 m performance ・ Photo by BMW Media
If you want to make your BMW X6 even more sporty, the good folks at M Performance Parts have you covered. Whether you want to add some accents to the exterior, improve the ambience of the interior, improve your driving, or just go a little faster, they can help you increase the pleasure you feel when at the wheel of your ultimate driving machine.
The M Performance Aerodynamics Package improves both looks and aerodynamics, and includes a carbon front splitter, rear diffuser and spoiler, rear fins, and rear side flaps, all in sporty yet elegant high-gloss black. Hand built BMW M Performance carbon exterior mirror caps and a radiator grille with a black frame and slats further complement the vehicle's looks. There are four available bi-color light-alloy 21-inch wheel options, each of which are 3.3 pounds (1.5 kilograms) lighter than standard light-alloy wheels, thanks to a special manufacturing process. To complete the exterior visual upgrades, there is an available BMW M Performance silencer system, which improves not only the Sports Activity Coupe's looks but also its sounds, thanks to improved exhaust gas channeling.
On the inside, you can upgrade to LED door sill plates in brushed stainless steel look with illuminated BMW M Performance lettering; because they run on batteries, the sill plates are easy to install without having to run any wires. M Performance carbon interior trim strips help make the interior stand out from the standard car's, and, like the Steptronic sport transmission's carbon gearshift lever with the BMW M logo, add a sporty and exclusive character to the cockpit. The BMW M Performance stainless steel pedal covers and footrest provide another functional and visually appealing upgrade to the interior, and the M Performance steering wheel in Alcantara with carbon trim is perfectly grippy, even in extreme driving conditions, but remains pleasant to the touch in all temperatures.
If you want to better take advantage of the performance already available in your X6, the BMW M Performance Drive Analyser allows you to examine your driving style with precision. Whether driving on a race track or from point A to point B on the road, the tool records driving dynamic data. The Drive Analyser consists of an On-Board Diagnostic (OBD) stick that plugs into the car's OBD port that communicates via Bluetooth with an app for Android and iOS smartphones and tablets. (The car's Click & Drive holder allows the easy attachment of a smartphone to the vehicle's windshield.) Metrics such as the car's speed, current gear, accelerator and brake usage, and even lateral acceleration are stored on the smartphone or tablet and can be accessed at any time.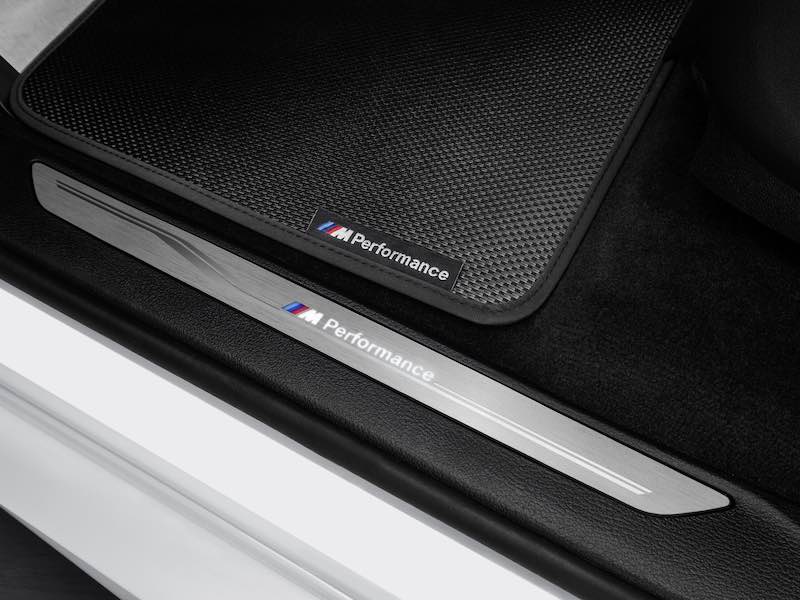 Photo by BMW Media
If all you really want is more performance, the BMW M Performance Parts range also incudes two Power Kits. The kit for the X6 xDrive30d ups power from 258 horsepower and 413 lb-ft of torque to 277 horsepower and 431 lb-ft, and shaves 0.2 seconds from the 0 to 62 mile per hour time. It includes a new control unit with revised engine data, and additional hardware components such as an upgraded intercooler. The kit for the xDrive30d also comes with larger 18-inch front brake discs to increase stopping power. The Power Kit for the xDrive35i increases power from the stock 306 horsepower and 295 lb-ft of torque to 326 horsepower and 332 lb-ft, improving acceleration to 62 mph by up to 0.5 seconds. The increase in power is accompanied by a sportier accelerator pedal setup to deliver faster throttle response, and an optimized engine and exhaust soundtrack. Most impressively, the power upgrades in both Power Kits come without any fuel economy penalty (in the ECE driving cycle).
BMW points out that unlike many third party accessories, Original BMW Accessories are always perfectly matched to the specific vehicle, and don't affect the car's warranty. The parts enhance not only your car's driving pleasure, but also its value, so if you are looking to make a few modifications to your BMW X6 (or pretty much any other BMW vehicle, including the 2 Series, 3 Series, 4 Series, 5 Series, 6 Series, 7 Series, i3, X model SUVs, Z4, and M models) be sure to take a look through the BMW M Performance Parts catalog.
Photo by BMW Media