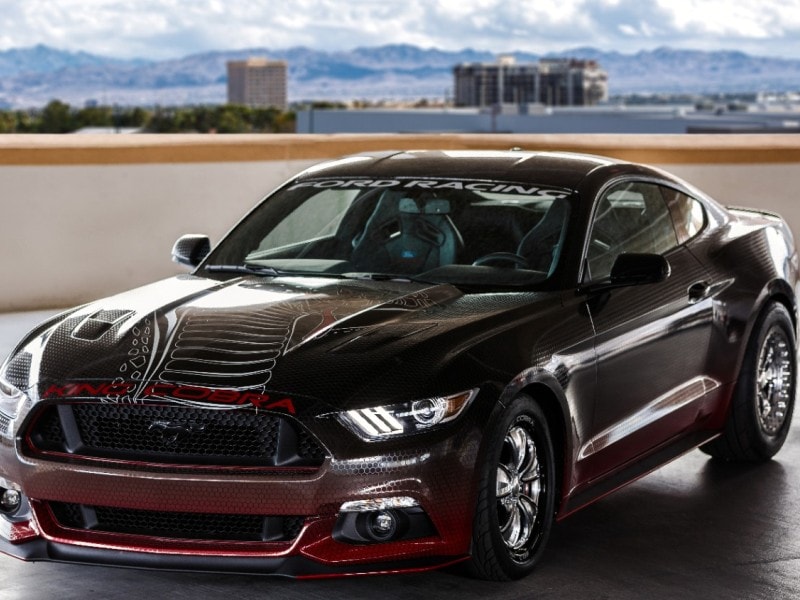 ford mustang king cobra
If you are lucky enough to own a 2015 Mustang, but aren't satisfied with its performance, Ford has you covered with the King Cobra Parts Package. Shown at the recent SEMA show, the King Cobra parts package actually consists of three sub-packages, the Drag Pack, the Handling Pack, and the Super Pack, and is meant to turn your Mustang into a high performance street and drag strip car. While the most recent King Cobra (based on the 1978 Mustang) hasn't been particularly fondly remembered, this 2015 edition should turn the tide, with performance that is more reminiscent of the 1970 Torino King Cobra prototype.
The Drag Pack improves traction and helps put the power to the ground during hard launches and fast acceleration. The package consists of heavy-duty rear half shafts and a rear sub-frame kit that comes with pre-installed high performance bushings.
The Handling Pack helps get the car around corners even faster. The package lowers the car by approximately an inch, and includes front lowerings springs on pre-assembled struts, rear lowering springs and shocks, and a stabilizer bar kit.
The Super Pack is the key component of the King Cobra parts package, and includes a supercharger co-developed and co-branded by Ford Racing and ROUSH Performance. The 2.3L Twin Vortices Series (TVS) supercharger includes a six rib belt drive system, intake manifold, electronic throttle body, air inlet system, fuel rail, high flow injectors, air to liquid intercooler system, and a Ford Racing performance computer calibration. Equipped with the Super Pack, your Mustang should be making over 600 horsepower, and if the parts are installed by an authorized dealer, the kit will be covered by a Ford Racing/Roush Perfomance parts limited warranty.
Ford Racing recently installed an early version of the King Cobra package on a 2015 Mustang and took it to Michigan's Milan Dragway. When they ran it down the track it was able to complete the quarter mile in 10.97 seconds, nearly matching the Challenger Hellcat's best of 10.8 on drag radials (the Hellcat ran an 11.2 second quarter mile on street radials).
If you are looking to upgrade your Mustang to King Cobra specs, the parts can be ordered by any Mustang owner with the help of the Ford Racing parts catalog.