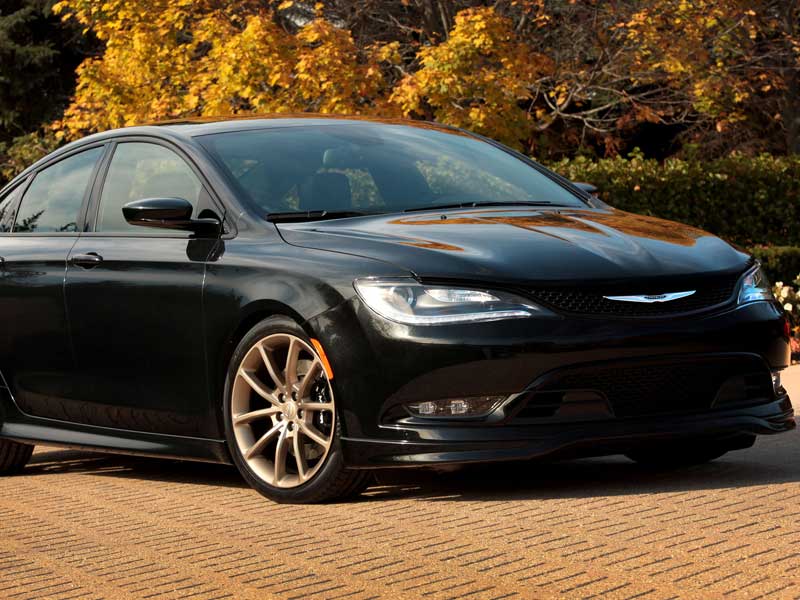 chrysler 200
Chrysler (with a little bit of help from Mopar) will be displaying a number of vehicles at the SEMA Show in Las Vegas, and one of the most interesting is the Chrysler 200S Mopar. The car started life as a regular production model Chrysler 200S, which was then upgraded with parts and accessories from the Mopar Custom Shop.
The 200S Mopar is painted in Phantom Black Tri-coat paint and features an Ambassador Blue leather interior. To make the car stand out from the crowd (always a goal at SEMA) it has been equipped with a Mopar body kit, which includes a unique front splitter, side sills, rear side sill extensions, and rear valance. A coilover lowering kit and 19 inch wheels with a Mopar bronze finish not only improve the looks but also give the car a sportier ride. Performance upgrades include a Mopar catback exhaust (with Mopar prototype quad exhaust tips), a Mopar cold-air intake, and a Mopar big brake kit.
The interesting bit about this show car is that you should soon be able to easily replicate one for yourself by purchasing the parts from the Mopar Custom Shop catalog. Alternatively, a version of the Chrysler 200S Mopar show vehicle should be available straight from dealers starting in the first half of 2015.
Chrysler will be showing a wide variety of other vehicles at SEMA, including concepts like the Dodge Challenger T/A Concept, the Dodge Viper ACR Concept, the Ram ProMaster Hospitality Van, the Fiat 500 Abarth Scorpion, and the Jeep Wrangler Maximum Performance. If you are looking for something with a little more power, they will also be showing off production versions of the Dodge Challenger SRT Hellcat and Dodge Charger SRT Hellcat.