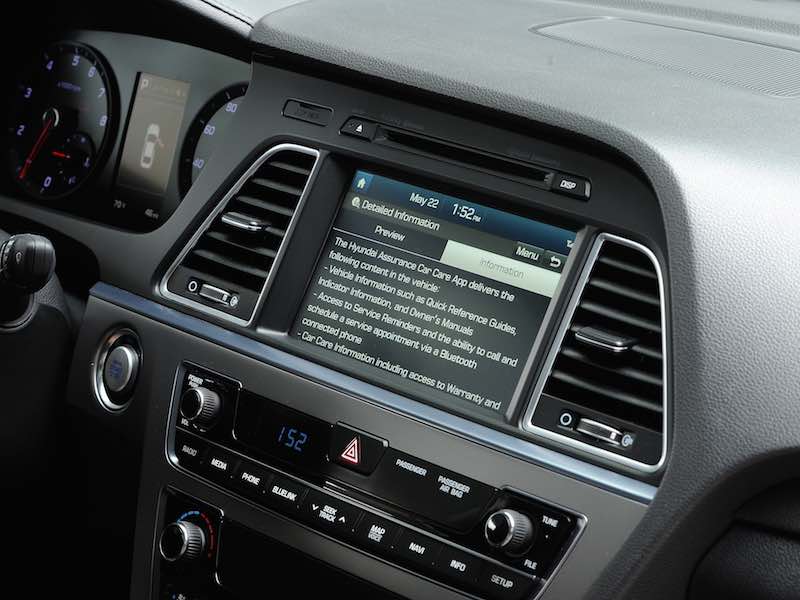 hyundai blue link screen ・ Photo by Hyundai
Hyundai recently released a new version of their Blue Link smartphone application that allows Blue Link-enabled vehicles (with the proper subscription) to interact with your smartphone. The app can use a cellular or wireless connection from your phone to remotely control your car, including the ability to start your car (or turn it off), change your climate control and defroster settings, set up a service appointment, search and send Points of Interest (POIs), lock or unlock doors, turn your lights on and off, honk your horn, and even find your car if you've lost it. Enhancements in the latest version of the app include Destination Search powered by Google, Remote Start with Climate Control, Automatic Collision Notification (ACN), and SOS Emergency Assistance.
The Hyundai Genesis Intelligent Assistant mobile app combines Hyundai Blue Link features with data from the vehicle, a smartphone, and the Internet with multiple layers of intelligence in order to make the car more convenient and efficient, and help owners save time. Using this combined data, the Genesis Intelligent Assistant can send proactive notifications and recommendations to the owner in preparation for a drive. By providing access to their smartphone's calendar, the application can automatically estimate departure times and send reminders for upcoming appointments that require a drive. Departure times are calculated with up-to-the-minute commute times, accounting for traffic.
Before the estimated departure time is reached, the outside temperature is determined via zip code. If the temperature is above or below a default value, users will receive a notification asking them if they would like to remote start their vehicle to warm up the interior and engine, or to cool down the interior. Vehicle health status is also communicated through the smartphone app, notifying the driver when action is required, and allowing the customer to schedule car care directly from the application.
Many Blue Link features are available in the Intelligent Assistant app, including remote climate control, remote defroster, and remote engine start. The Genesis Intelligent Assistant app is a framework for the future, and additional functionality will become available to provide the owner with the ultimate luxuries of time and convenience.
Blue Link 3.0 is available on most Hyundai vehicles, including the Elantra, Sonata, Genesis, Genesis Coupe, Equus, Tucson, and Veloster, but it is not available on the Accent. As the name implies, the Hyundai Genesis Intelligent Assistant is currently only available for the Genesis. Both applications can be downloaded for both Apple iOS and Google Android devices.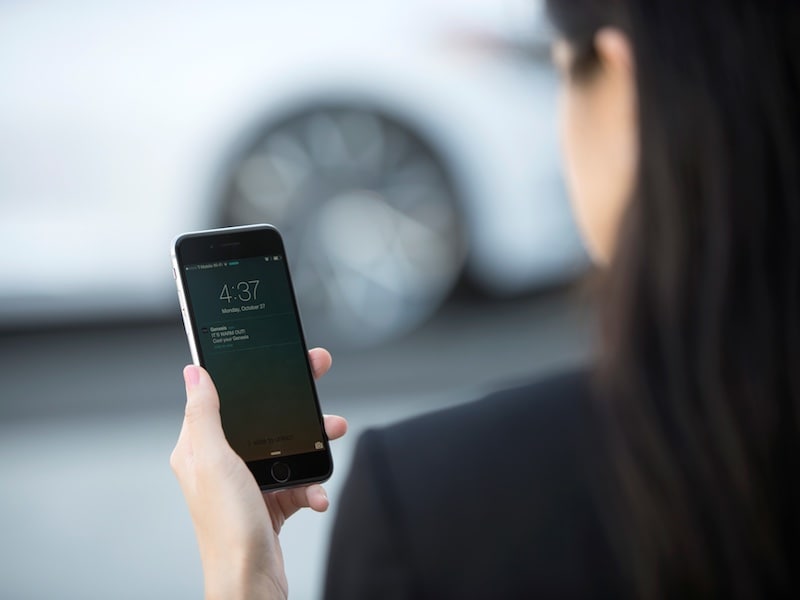 Photo by Hyundai