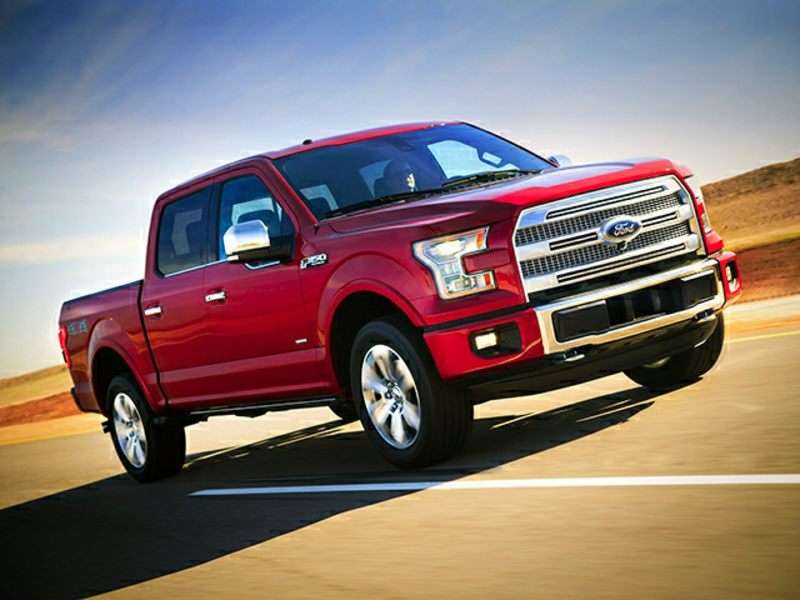 2015 ford f150
The 2015 Ford F-150 will be approximately 700 pounds lighter than the 2014 version, largely thanks to the new high strength, military grade aluminum body. Less weight means that a smaller engine can offer the same performance as a larger engine would with a heavier truck (at least unloaded), and turbocharging can reduce the required displacement again. The newest EcoBoost for the F-series is a 2.7 liter V6 engine that puts out 325 horsepower and 375 lb-ft of torque. Those numbers are enough for a payload capacity of 2,250 lbs and a towing capacity of 8,500 lbs.
The 2.7 EcoBoost is an all new design, and Ford's first gasoline engine made with a compacted graphite iron cylinder block (the same material used in the 6.7 liter Power Stroke diesel's block). The composite CGI/aluminum block saves weight while providing strength where needed for durability. The light engine and body mean that the F-150 equipped with the 2.7 EcoBoost has a 15% better power to weight ratio compared to a 2014 F-150 with the 5.0 liter V8, with similar torque output.
In Ford's testing, the little 2.7 liter EcoBoost outperformed the Ram 1500's 3.0 liter EcoDiesel V6 and the Chevrolet Silverado 1500's 5.3 liter gasoline V8 when towing a 7,000 pound trailer up Davis Dam in Arizona (the same grade used by the Society of Automotive Engineers for its J2807 towing testing standards, which the 2015 Ford F-150 will follow).
The engine's standard Auto Start-Stop system helps to further improve fuel economy and reduce emissions by shutting off the engine when the vehicle is stopped, and restarting it quickly when the brake is released. The Auto Start-Stop system disengages when towing or in four-wheel drive.
Other engines available in the 2015 F-150 include the standard 3.5 liter normally aspirated V6, the proven 3.5 liter EcoBoost V6, and the 5.0 liter V8.