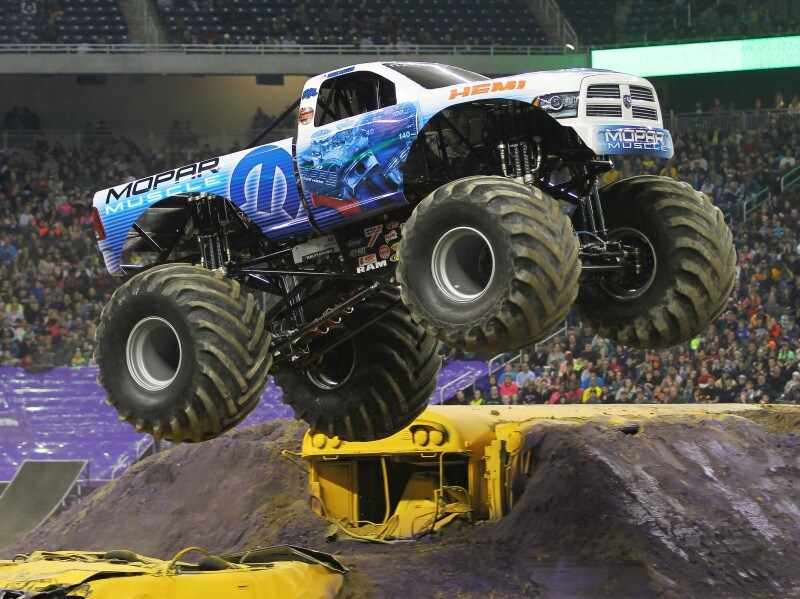 big truck
Pretty much everyone has heard of Bigfoot, the (usually) Ford powered and bodied truck with huge tires that created the monster truck genre in 1979 when the first model was built by Bob Chandler. We are now up to Bigfoot 21, with each generation bringing improved suspension and better performance. Bigfoot has held the record for longest jump several times, with Bigfoot 14 jumping 202 feet over a Boeing 727 and Bigfoot 18 jumping 214 feet 8 inches, before eventually being beaten by Joe Sylvester Motorsports' Bad Habit, which jumped 237 feet 6 inches. Up until a few years ago Bigfoot 16 also held the record for fastest monster truck, reaching 86.56 miles per hour (in 7.85 seconds) on a 1/8th mile drag strip, but this record has also recently been eclipsed, most recently by Raminator.
Sponsored by the Ram Truck brand, the Hall Brothers' Raminator is currently less well known than Bigfoot, but recently set the Guinness World Records record for the Fastest Speed for a Monster Truck. The record was broken at the Circuit of the Americas in Austin, Texas, a track better known for hosting the United States Grand Prix Formula 1 race. Using one of the track's straightaways, Raminator was able to reach a speed of 99.10 miles per hour, eclipsing the previous record of 96.8 miles per hour. While 99 miles per hour pales in comparison to the 200 miles per hour that the Formula 1 cars reach down the back straight, it is an impressive speed for a 10,000 pound truck. In order to set the record, Raminator had to use all of the 2,000-plus horsepower generated by its 565 cubic inch supercharged Hemi engine.
With Bigfoot no longer holding either of these records, we might see a few new record attempts in the coming months as they try to again assert their dominance in the sport that they essentially created. If you want to create your own monster truck, you might want to start with a new Ford F-150 or Ram 1500 (in 4x4 trims of course).