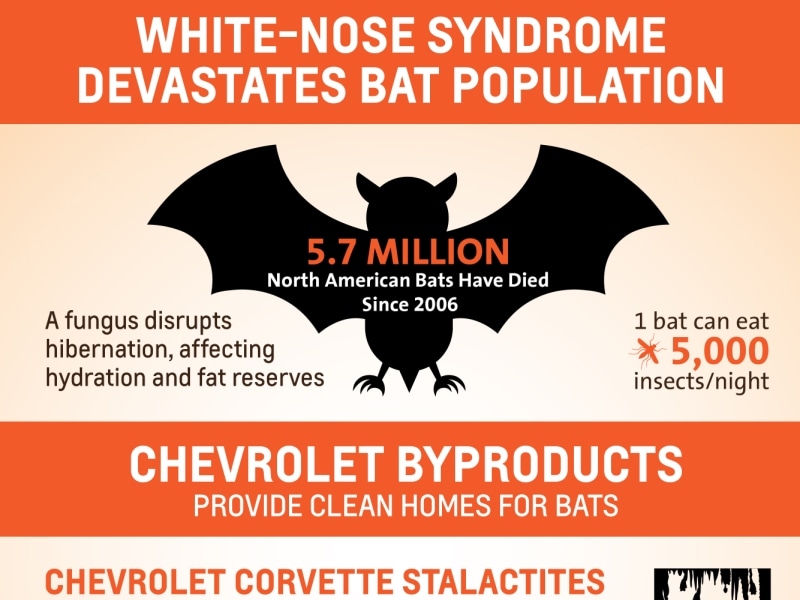 bat
General Motors has recently committed to reducing the environment impact of their vehicles and facilities, and now has an industry leading 26 certified wildlife habitat programs. A few years ago they started creating bat houses out of scrap Chevrolet Volt battery covers that would have otherwise ended up in landfills. So far 232 of these battery covers have been installed (on GM's properties as well as other private and public lands), each capable of housing up to 150 little brown bats.
These bat houses show promise in helping prevent the spread of white-nose syndrome, a deadly fungus appearing on the muzzle and other parts of hibernating bats which has already killed more than 5.7 million bats in the United States and Canada. Bats with white-nose syndrome act abnormally and wake up from hibernation too often, which leads to their death. Saving the bats is important work because a single bat can eat up to 5,000 insects a night, and they also help repopulate plants and maintain forests by helping with their pollination. Researchers are looking for ways to stop the transmission of the disease, which is occurring at a rapidly escalating rate. If a solution is not found soon, many different bat species could become extinct.
General Motors has recently discovered another way that the leftovers from their manufacturing could be used to help the flying mammals. Bat experts from organizations such as Bat Conservation International and the Organization for Bat Conservation are currently reviewing the application, but GM believes that an adhesive used in the production of the 2015 Corvette Stingray can be processed into artificial stalactites (the formations that hang from the ceilings of caves). GM's manufacturing robots apply a structural adhesive to help join Corvette body parts together, and in order to keep the adhesive applicator clean and free of dried material they need to be purged regularly. The dried adhesive that is purged is much the same shape as the stalactites that bats hang from to hibernate. These artificial stalactites give the hibernating bats more surface area from which they can hang, spreading them further apart around the cave and hopefully reducing the spread of white-nose syndrome. This use for the leftover material could not only help the bats but also reduce the amount of material that gets disposed in landfills, an important consideration for GM as they work on their quest to be landfill free.
For more information on GM's green projects, visit their environmental blog at https://fastlane.gm.com/category/green.