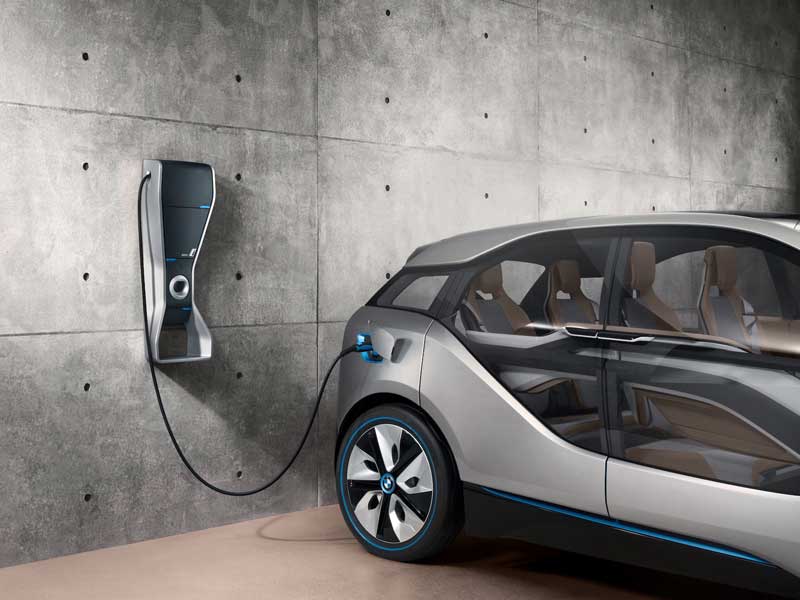 bmw i-wallbox
BMW has been working on the development of systems for the inductive charging of their electric and plug-in hybrid cars. Currently when you wish to charge a BMW electric vehicle quickly you need to connect a charging cable from BMW's i Wallbox to the vehicle. In the future the objective is for users to be able to charge their car wirelessly, with a cableless connection.
The BMW Group has signed an agreement with Daimler to develop and implement a standardized technology for inductive charging. The system uses two main components, a base plate and primary coil located underneath the car, for example on the garage floor, and a secondary coil in the vehicle's floor. Once the car has been positioned correctly over the coil the driver can start the charging process by pressing a button in the car. The electrical energy is then transmitted through a magnetic field generated between the coils. The contact-free system is capable of charging at a rate of 3.6 kW (enough to recharge an i8 in less than two hours), and with an efficiency factory of over 90%, allowing for safe, convenient, and efficient charging. The system also foresees the future of higher battery storage capacities with the possibility of increasing the charging rate to 7 kW.
The system works regardless of weather conditions, even in rain or snow. The system's conductive components are protected from the weather, and can even be installed outside. The system is designed so that ambient electromagnetic radiation is kept to a minimum, and the space between the primary and secondary coils is permanently monitored, so that charging can be halted instantly if any foreign bodies are detected between them.
Data is transmitted via a WiFi connection between the vehicle and charging station to help keep the driver informed and help them position the car when parking. Like today's i Wallbox the inductive charging systems of the future will allow users to activate and monitor the charging process from a smartphone. The smartphone app will keep you informed with information such as the battery's charge status or the remaining time until charging is complete.