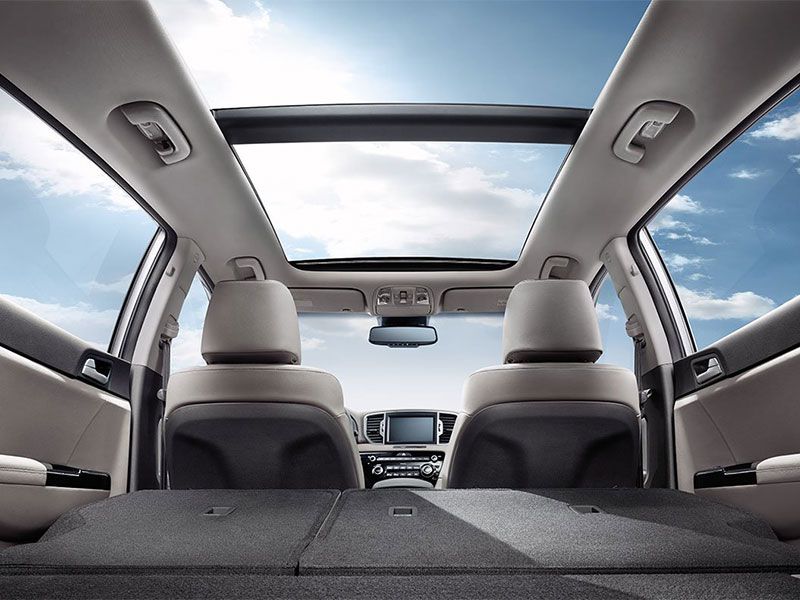 2017 Kia Sportage exterior sunroof ・ Photo by Kia
You love the idea of owning a convertible, with the feeling of the wind in your hair and the sun on your skin. But you need something a little more practical, with room for your family and friends, along with your bulky gear. Not a problem. Panoramic sunroofs range from dual-pane designs that double the size of a typical sunroof to full glass roofs running from the front seats to the cargo area. And you don't have to spend a ton of money to enjoy this fun-in-the-sun feature.
Based on our list of 10 affordable SUVs with panoramic sunroofs, you can easily find one that costs less than $30,000. In fact, each model on this list has a base price of less than $25,000, even though most of the time you must opt for a more expensive trim level or an option package in order to get the glass roof. So, while the weather's not so nice, enjoy these cozy SUVs and their available all-wheel drive. And when the weather is nice, open that panoramic sunroof up, let the outdoors in, and go for a drive. They're listed on the pages that follow in alphabetical order, with their base prices.
1. 2020 Buick Encore GX ($24,100)
When it comes to small SUVs, Buick's got you covered. The subcompact 2020 Buick Encore GX is an all-new model not to be confused with the Buick Encore, a completely different and even tinier subcompact SUV. But the Encore GX is smaller than the compact Buick Envision. Got that? Encore, Encore GX, Envision.
Confusion aside, Buick's Encore GX has room for five people and carries 25.2 cubic feet of cargo with the rear seats in use or 50.2 cubic feet with the back seats folded down. A power dual-pane sunroof is a stand-alone option with even the base Preferred trim level, priced at $1,250. But the Encore GX has plenty of other attractive features, like optional all-wheel drive, a head-up display, and more.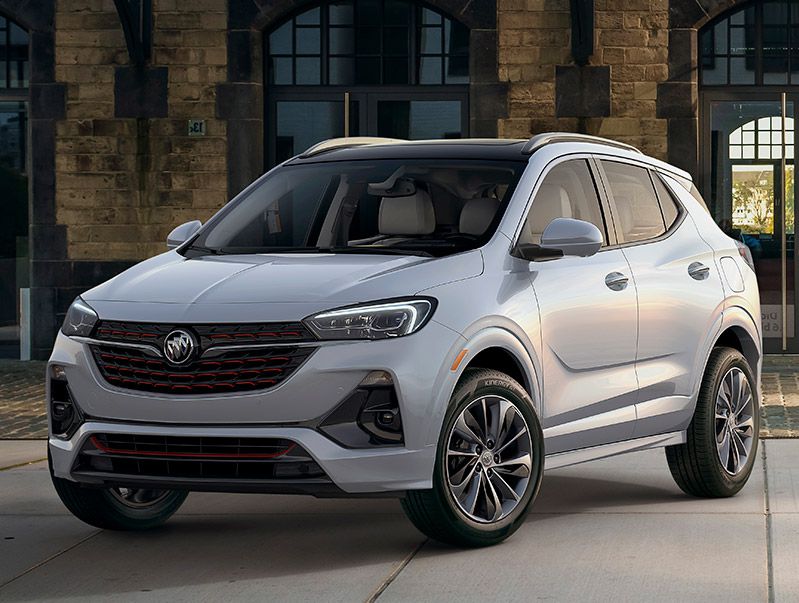 Photo by General Motors
2. 2021 Chevrolet Trailblazer ($19,000)
Not only is the brand-new 2021 Chevrolet TrailBlazer one of the coolest-looking SUVs on the list, but it also has the distinction of having the lowest base price, starting at less than $20,000.
Don't expect to pay that if you want a panoramic sunroof, though. At the very least, you'll need to upgrade to the Trailblazer LT, which starts at $24,595, and then choose the $1,770 Sun and Liftgate Package. But to get that package, you also have to get a bigger engine, the Driver Confidence Package, and the Convenience Packages. So, sure, you'd have to shell out $27,725 before you can enjoy the rays of the sun through the big sunroof, but you'd have a fairly well-equipped vehicle, with plenty of safety equipment and up to 54.4 cubic feet of cargo space (25.3 cubic feet behind the back seat).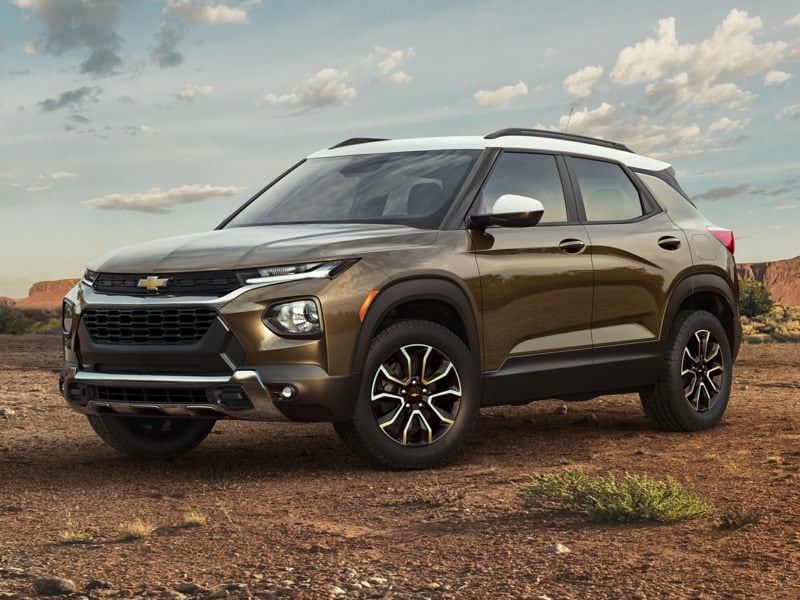 Photo by Chevrolet
3. 2020 Fiat 500X ($24,590)
It's cute, it's funky, and it's five years into its lifespan. But it still draws looks, since it's relatively rare. With bulbous curves and Italian flair, you can't help but grin at the 2020 FIAT 500X, despite its limited cargo capacity of 14 cubic feet behind the rear seats and 32 cubic feet with the rear seats folded. Those dimensions give this Fiat the dubious distinction of being the least cargo-friendly model on this list.
Unlike most affordable SUVs with panoramic sunroofs, the 500X includes standard all-wheel drive. The dual-pane sunroof is an extra-cost option, though it's offered for as little as $1,250 on the base Pop trim level.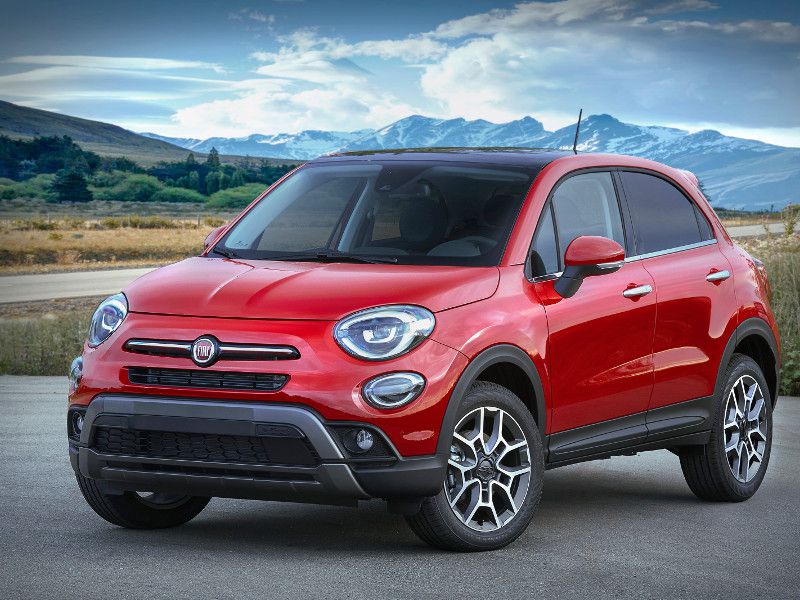 Photo by FIAT
4. 2020 Ford Escape ($24,885)
Completely redesigned for 2020, the Ford Escape looks more like a car than ever, with a design inspired by the Mustang, according to the automaker. The new 2020 Escape is also more technologically sophisticated than ever, and if you're looking for a way to let the outside in, a power panoramic sunroof is available.
To get it, you'll need to choose SE trim ($27,105) at a minimum and then spend an extra $1,495 for the stand-alone panoramic sunroof option. The upgrade is also available for the SEL and Titanium trim levels and is included in the SE Sport Premium Package.
Photo by Ford
5. 2020 Jeep Compass ($22,280)
Looking like a Grand Cherokee but priced thousands of dollars less, the Jeep Compass is one of two small crossover SUVs the company sells. The other one is the Renegade, which has a far more expressive personality modeled on the iconic Wrangler.
By inference, then, the Compass is the more refined and sophisticated of the duo, and it offers a wide range of upgrades and customization opportunities. One of those features is a power panoramic sunroof. To get the glass roof, you need to choose Latitude trim ($25,625) at a minimum and then add the full sunroof option for an extra $1,595. Or, get the special Sun & Wheel version of the Compass ($26,520), which adds the sunroof and aluminum wheels. The Compass holds 27.2 cubic feet of cargo behind the rear seat and up to 59.6 cubic feet with the back seat folded down.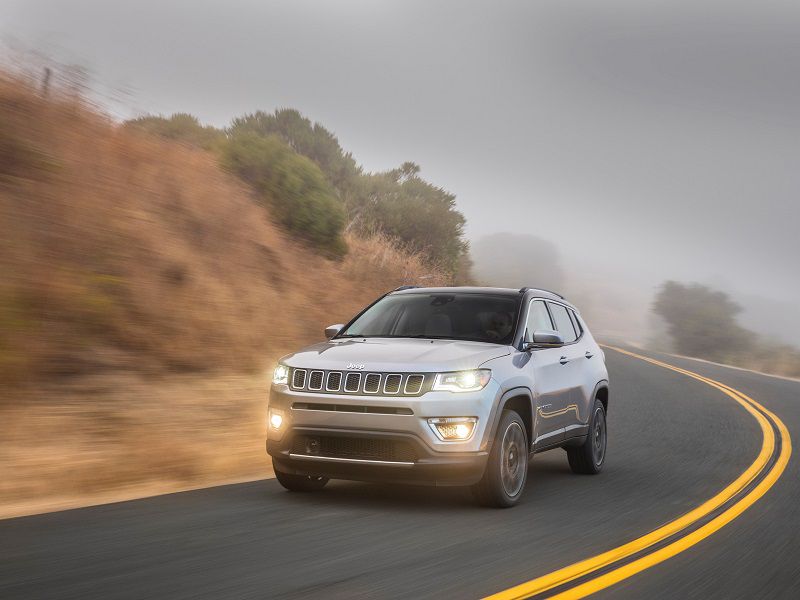 Photo by Jeep
6. 2020 Jeep Renegade ($22,375)
The other small Jeep SUV is the 2020 Renegade, which offers plenty of personality to go along with its available turbocharged power and off-roading capability. It doesn't carry the same amount of cargo as the Compass, though, at 18.5 cubic feet behind the back seat and 50.8 cubic feet with the rear seat folded down.
While it might not be as accommodating of your things, the Renegade gives you two different options for open-air enjoyment. The first is a traditional dual-pane panoramic glass roof and the second is the My Sky power opening and removable sunroof. With My Sky, two separate sunroof panels cover the roof. Your options are to open the front panel or to remove and store both panels, which fit neatly into the Renegade's trunk. MySky is a $1,595 option and is even offered on the base Sport trim, which starts at $22,375. To get the dual-pane panoramic glass roof, you'll need Latitude trim ($24,395) at a minimum.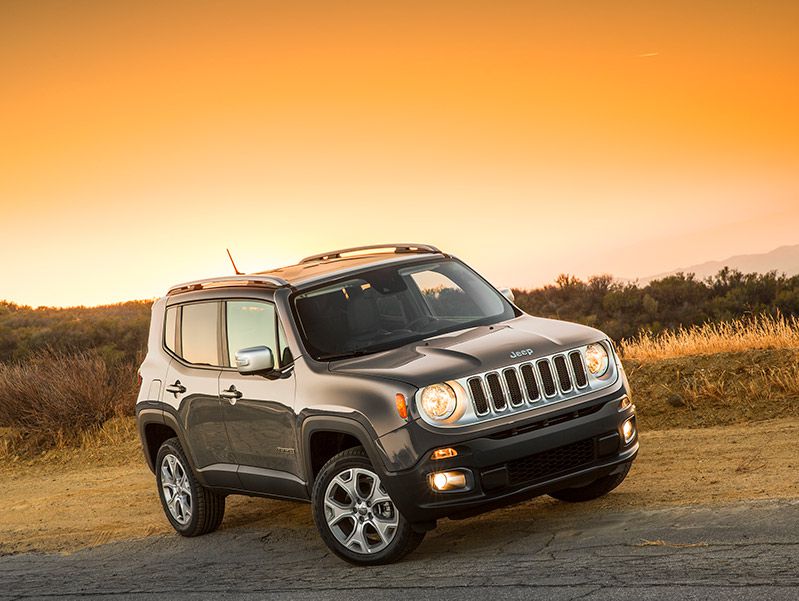 Photo by Fiat Chrysler Automobiles
7. 2020 Kia Sportage ($23,990)
The Kia Sportage is a compact SUV supplying 30.7 cubic feet of cargo space behind the rear seat and a maximum of 60.1 cubic feet. You can outfit a 2020 Sportage in any of a number of attractive ways, including with a 240-horsepower, 2.0-liter four-cylinder engine. But for that extra power, you'll need the expensive SX Turbo trim level.
Fortunately, Kia offers a panoramic sunroof at a lower price point than that. Choose the Sportage S ($26,140), which has a popular blacked-out appearance, and then select the panoramic sunroof option ($1,100). Kia also offers the glass roof as part of the EX Technology Package, and it comes standard on the SX Turbo.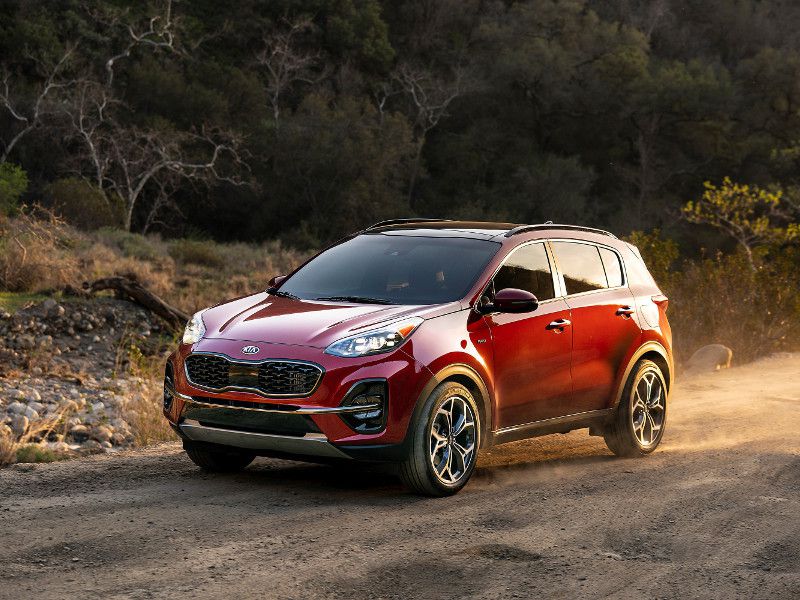 Photo by Kia
8. 2020 Mitsubishi Eclipse Cross ($22,995)
You haven't heard of the Mitsubishi Eclipse Cross? Mitsubishi is hoping that you'll associate good memories of the Eclipse sport coupe of yore when you're considering this subcompact sport 'ute.
People residing in locations where the temperature often turns uncomfortably cold will be glad to know that Mitsubishi offers a heated steering wheel, heated side mirrors, and heated front and rear seats to keep you nice and toasty. But when the sun comes out and temperatures climb, the Eclipse Cross offers a panoramic sunroof. Mitsubishi has a disclaimer on its website that says you can add the sunroof to the Eclipse Cross SE ($25,645) for just $1,000. Using my zip code, however, I couldn't build one using the Mitsubishi consumer website. And that's a problem because otherwise, you need to choose the SEL trim ($27,145) and then add the Touring Package ($2,100).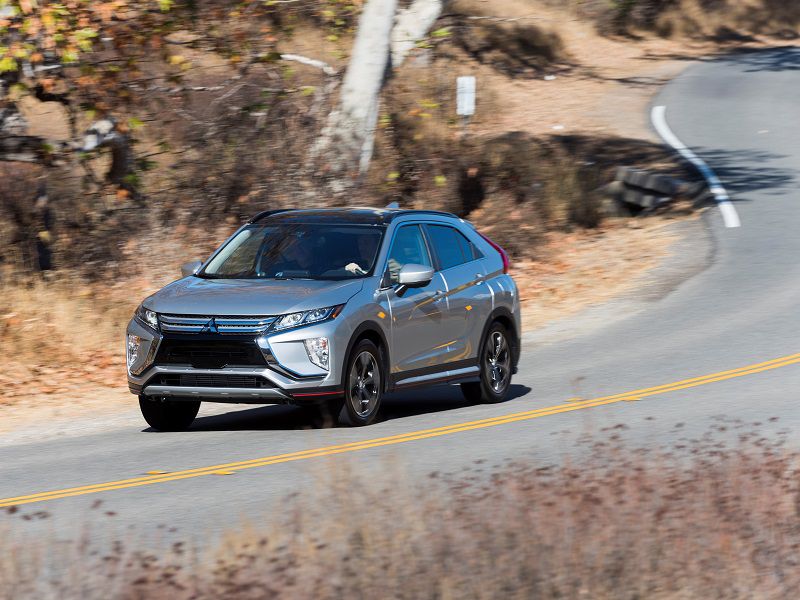 Photo by Mitsubishi
9. 2020 Subaru Forester ($24,495)
Subaru tends to be pretty generous when it comes to standard features, and that's true of the 2020 Forester. This compact SUV's panoramic sunroof comes standard all but the base trim level, which means it's baked right into the price of a Forester Premium ($27,395).
Given the Forester's ability to get out and enjoy the great outdoors, this makes sense. All-wheel drive is also standard, and the Forester boasts a remarkable 8.7 inches of ground clearance. This, in combination with large windows and the panoramic sunroof, lets everyone enjoy the view while traveling much further off the beaten path than most other models on this list. Also, you can take plenty of gear with you, thanks to 28.9 cubic feet of cargo room behind the back seat and a maximum amount of 70.9 cubic feet.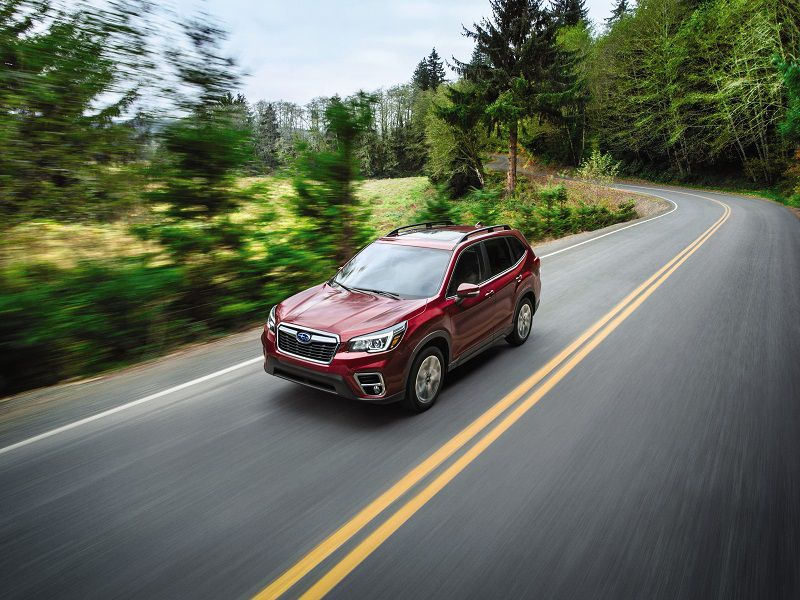 Photo by Subaru
10. 2020 Volkswagen Tiguan ($24,945)
You're looking at the most spacious SUV of this bunch, so much so that it offers an available third-row seat. Without it, cargo volume measures up to 37.6 cubic feet behind the back seat and as much as 73.5 cubic feet with the rear seats folded down.
Those figures make this the biggest SUV on the list, but what tends to wow people is the available Volkswagen Digital Cockpit instrumentation, where you can personalize the information displayed in the gauge cluster, including a full-screen navigation view. Plus, drivers love the Tiguan's Teutonic driving dynamics. But what of fun in the sun? You can get a panoramic sunroof on the SE trim level ($27,095) for an additional $1,200, while every more expensive model offers it as a standard feature.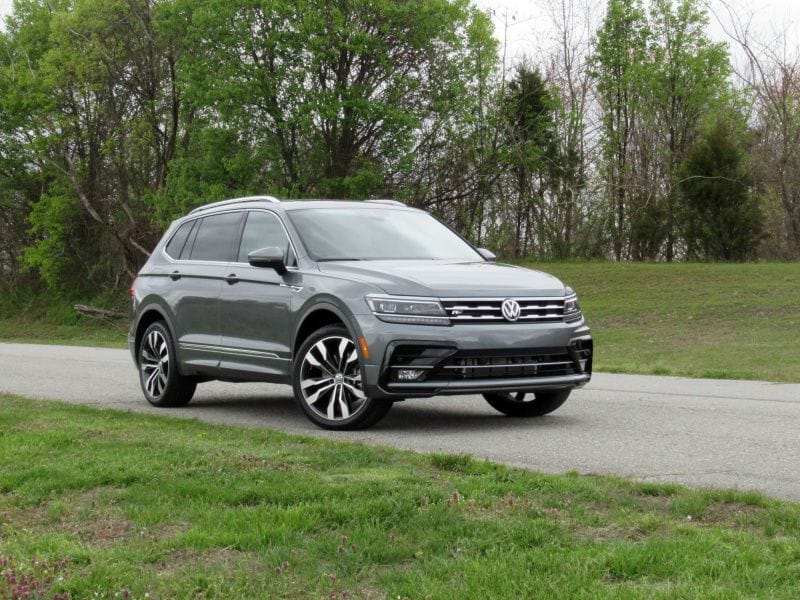 Photo by Brady Holt