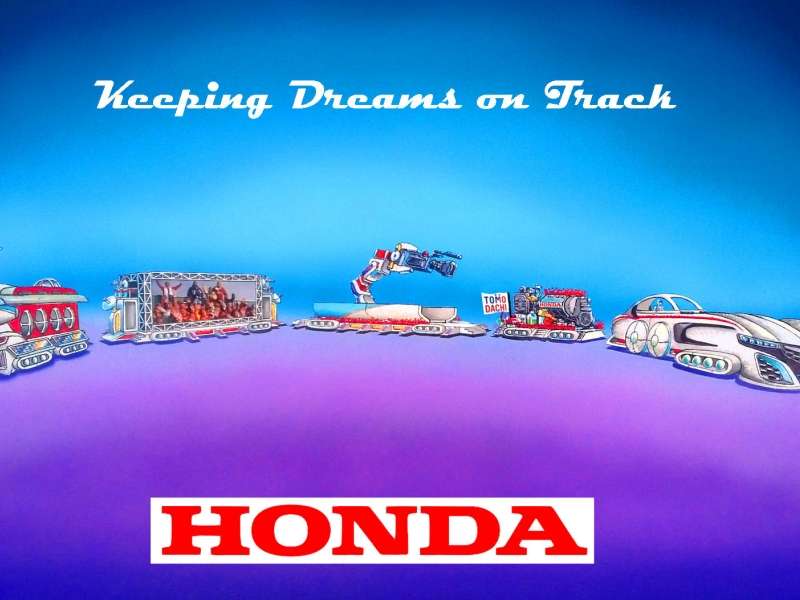 Yet another version of the all-new Acura NSX will make its debut in the following days, this time showing off an advanced hybrid propulsion system from Honda. Don't expect any high-speed action, however, as this particular variant will be pulling a float in the 2014 Rose Parade in Pasadena, Calif.
Well, it's more of an "Acura NSX sports car-inspired 'locomotive' car," according to the automaker, but with Honda's ASIMO robot at the helm, it will lead a five-piece "train" that will be the longest float ever to participate in the Rose Parade. The float honors the new TOMODACHI-Honda Cultural Exchange Program—with a mission to "create friendship and understanding between Japanese and American youth"—while also building awareness for Honda projects ranging from the HondaJet aircraft to hybrid automobile engines. In fact, leveraging the same technology used in production vehicles like the 2014 Honda Accord Hybrid, a specially upgraded Honda hybrid engine also delivers power for the company's Rose Parade float.
Other notable specs from Honda's "Keeping Dreams on Track" float:
Almost 9,000 flowers are being used to create the float, including 5,900 roses, 2,500 carnations and 580 gerberas, with all natural materials being converted to mulch after the parade
At its tallest and thickest, the 50-ton float will be 30 feet high and 18 feet wide
Stretching 274 feet in length, its 69 feet longer than the past record holder, Honda's Rose Parade float from 2005
Said Stephan Morikawa, assistant vice president of American Honda Corporate Community Relations: "Keeping Dreams on Track is an embodiment of Honda's deeply rooted philosophy, The Power of Dreams, as well as Honda's passion toward following those dreams to guide and inspire us to make a difference. Honda has many exciting efforts coming in 2014, and the Rose Parade marks our first opportunity to provide a sneak peek at some of these innovative Honda technologies and important new partnerships, while wishing everyone watching the Rose Parade a very happy New Year and joyous holiday season."
Honda is also returning for its fourth straight year as presenting sponsor of the annual Rose Parade, scheduled for Jan. 1, 2014, at 11:00 a.m. (ET).