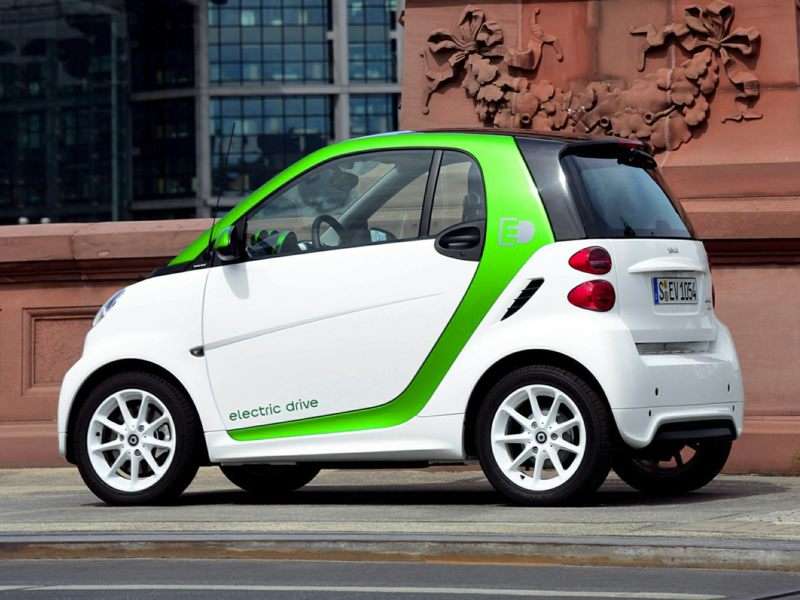 According to the American Council for an Energy Efficient Economy (ACEEE), the 2014 Smart Electric Drive—the EV version of the Smart ForTwo—is the "Greenest Vehicle" in the country, while the 2014 Toyota Prius c earns that title among unplugged vehicles. Those were just two of the highlights from this year's annual ACEEE Green Book ratings, available in complete detail at www.GreenerCars.org.
The ACEEE's methodology is fairly comprehensive, too, taking into account not just typical fuel-economy and emissions performance from individual vehicles but also looking at the estimated efficiency of the their manufacturing processes, fueling infrastructures, potential downstream health costs caused by contributions to air pollution, and the proverbial much more. The result is an ACEE "Green Score" that, for this year's vehicles, averaged 37 out of 100 points; the high point was the 59 achieved by the 2014 Smart Electric Drive, which sat atop an industry-wide leaderboard that looked like this:
Smart Electric Drive—59 points
Toyota Prius c—57 points
Nissan LEAF—55 points
Toyota Prius—55 points
Honda Civic Hybrid—55 points
Lexus CT 200h—55 points
Toyota Prius Plug-in—55 points
Mitsubishi Mirage—54 points
Honda Civic Natural Gas—54 points
Honda Insight—53 points
Smart ForTwo—53 points
VW Jetta Hybrid—53 points
Sales watchers will immediately notice that, except for the Prius proper, those are all small-volume entries that don't exactly provide a lot of choice for customers. And that's why the ACEEE also showcases leaderboards for …
ACEEE Greener Choices: The Prii Prevail Again
The ACEEE's list of "Greener Choices 2014" focuses on vehicles that combine noteworthy efficiency scores with no-hassle operation. More specifically, these entries all use traditional gasoline for fuel and rely on some form of automatic transmission, and include:
Toyota Prius c—57 points
Toyota Prius—55 ponts
Toyota Prius v—52 points
Chevy Spark—51 points
Buick Encore—46 points
Nissan JUKE—45 points
Kia Forte 5—45 points
Nissan Rogue—44 points
Ford Transit Connect Van—40 points
Toyota Tacoma—37 points
Honda Odyssey—36 points
Ram 1500 HFE—35 points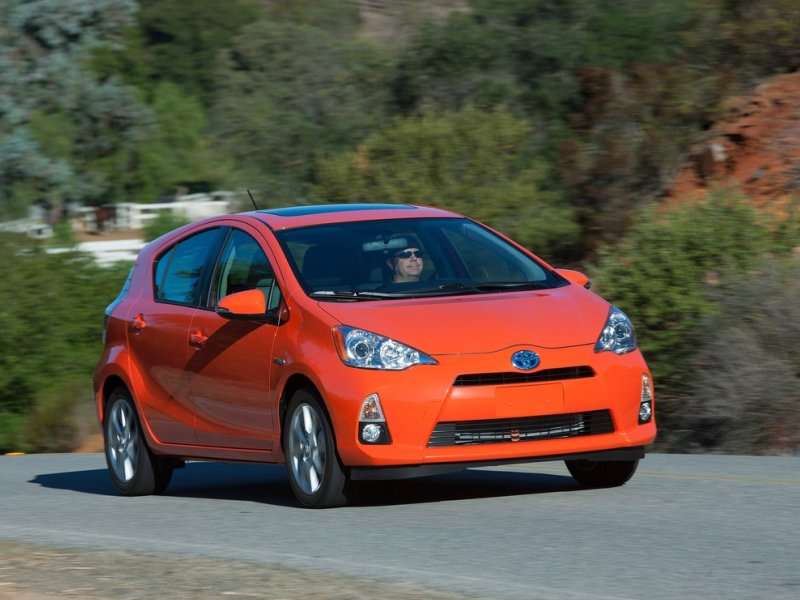 ACEEE Best Vehicles by Class: Top Choices in 14 More Categories
Finally, for drivers who absolutely must depart from both those lists, the ACEEE provides class breakouts for 14 different categories of vehicle, with leaders further separated by transmission style. Just keep in mind that these are the ACEEE's vehicle classes, so they may not match up with either the traditional segments or customer expectations; e.g., the 2014 Kia Forte 5 is listed as a "Large Car" even though, out in the real world, the compact hatchback is nearly 20 inches shorter than the Kia Optima mid-size sedan.
Be that as it may, the ACEEE's 2014 best-in-class choices are:
Two Seaters—Smart Electric Drive (AT, 59 points); Fiat 500 (MT, 50 points), Honda CR-Z (MT, 50 points)
Subcompact Cars—Chevy Spark EV (AT, 58 points); Ford Fiesta SFE (MT, 52 points)
Compact Cars—Toyota Prius c (AT, 57 points); Mitsubishi Mirage (MT, 52 points)
Midsize Cars—Nissan LEAF (AT, 55 points); Chevy Cruze Eco (MT, 49 points)
Large Cars—Kia Forte 5 (AT, 45 points); Kia Forte 5 (MT, 45 points)
Small Wagons—Honda Fit EV (AT, 56 points); VW Jetta SportWagen TDI (MT, 46 points)
Midsize Wagons—Toyota Prius v (AT, 52 points); Subaru Outback (MT, 40 points)
Minivans—Honda Odyssey (AT, 36 points)
Large Vans—Ford Transit Connect Van (AT, 40 points)
Compact Pickups—Toyota Tacoma (AT, 37 points); Toyota Tacoma (MT, 38 points)
Standard Pickups—Ram 1500 HFE (AT, 35 points); Nissan Frontier (MT, 31 points)
Compact SUVs—Subaru XV Crosstrek (AT, 46 points), Buick Encore (AT, 46 points); Mazda CX-5 (MT, 44 points)
Midsize SUVs—Nissan Rogue (AT, 44 points); Kia Sorento (MT, 37 points)
Large SUVs—Land Rover Range Rover Evoque (AT, 40 points)