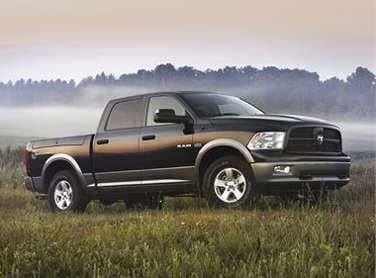 When the Chrysler Group decided it would split Dodge and Ram into two separate brands, it was clear that the Dodge Ram pickup/Ram pickup/Ram 1500—or whatever the proper name is for the division's full-size pickup—would be the star of the show. After all, the truck was one of the few Chrysler Group products to remain relatively competitive even when the company was at its nadir, and it launched an all-new generation just in time to help pull Chrysler out of its hole.
Only things didn't exactly work out that way. The truck's sales grew surprisingly slowly, with the Ram's year-to-date numbers at this point in 2010 still being down by 10 percent. But a very strong finish for last year put the Ram up 13 percent when the books were closed on 2010, and the Chrysler Group has seen strong numbers for the truck so far this year, too. Ram sales were up 35 percent in June, when it was the eighth-best-selling vehicle in the U.S., and that performance is right in line with its 32 percent increase on a year-to-date basis.
That's a stark contrast to what's going on with the dynamic duo that usually sits atop the pickup heap: The Ford F-150 is still by far America's top seller, moving 49,618 units in June, and the No.2 Chevrolet Silverado rang up 32,579 sales last month, besting the No. 3 Chevy Cruze by more than 7,500 units in June. But volume aside, the growth rates last month for those trucks were 6.7 percent and 5.1 percent, respectively, dragging down their YTD numbers to +9.9 percent and +9.6 percent, again respectively. The GMC Sierra nudged its way onto the last spot in the June top-20 list, with an 8.2 percent increase in sales over June 2010, but that represents quite a drop from the Sierra's 21.6 percent year-to-date improvement.
Considering the state of the marketplace, and the country's high fuel prices, I'd have to say the full-size pickup segment is showing some serious resilience in growing at all.
Yet there is increasing concern from some corners of the auto world that these sales performance are hiding a more troubling issue: Even with sales moving forward, dealer inventories, especially at Chevy and GMC outlets, are moving forward faster. The worry is that the automaker's will eventually have to load up on the incentives to sell down those high inventories, setting off a price war that will have a notably negative impact on the companies' profits, which, in turn, will lead the industry into another meltdown.
Much ado About Nothing?
Now, when you hear that GM has about 122 days worth of big-truck inventory on dealer lots, and that that's more than 50 percent above the amount that Automotive News calls "generally preferred," things do sound a bit sketchy. But it's important to remember that the industry average is 99 days, Ford's big-truck inventory stands at just 79 days and the Chrysler team has 93 days worth of trucks on their lots. (Note: All numbers per AN, which sourced a Reuters report, which relied on data from Ward's Auto.)
In other words, the big industry scare about big trucks essentially comes down to what's going on at General Motors, which, for its part, has been reassuring Wall Street that it both has reasons for carrying a higher inventory than Ford—GM needs a wider, more varied supply of trucks on hand because it has more retail customers who it needs to satisfy—and has taken measures to reduce the number of vehicles at dealerships by cutting truck production.
But even if you don't take that at face value, it's important to recall that Chevrolet has now had three consecutive months in which its cars have outsold its trucks, and this is before the Chevrolet Sonic comes on line and the Chevy Volt goes national later in the year. The Bow-tie brand and GM as a whole are obviously still counting on contributions from their full-size trucks, but their lineup, and their lineup's performance, are much more balanced than its been in decades.
The pressure on GM trucks, then, is much lower than it has been in past years, and the company's transaction prices are higher, too. I know I bring that up pretty often, but it doesn't seem to get much play in the rest of the media, especially considering what an important measure of customer behavior it is. Even with its use of "targeted" incentives this year, GM is still squeezing cash out of consumers.
The Land of the Rising Discount
What seems to be missing from a lot of the media analysis is the likelihood that it will be the Japanese big three—Toyota, Honda and Nissan—that will pile on the incentives in the second half of the year, as they seek to regain sales and market share lost as a result of this spring's earthquake and tsunami. All three showed a new readiness to resort to this tactic prior to the disasters, and a full-blown price war would be much more likely if those three companies launched comprehensive discount programs on the majority of their lineups than if GM simply ups the discount ante on its full-size trucks.
It sure would be nice for consumers, though.