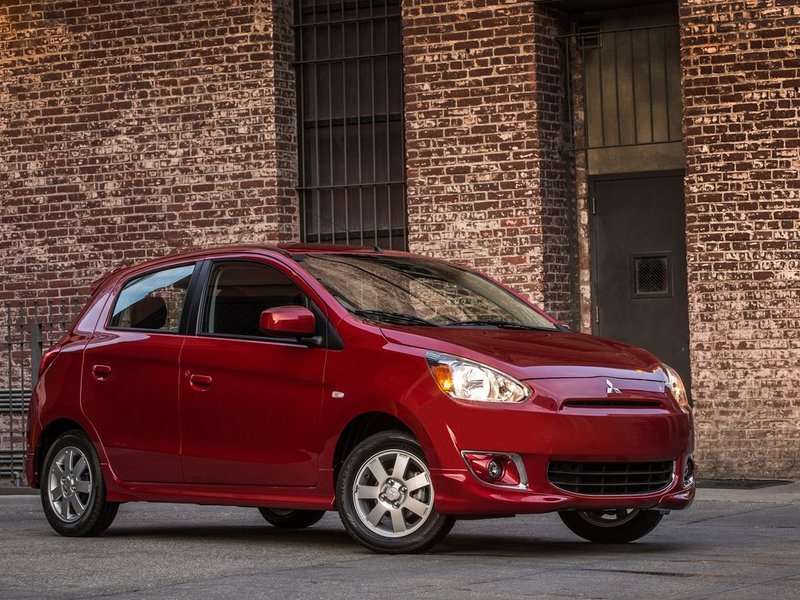 There was once a time when American car buyers wouldn't accept anything smaller than a compact in the driveway, but changing values and rising fuel prices have seen full-size sedans lose their luster and small cars come to the fore.  Although not as popular as compact and mid-size options, very small cars such as those that were once exclusive to the streets of Tokyo and London have gradually made their way over to the United States, where they have attracted the interest of city-dwellers who need occasional transportation that's easy to park in an urban landscape.
Let's take a quick look at 9 very small cars and what they have to offer American car buyers.
9 Very Small Cars - 01 - 2013 Fiat 500
The 2013 FIAT 500 has made a name for itself in the United States by way of its Italian styling, which helps it stand out in the subcompact crowd.  On the inside the Fiat 500 is comfortable enough for two passengers, but it's rear bench just isn't up to the task of hauling more than a single occupant for a very brief distance.  It's better to think of it as a parcel shelf, and folding down the back row reveals a very usable 30.2 cubic feet of cargo space.  Under the Fiat's hood the base 1.4-liter, four-cylinder engine is the most economical choice, as it gets 34-mpg combined while offering up 101 horsepower and 98 lb-ft of torque.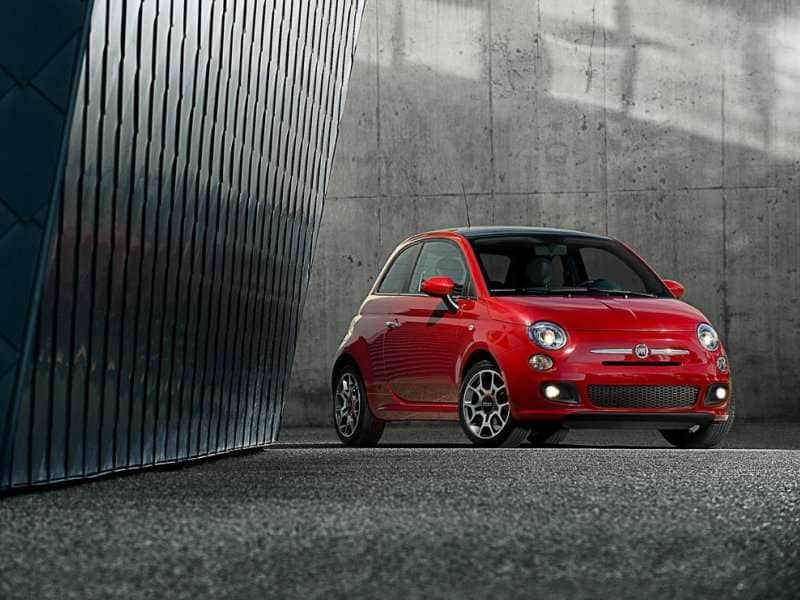 9 Very Small Cars - 02 - 2013 Smart Fortwo
The 2013 smart fortwo is a legitimate two-seat vehicle, as it doesn't come with any accommodations beyond the pair of buckets found when opening its only set of doors.  Available in both coupe and convertible editions - and boasting quirky, replaceable body work that can be swapped in for different colors on a whim - the Smart Fortwo asks you to make a lot of compromises due to its extremely compact size.  This includes the eight cubic feet of trunk space accessed via the car's rear hatch.  A 1-liter, three-cylinder engine pulls duty in the Fortwo and delivers 70 horses and 68 lb-ft of torque, along with 36-mpg in combined fuel efficiency.  An all-electric version of the car is also available, and is much quicker to drive.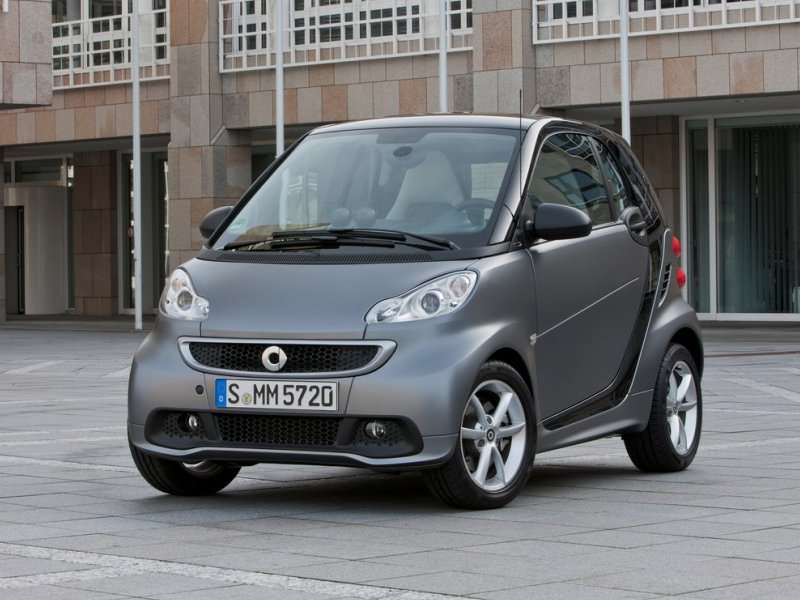 9 Very Small Cars - 03 - 2013 Scion iQ
The 2013 Scion iQ might not officially be advertised as a two-seater like the Smart car, but one look at its tiny rear accommodations gives you a clear picture of how unlikely it is that you'll ever be able to convince anyone to try out its '3+1' arrangement.  There's just under 17 cubic feet of total cargo space available if you forgo the Scion iQ's bench and keep it folded for the duration.  Acceleration is leisurely in the hatchback due to its 94 horsepower, 1.3-liter four-cylinder engine (which also generates 89 lb-ft of torque), but the upshot is a thrifty 37-mpg in combined driving.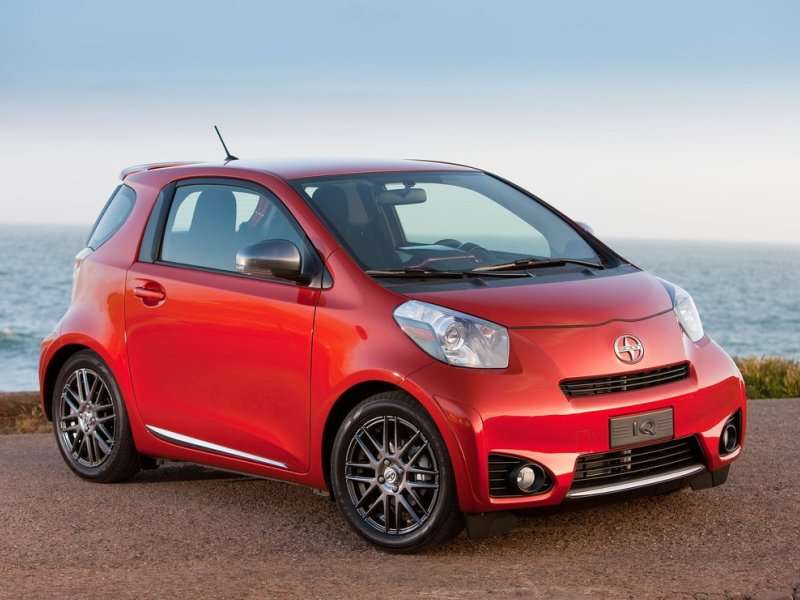 9 Very Small Cars - 04 - 2014 Mitsubishi Mirage
The 2014 Mitsubishi Mirage isn't quite as small as some of the other vehicles on this list, but it's also not as big as the current crop of leading subcompacts.  All-new to the American market for the 2014 model year, the Mitsubishi Mirage provides hatchback practicality that's diminished somewhat by an eight cubic foot cargo hold that does battle with the Smart car to see which model can carry less.  Still, there's a decent amount of room in the rear seat compared to its competitors, which makes the Mirage a more appealing commuting option for those who regularly car-pool.  A three-cylinder engine displacing 1.2-liters motivates the Mitsubishi by way of its 74 horsepower and 74 lb-ft of torque, and its combined fuel mileage matches that of the Scion iQ at 37-mpg.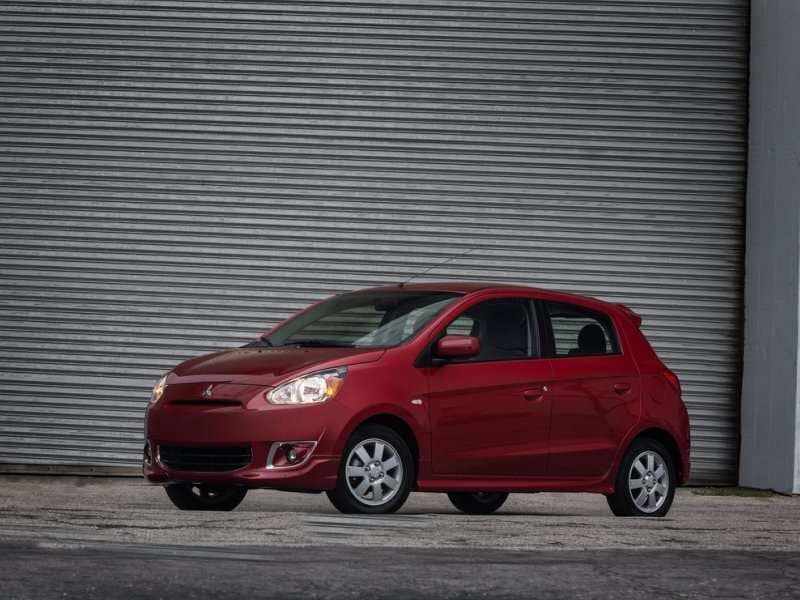 9 Very Small Cars - 05 - 2013 Mini Cooper
The 2013 MINI Cooper gives away its small stature right there in its name, but it actually offers an engaging driving experience - something that is often lacking in the world of very small cars.  The Mini Cooper, like the Fiat 500, is also a looker, and these two attributes account for much of its popularity.  Cargo space checks in at 24 cubic feet in total, although the rear seats are better suited to children than to anyone approaching adult-sized proportions.  Powered by a peppy 1.6-liter, four-cylinder engine in its base form, the 121 horsepower and 114 lb-ft of torque that the Cooper enjoys give it a spring in its step and help it achieve 32-mpg in combined fuel mileage.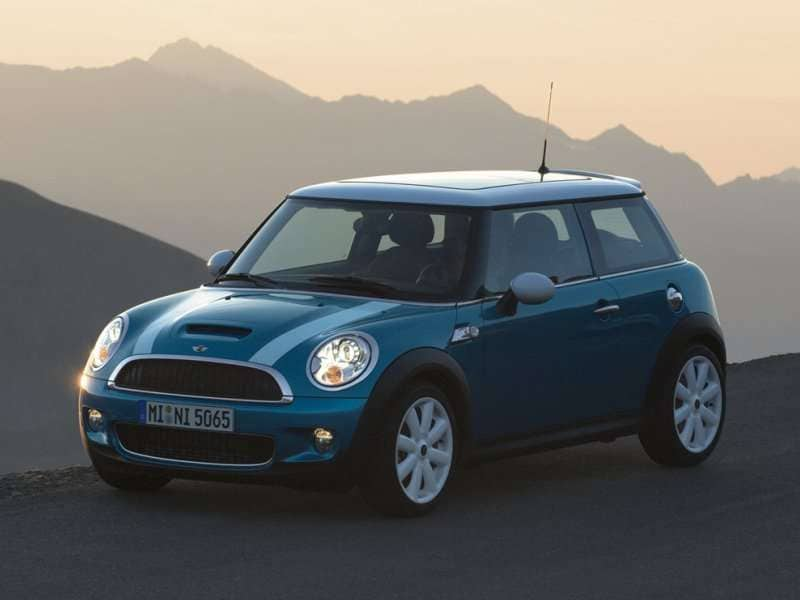 9 Very Small Cars - 06 - 2014 BMW i3
The 2014 BMW i3 is a brand new effort from the German brand that embraces an all-electric drivetrain to offer zero-emissions operation.  Despite its battery-only status the BMW i3 actually provides drivers with an exceptional amount of grunt for a small car: its electric motor produces 170 horsepower and 184 lb-ft of torque.  Range for the diminutive hatchback is listed at 100 miles, and it takes about three hours to charge using a 220-volt outlet.  If you want to fill the cabin up with cargo instead of people, there's about 39 cubic feet to take advantage of.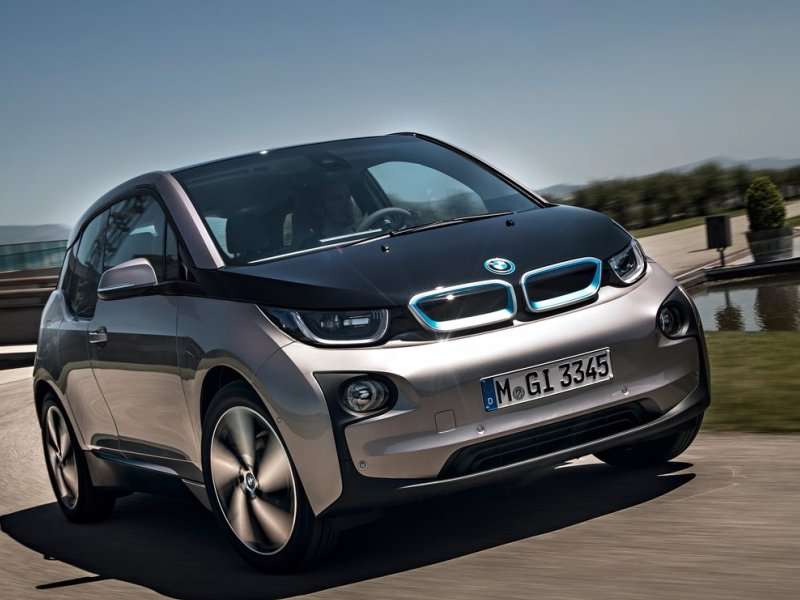 9 Very Small Cars - 07 - 2013 Chevrolet Spark
The 2013 Chevrolet Spark is also available in all-electric trim, but we're going to restrict our discussion of this city car to its gasoline edition.  The Chevrolet Spark offers hatchback convenience combined with four full-size doors that give access to its four-passenger cabin.  You can actually sit someone over the age of 10 behind the driver in the Spark, and 31.2 cubic feet of gear can be stuffed into the car with the rear seats folded forward.  The Chevrolet features an 82 horsepower, 1.2-liter four-cylinder engine that also produces 83 lb-ft of torque, and 34-mpg in combined fuel mileage helps to keep the car competitive.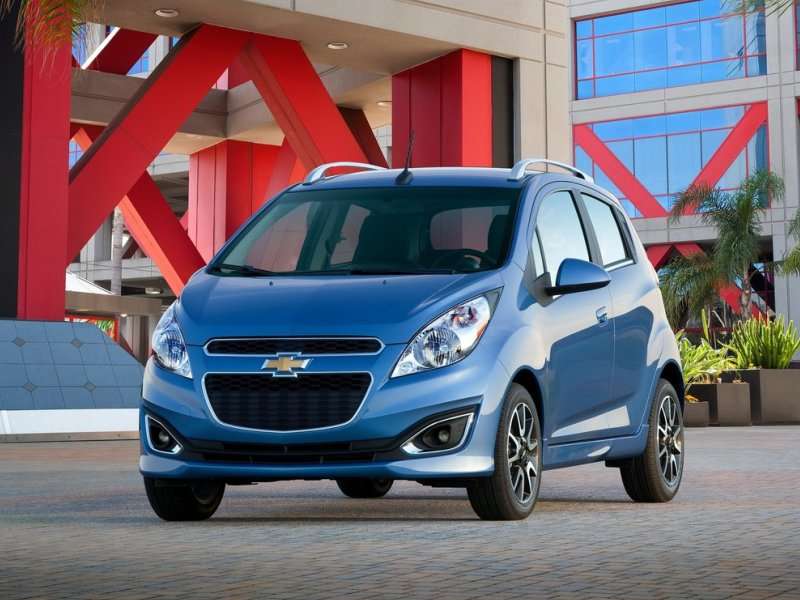 9 Very Small Cars - 08 - 2013 Mitsubishi i-MiEV
The 2013 Mitsubishi i-MiEV is another all-electric contender, one that is perhaps the purest representation of a Japanese city car in that it makes few considerations specifically for the U.S. market.  This means that the Mitsubishi i-MiEV is small, both inside and out, offering fair accommodations for those up front but only token support for rear seat riders.  Cargo space is a different story, as the hatchback's back bench folds forward to open up a whopping 50.4 cubic feet of total room.  The Mitsubishi comes with a 62 mile range, and with 66 horsepower and 145 lb-ft of torque on tap you can bet that a full carload will mean a leisurely pace in this very small car.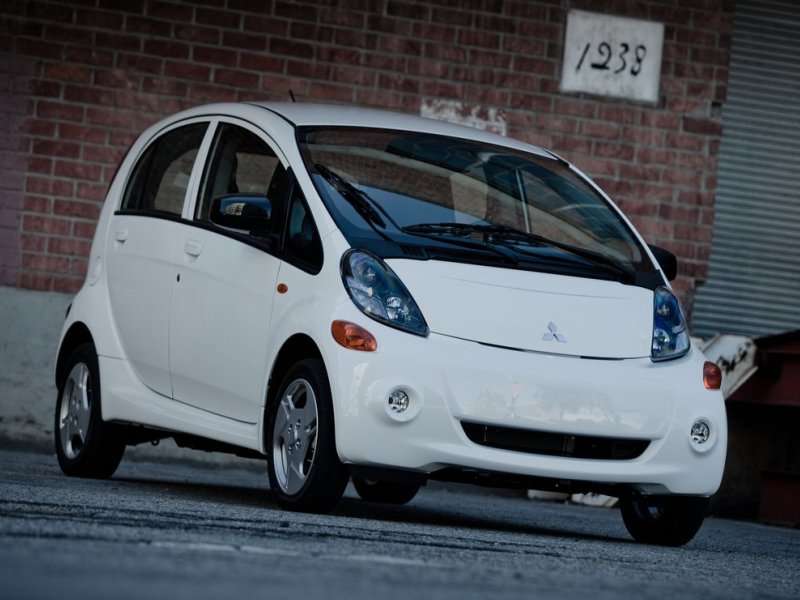 9 Very Small Cars - 09 - 2013 Mazda MX-5 Miata
The 2013 Mazda MX-5 Miata might not at first seem like it belongs on this list of very small cars, but anyone who has ever ridden in the tiny roadster will immediately understand its inclusion.  Yes, the Mazda MX-5 Miata is fun and sporty to drive, providing one of the purest man-machine interfaces available, but its lightweight character is in large part derived from its tiny, two-seat platform.  The Miata's 2.0-liter, four-cylinder engine develops 167 horsepower and 140 lb-ft of torque, and when driven gingerly the car is capable of returning combined fuel mileage of 25-mpg.