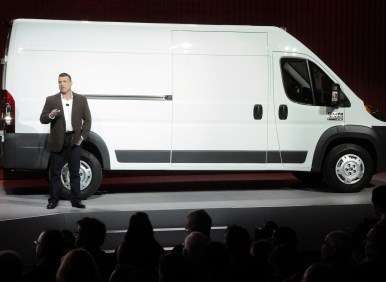 The van market has gone through several different phases over the past 20 years, with some American vans disappearing from the scene only to see themselves replaced by more utility-focused vehicles a short time after.  While Chrysler may be the sole American automaker remaining in the minivan field, the commercial and full-size van segments are flourishing as U.S.-based car companies import European designs in order to improve fuel efficiency and packaging.  These fresh American vans join tried-and-true full-frame options to present a comprehensive van lineup.
Let's take a quick look at 9 American vans.
American Vans - 01 - 2013 Chrysler Town & Country
The 2013 Chrysler Town & Country has held on through the years as a premium offering in an area of the market that often focuses on functionality rather than comfort.  When ordered in its top trim, the Chrysler Town & Country can be equipped with HID headlights, heated leather seats (in the first two rows), a heated steering wheel, the Uconnect entertainment system, and of course a navigation system.  Up to seven passengers can fit inside the roomy van (which also offers close to 145 cubic feet of total cargo space), and a power folding third row complements the Stow 'n Go system that quickly frees up room for hauling around oversized items.  A 3.6-liter V-6 that churns out 283 horsepower and 260 lb-ft of torque, matched with a six-speed automatic transmission, is standard with all versions of the van.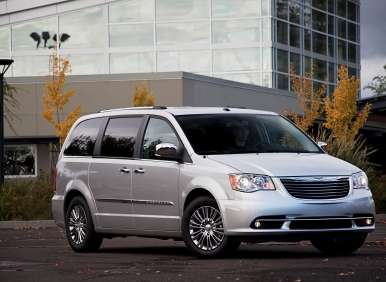 American Vans - 02 - 2013 Ford Transit Connect
The 2013 Ford Transit Connect was the first of a new class of American vans that traded in bulk and brute strength for clever packaging, better maneuverability, and improved fuel efficiency.  The Ford Transit Connect rides on a compact, front-wheel drive chassis that makes it easy to navigate tight urban streets, and its 2.0-liter, four-cylinder motor delivers 136 horsepower and 128 lb-ft of torque to go with 21-mpg in city driving and 27-mpg on the highway (a four-speed automatic is the only transmission available with the van).  Five-passenger editions of the Transit Connect can be ordered, and utility-focused versions can haul up to 135 cubic feet of gear.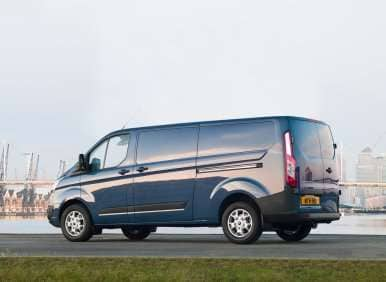 American Vans - 03 - 2013 Chevrolet Express
The 2013 Chevrolet Express is a full-size van that continues to pull duty in fleets as well as occasionally in a private passenger role.  The Chevrolet Express is cavernous inside, providing enough room to haul up to 15 passengers (long-wheelbase models) or as much as 216 cubic feet of cargo space.  The vehicle, which can be had in half-ton to full-ton models, is also available with the choice of either rear-wheel or all-wheel drive.  Express 1500 trim levels come with a 310 horsepower, 5.3-liter V-8 that also generates 334 lb-ft of torque, while a 280 horsepower, 4.8-liter V-8 and a 6.0-liter V-8 good for 323 horses is offered with the Express 2500.  The Express 3500 adds a 6.6-liter turbodiesel V-8 to the mix that produces 260 horsepower and 525 lb-ft of torque.  All motors except the 5.3-liter are outfitted with a six-speed automatic transmission (the Express 1500 is matched with a four-speed autobox).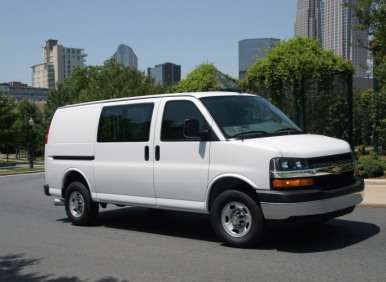 American Vans - 04 - 2014 Ram Promaster
The 2014 Ram Promaster is an all-new entry into the full-size van sweepstakes.  Based on a Fiat platform, the Ram Promaster offers lengths of up to 160 inches, and it is motivated by the choice of either a 280 horsepower, 3.6-liter V-6, or a 3.0-liter, turbodiesel V-6 that generates 174 horsepower and 295 lb-ft of torque.  Not available for sale yet, the Promaster will feature a six-speed automatic for the gas mill and a six-speed automated manual for the diesel.  Front-wheel drive is standard with the Ram, and several different roof heights as well as three wheelbase lengths will make the vehicle easy for fleet buyers to configure to their liking.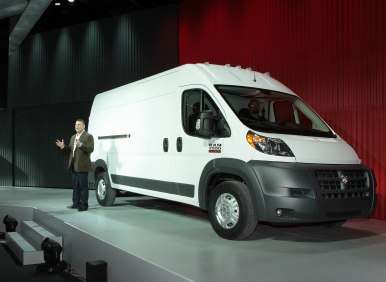 American Vans - 05 - 2013 Dodge Grand Caravan
The 2013 Dodge Grand Caravan is the mechanical twin to the Chrysler Town & Country, which means it enjoys the same 283 horsepower, 3.6-liter V-6 and identical fuel economy (17-mpg city and 25-mpg highway).  143.8 cubic feet of cargo space as well as seven-passenger seating and the Stow 'n Go feature are also along for the ride.  The differences between the two vans?  The Dodge Grand Caravan is more affordable, features more aggressive styling, and it can even be ordered in R/T trim, which installs a stiffer suspension system, adds special 17-inch rims, and improves the American van's braking capabilities.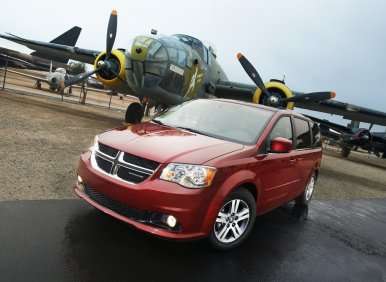 #American Vans - 06 - 2013 GMC Savana
The 2013 GMC Savana is another full-size cargo van that can also be configured for 15-passenger duty.  The GMC Savana provides the same features as its platform-mate, the Chevrolet Express, which means that 1500, 2500, and 3500 editions of the vehicle are available - as are optional all-wheel drive and the same four powertrains.  One of the advantages of going with a van like the GMC Savana - or the Express - is that it can actually provide impressive towing, with the full-ton GMC model rated to handle a trailer weight of 9,900 lbs.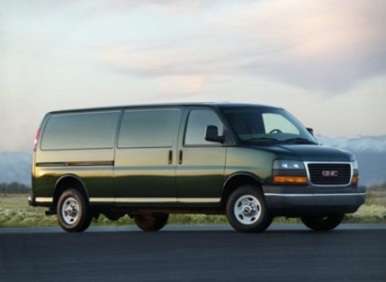 American Vans - 07 - 2014 Ford Transit
The 2014 Ford Transit represents the future of the brand's full-size van effort.  The Ford Transit, when it goes on sale, will offer passenger and cargo van configurations, and like its Promaster competitor it will come with a variety of lengths, roof heights, and wheelbase options.  15 passenger seating maxes out the Transit's people moving capability, while a 3.7-liter V-6 engine will be joined by a 3.5-liter twin-turbo EcoBoost V-6 and a five-cylinder, 3.2-liter turbodiesel motor on the van's options list.  A six-speed automatic transmission will handle the shifting duties for all three engines.
American Vans - 08 - 2013 Ram C/V Tradesman
The 2013 Ram C/V Tradesman is the third iteration of Chrysler's trusty minivan platform to make our list of American vans, but it's also perhaps the most task-focused.  The Ram C/V tradesman can be thought of as a Grand Caravan that has been gutted in order to offer as much utility as possible, offering 144.4 cubic feet of internal storage space and the possibility of deleting its rear and side glass for better security and durability.  Unlike some ute-only vans out there, the Ram C/V can be equipped with comforts like an navigation system, a voice-command feature, and a decent sound system.  Even base models come with power windows and door locks, dual climate control, and keyless entry.  As with its Dodge and Chrysler siblings, the Ram uses a 3.6-liter V-6 that generates 283 horsepower.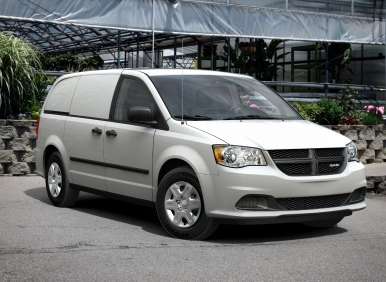 American Vans - 09 - 2013 Ford E-Series
If the Ford Transit is a look at the future of the brand's big van strategy, then the 2013 Ford E-Series is a blast from its past.  The full-frame Ford E-Series is a long-lived nameplate for the Blue Oval, with Extended versions of the vehicle providing 15 passenger seating as well as up to 275 cubic feet of cargo space.  E-150 models feature a 225 horsepower, 4.6-liter V-8 under the hood, while the E-350 upgrades to a standard 255 horsepower, 5.4-liter unit.  Even more power is available via the E-350's optional ten-cylinder engine, which displaces 6.8-liters and produces 305 horses and 420 lb-ft of torque.  Four and five-speed automatic transmissions handle the shifting duties for the Ford van.