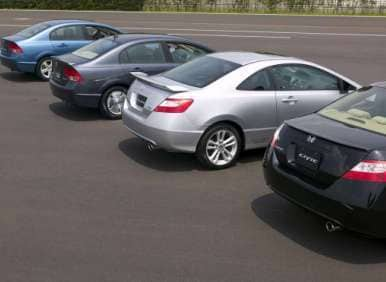 Honda is a car company that is known for producing exceptionally reliable vehicles. It should come as no surprise, then, that the brand is a highly desired one on the used car market, with secondhand Hondas often commanding a premium when compared against the competition. We've put together a quick look at some of the most appealing used Honda vehicles out there in order to help you familiarize yourself with what the automaker has to offer in a number of different categories.
Let's take a look at eight used Honda cars and crossovers that deserve a test drive.
01. Used 2006 - 2011 Honda Civic Coupe
When Honda released the Honda Civic Coupe in 2006 it quickly became one of the most popular affordable compact two-doors available. Used Honda Civic Coupes have retained much of their original charm, especially considering the apathy surrounding the most recent 2012 redesign of the automobile. Used Honda Civic Coupes from this era boast a 1.8-liter, four-cylinder engine that generates 140 horsepower and returns fuel economy of 25-mpg city and 36-mpg highway. Transmission choices for the Coupe include a five-speed manual and a five-speed automatic, and available equipment includes heated leather seats and a navigation system (EX and EX-L models).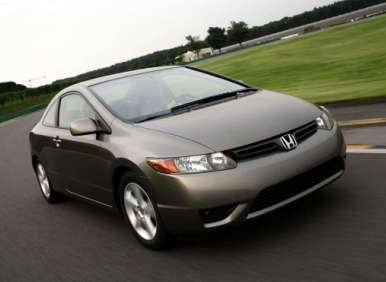 02. Used 2008 - 2011 Honda Fit
Lightly used editions of the current generation Honda Fit have significant appeal amongst subcompact hatchback shoppers. The used Honda Fit comes with the Magic Seat feature that allows for a number of different interior configurations and ultimately 57.3 cubic feet of total cargo space - exceptional for such a small car. Used Honda Fit models each feature a 1.5-liter, four-cylinder engine that puts out 117 horsepower and 106 lb-ft of torque, and fuel economy checks in at a healthy 27-mpg city and 33-mpg highway. Five-speed manual and automatic transmissions are the order of the day with secondhand Fits, and those seeking sleeker styling should search for the Fit Sport model.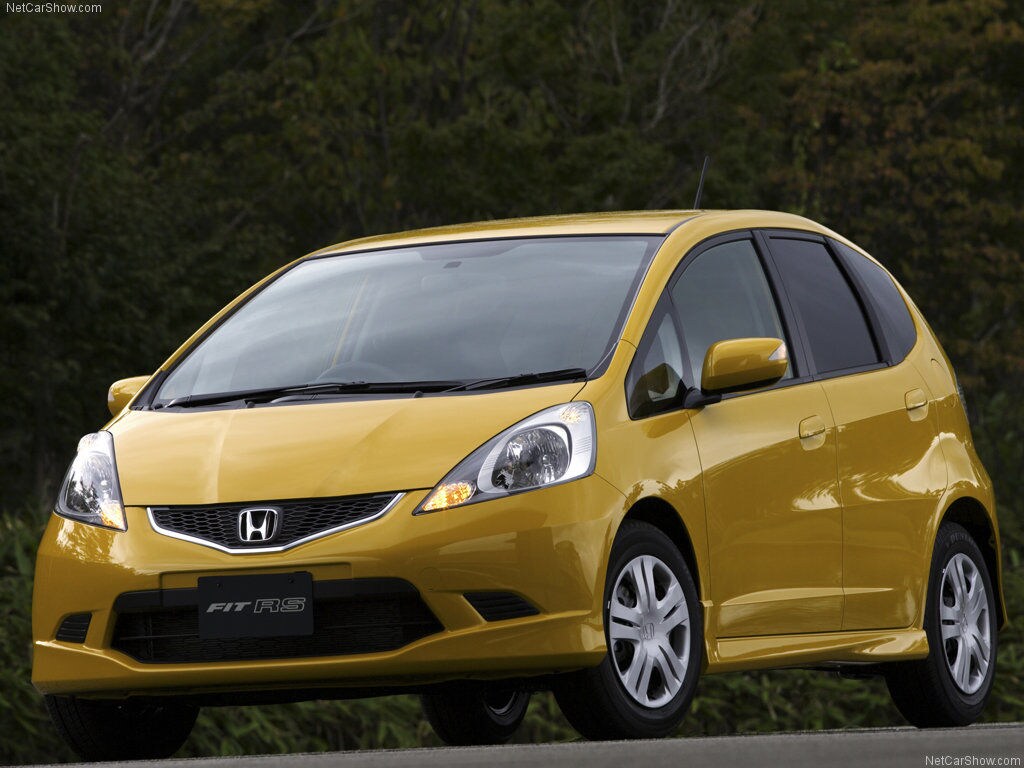 03. Used 2008 - 2011 Honda Accord Sedan
Used Honda Accord sedans make great and inexpensive mid-size family cars. Models built between 2008 and 2011 are big in the back seat, offer styling that doesn't disappear into the background and provide a significant list of luxury features when found in top-level EX-L trim. Used Honda Accord sedans also offer the choice of either four of six-cylinder power. The former takes the shape of 2.4-liter unit that can generate up to 190 horsepower and 161 lb-ft of torque (while offering 31-mpg on the highway), while the latter is represented by a 3.5-liter V-6 that churns out 268 horses and torque while delivering 29-mpg highway. A five-speed manual transmission is available with the four-cylinder, while a five-speed auto is optional (and standard with the V-6 sedan).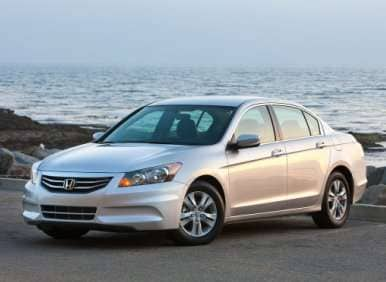 04. Used 2006 - 2011 Honda Civic Hybrid
A used Honda Civic Hybrid is one of the most fuel efficient hybrid sedans of all time and asks for very little sacrifice from its owners in terms of interior room, day-to-day utility or trunk space. Used Honda Civic Hybrids built between 2006 and 2011 offer an almost identical driving experience when compared against the standard, gasoline-only sedan, with one crucial difference: excellent fuel mileage. The Civic Hybrid is powered by a 1.3-liter, four-cylinder engine and electric motor tandem that generates 110 horsepower and returns 40-mpg city and 45-mpg highway. A continuously-variable automatic transmission handles the shifting duties for the sedan.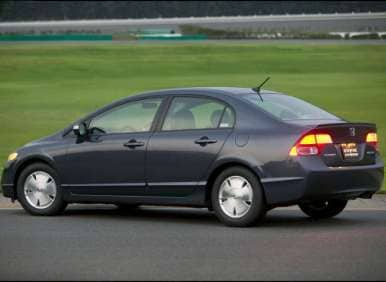 05. Used 2009 - 2011 Honda Pilot
A used Honda Pilot provides family shoppers with a three-row crossover that can seat up to seven passengers. The Honda Pilot also offers a healthy 87 cubic feet of cargo with the rear accommodations out of the picture, as well as the availability of all-wheel drive to help the SUV maintain traction when the weather gets rough. Used Honda Pilots are exclusively motivated by a 3.5-liter V-6 that has been tuned to provide 250 horsepower and 253 lb-ft of torque. Fuel economy for the big crossover shows as 17-mpg city and 23-mpg highway (thanks in part to a cylinder shutdown feature that kicks in while the vehicle is cruising), and a five-speed automatic gearbox is standard.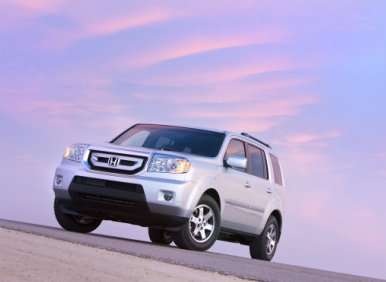 06. Used 2006 - 2011 Honda Civic Sedan
A used Honda Civic Sedan makes use of the same platform as the previously-described Honda Civic Coupe. This means that used Honda Civic Sedans also come with a 1.8-liter, 140 horsepower engine as well as a five-speed manual transmission or a five-speed automatic unit. Fuel economy for the sedan matches that of the coupe (25-mpg city / 36-mpg combined) despite the fact that the additional two doors and much larger rear seat offer a huge boost in practicality for most drivers. Also like the Coupe it is possible to find a used Honda Civic Sedan in DX trim, which comes with a barebones features list aimed at those seeking basic transportation.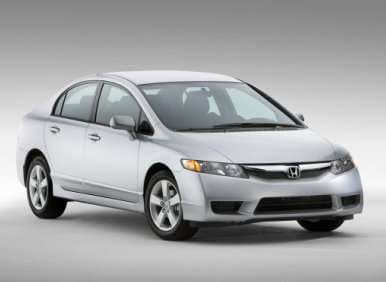 07. Used 2007 - 2011 Honda CR-V
Used Honda CR-V compact SUVs provide an efficient people moving option that features available all-wheel drive, hefty amounts of interior cargo storage (73 cubic feet in total) and the ability to transport up to five passengers. Used Honda CR-V models also offer good fuel economy thanks to the fact that all come with a four-cylinder engine instead of a V-6. The CR-V's 2.4-liter unit is rated at 180 horsepower and 161 lb-ft of torque, and a five-speed automatic is the only transmission paired with this engine. Fuel economy for the compact crossover is listed at 21-mpg in stop and go driving and 28-mpg during highway cruising.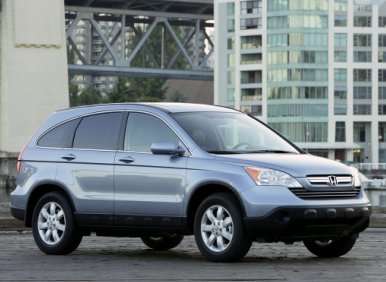 08. Used 2006 - 2011 Honda Civic Si
A used Honda Civic Si is a low-buck ticket into the world of sporty compact car performance. Used Honda Civic Si models wear the same bones as either the standard sedan or coupe edition of the Civic but are gifted with a much more responsive suspension system, an aggressive body kit, a limited-slip front differential and a 2.0-liter, four-cylinder engine that loves to scream all the way to its 8,000 rpm redline. The Honda Civic Si's hotted-up mill is good for 197 horsepower and allows the vehicle to sprint to 60-mph in just a tick over seven seconds. A six-speed manual transmission is standard with the Civic Si, and fuel mileage is rated at 21-mpg city and 29-mpg highway.