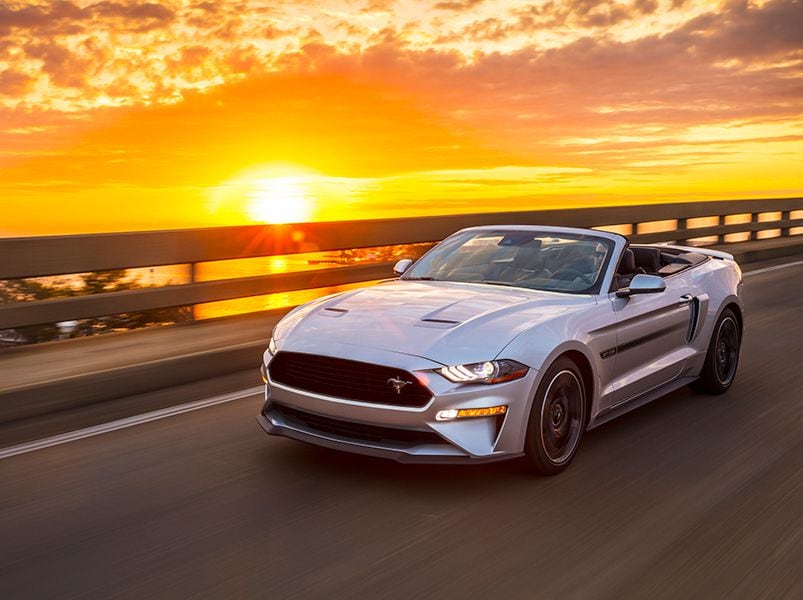 2019 Ford Mustang California Special hero ・ Photo by Ford
The Ford Mustang has been one of the most successful popular sports cars in the United States ever since it first appeared as a 1965 (some say 1964-1/2) model. Every few years, sometimes more frequently, Ford brings out a special edition Mustang to wow enthusiasts. Renowned examples have included Anniversary Editions, Boss 302 (1970, 2012, 2013); Bullitt (2001, 2008, 2009); Mach 1 (1968–1978, 2003–2004); SVO (1984–1986); SVT Cobra (1993–2004); and more.
For 2019, Ford is bringing back the Mustang California Special. Here are eight things you need to know about it.
1. The first Mustang California Special was a 1968 model.
The first-generation Ford Mustang inspired a ton of interest from hot rodders and enthusiasts. Carroll Shelby, a frequent Ford collaborator, created a 1967 prototype model that inspired Ford to produce the first California Special as a 1968 model. Styling cues included unique taillights, an integrated tail spoiler, a rear fender scoop, racing stripes, and unique wheels.
The '68 California Special could be ordered with a 289-cubic-inch V8, a 302-cubic-inch V8, or a 428-cubic-inch Cobra Jet V8. Horsepower for the California Special ranged from 195 to 335, and torque ratings from 288 lb-ft to 440 lb-ft, depending on the engine.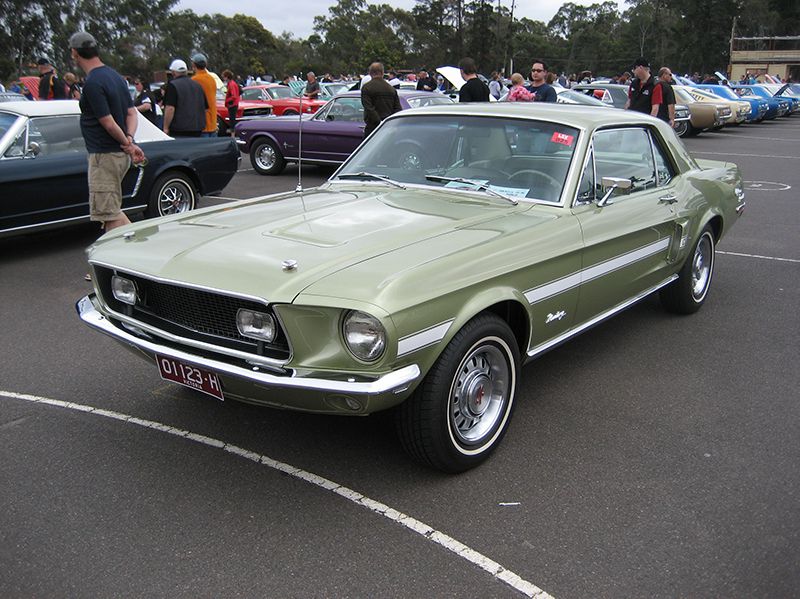 Photo by Wikimedia Commons
2. The Mustang California Special returned in 2007.
After an absence of nearly 40 years, the Mustang California Special model returned for three more runs: 2007–2009, 2011–2014 and 2016–2017, with each generation ramping up the horsepower and torque.
The 2007–2009 iteration came with a 4.6-liter V8 that produced 300 hp and 320 lb-ft of torque. The 2011–2014 was gifted with a 5.0-liter V8 that could pump out 420 hp and 390 lb-ft of torque, and the 2016–2017 boosted the output to 435 hp and 400 lb-ft of torque from its 5.0-liter V8.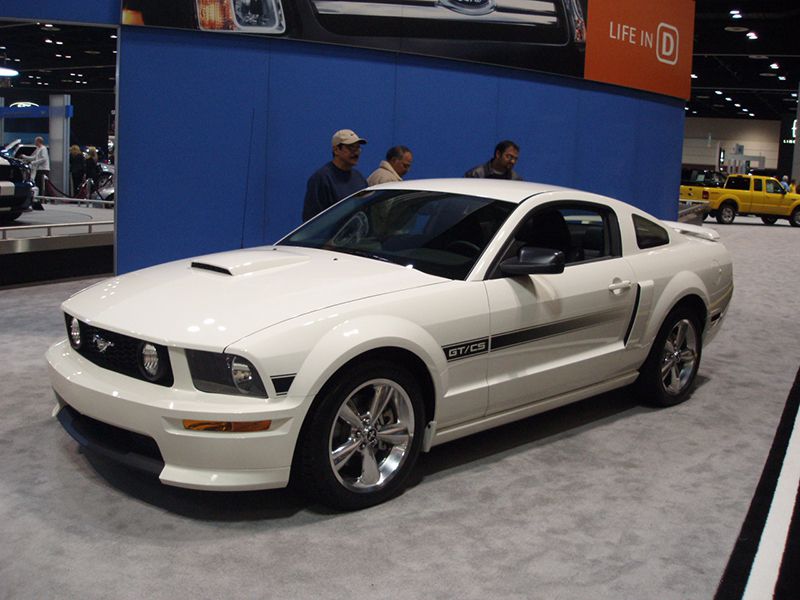 Photo by Wikimedia Commons
3. The 2019 Ford Mustang California Special will arrive in summer 2018.
Ford has announced the 2019 Mustang California Special as a limited edition that will go on sale in summer 2018, but it has not revealed how many examples it will produce. Pricing will be announced closer to the on-sale date.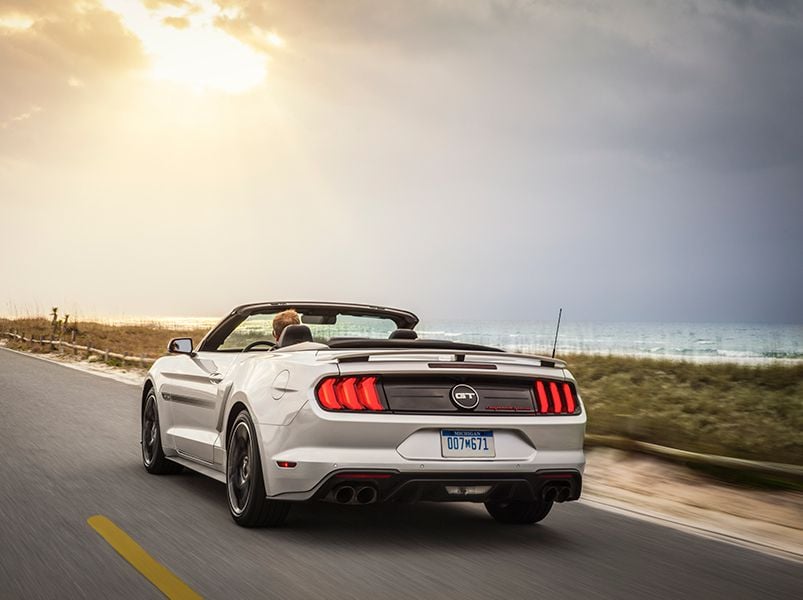 Photo by Ford
4. The California Special will come with a first-ever (for Mustang) B&O PLAY audio system.
Bang & Olufsen (B&O) is a premium audio company founded in Denmark in 1925. Since 2015, B&O Automotive has been owned by Harman, the audio giant that also owns Harman Kardon, JBL, Lexicon, Infinity, Mark Levinson, Revel, and many other audio brands, and is itself owned by Samsung Group.
B&O Automotive systems are used in several high-end brands, including Audi, Aston Martin, Bentley, Mercedes-AMG, and BMW. So, it's kind of a big deal to find a B&O PLAY system in the Mustang California Special. The system will have a 10-channel amplifier that puts out 1,000 watts into 12 speakers, engineered and customized for the Mustang. Drivers will operate the audio system using the available SYNC 3 system with Apple CarPlay compatibility.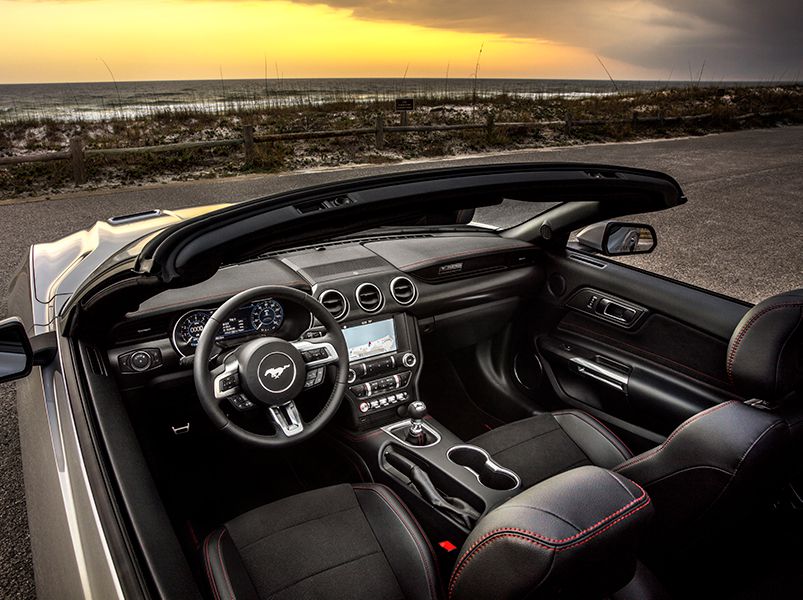 Photo by Ford
5. The California Special can be ordered with a new range of vintage-inspired colors.
You're going to get noticed in a Mustang California Special, even if you buy one in Shadow Black or Magnetic Gray. Why not choose one of the new vintage-inspired colors that Ford is making available for 2019? So far, the company has announced that Velocity Blue, Need for Green, and Dark Highland Green (so far a Mustang Bullitt-exclusive color) will be available.
The new colors are inspired by classic Mustang paint jobs from the late 1960s and early 1970s and should look fantastic on a new Mustang. All California Specials will come with a racing stripe that fades from front to rear, a 5.0 side badge, a blacked-out grille, a Mustang Performance Pack 1 splitter and unique five-spoke painted machined wheels. A black and red script California Special badge completes the package.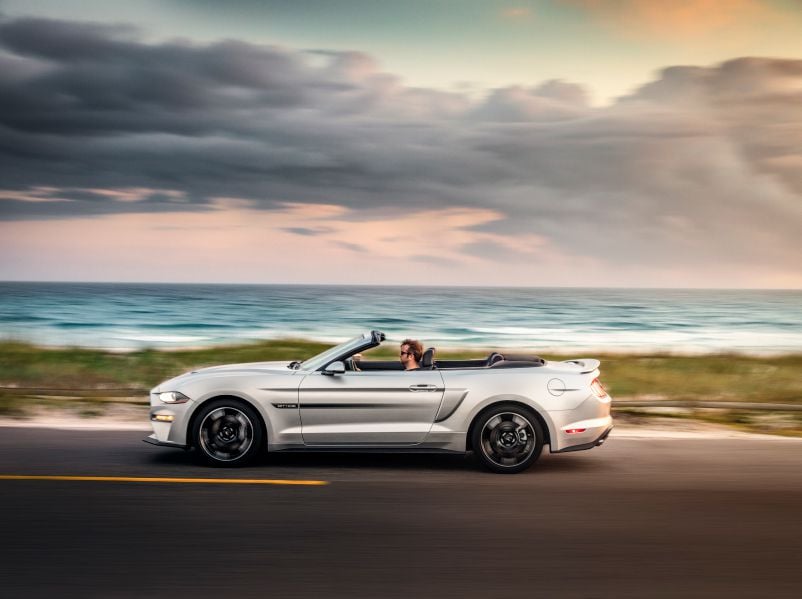 Photo by Ford
6. A 5.0-liter V8 engine will be standard equipment for the California Special.
With a naturally aspirated (non-turbocharged) 5.0-liter V8 engine, the 2019 model will be the most powerful Mustang California Special to come out of the Ford factory yet. With 460 hp and 420 lb-ft of torque, the new Special is said to have a top speed of 155 mph.
The engine will be equipped with a quad-tip fully variable active valve performance exhaust that can produce a deep, throaty note. It can also be tamed by its driver, who can select quiet start mode or "good neighbor" mode to make start-up quieter — and neighbors happier.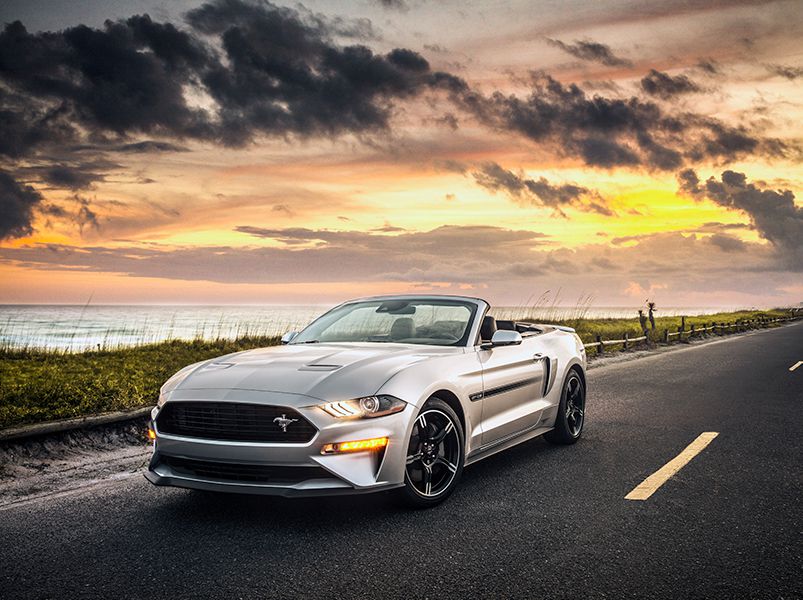 Photo by Ford
7. Both convertible and fastback coupe versions of the California Special will get special interiors.
As handsome as the California Special will be to onlookers, drivers will want to spend more time behind the wheel than admiring the new Mustang in their driveways. So, Ford is equipping the Special with black Miko suede-trimmed seats.
The seats will be embossed with the GT/California Special insignia and will feature contrast red accent stitching. This logo will also be custom-embroidered into the floor mats. And the passenger-side dash panel will bear Signature California Special script badging, just in case the right-seat occupant forgets what a special vehicle they're traveling in.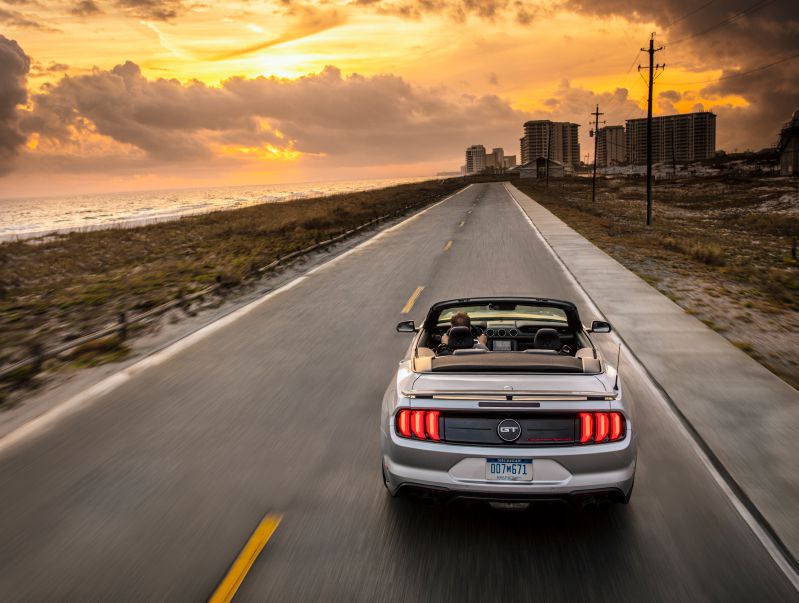 Photo by Ford
8. California Special's standard transmission will be a six-speed manual with rev-matching.
An optional 10-speed automatic transmission will probably be available for the California Special. Ford didn't release any details about that yet, but it is a $1,595 option on the 2018 GT, so it's a safe assumption. But the prize is the standard six-speed manual transmission. Not only is it the enthusiast's choice, but the six-speed will even use rev-matching technology designed to make gear-changes smoother and more efficient.
Expert drivers perform rev-matching with a delicate dance on the control pedals known as heel/toe shifting. They bring up the engine's revolution to help ease the transmission from gear-to-gear — and to avoid the dreaded gnashing of gears or thunks of abrupt gear change that can occur during spirited driving. With rev-matching, the electronics do the hard work, making average drivers capable of smoother shifting without complex foot ballet.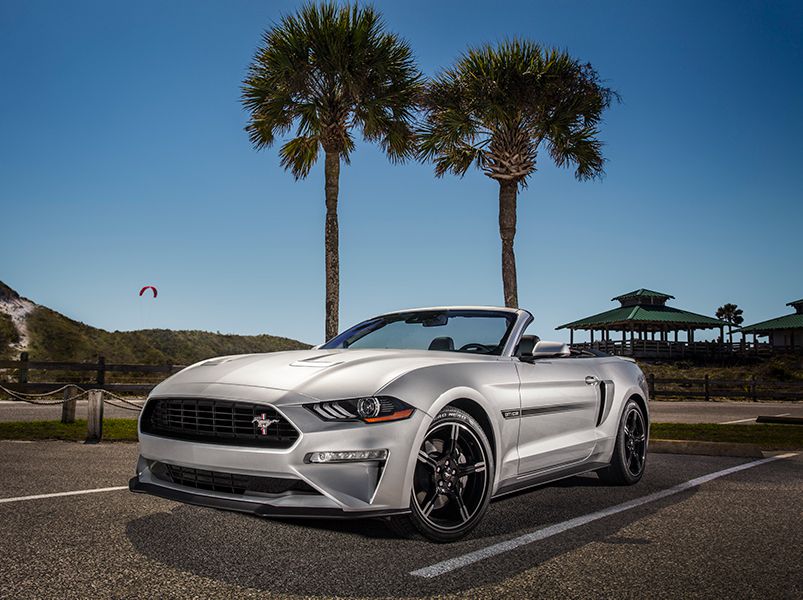 Photo by Ford