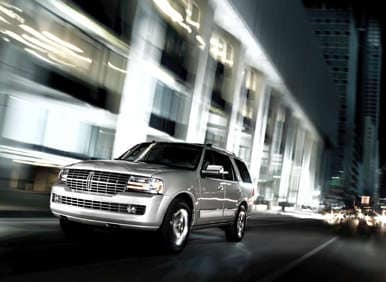 Crossover or SUV?  Off-road skills or on-pavement cushiness?  Sleek aerodynamic looks or chiseled beefcake styling?  The people mover segment has broadened significantly since the early days when truck-based boxes were the only options out there for drivers seeking tons of cargo space, decent towing, better-than-average ground clearance and four-wheel (or all-wheel) drive.
With so many intriguing options currently populating the crossover and SUV market, we decided to put together a quick list of some of the most appealing choices offered at a variety of different price points.  Let's take a look at eight SUVs that will definitely turn your head.
01. 2012 Jeep Wrangler Unlimited
The 2012 Jeep Wrangler Unlimited expands the palette for the popular off-road chariot so that drivers who want to take their entire families along on a weekend of rock-crawling can do so in style.  The Jeep Wrangler Unlimited offers an additional set of rear doors and an extended passenger compartment that offers more room for both backseat riders and cargo (up to 86 cubic feet in total).
The 2012 Jeep Wrangler Unlimited benefits from the installation of a 3.6-liter Pentastar V-6 that generate 285 horsepower and 260 lb-ft of torque, managed by either a standard six-speed manual or optional five-speed manual transmission.  The Wrangler Unlimited is also available with two different types of four-wheel drive systems, including a special, ruggedized design that comes with the Rubicon trim level.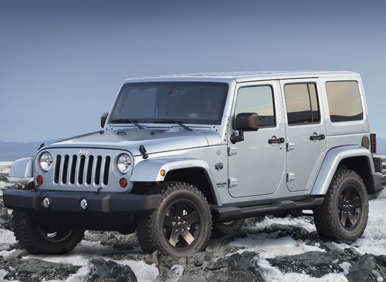 02. 2012 Dodge Durango
The 2012 Dodge Durango provides an excellent compromise between the brute strength of a traditional SUV and the pliant ride of a crossover vehicle.  The Dodge Durango seats up to seven passengers thanks to its three row design, and it also offers rear-wheel drive dynamics and a tow rating of up to 7,400 lbs to match its 84.5 cubic feet of storage space.
The Dodge Durango starts out with a V-6 engine that is similar to the one found in the Wrangler Unlimited.  Bumped up to produce 290 horses and 260 lb-ft of twist, this unit is shifted via a five-speed automatic transmission and can be had with all-wheel drive.  Stepping up to the Durango's available 5.7-liter Hemi V-8 introduces 360 horsepower and 390 lb-ft of torque, adds an extra forward gear to the vehicle's transmission and brings a four-wheel drive system to the table as an option.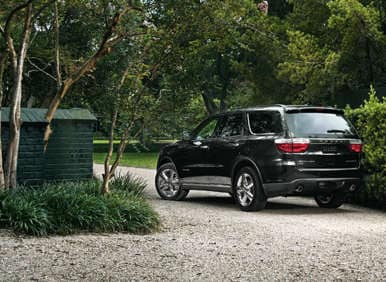 03. 2012 Lincoln Navigator L
The 2012 Lincoln Navigator L is the biggest and brashest vehicle in the premium car company's lineup.  The Lincoln Navigator L dials up the luxury thanks to a longer wheelbase that gives riders in the second and third rows substantially more legroom.  The Navigator L also boasts a leather-trimmed cabin, extensive high tech options availability and 128 cubic feet of storage space behind the front two positions.
The 2012 Lincoln Navigator L is motivated by a 310 horsepower V-8 engine.  Displacing 5.4-liters and also generating 365 lb-ft of torque, this unit can be yoked to an optional all-wheel drive system and is paired with a standard six-speed automatic transmission.  Towing capacity for the imposing rig is substantial, checking in at 9,000 lbs.
04. 2012 Cadillac SRX
The 2012 Cadillac SRX benefits from the automaker's hard-edged styling language, standing out from a crowd of mid-size luxury crossovers that tend toward anonymity in terms of exterior appearance.  The five-passenger Cadillac SRX also comes with a bevy of high end features including an available heating steering wheel, parking assistance, surround sound and a navigation system that responds to voice commands.  The SRX makes available 61 cubic feet of cargo space and can be had with an adaptive suspension system that has been tuned to offer sportier handling.
The 2012 Cadillac SRX features a 3.6-liter, V-6 engine that offers up 308 horsepower and 265 lb-ft of torque.  A six-speed automatic is the only available transmission, and buyers can choose between front-wheel drive and all-wheel drive editions of the crossover.
05. 2012 Chevrolet Suburban 1500
The 2012 Chevrolet Suburban 1500 is a mainstay on the full-size sport-utility scene and it's easy to see why: the behemoth's nine-passenger capacity, 137 cubic feet of total cargo room and 9,600 lbs of towing capacity (when properly equipped) are impressive stats.  A quiet passenger compartment can be enhanced by the features included with the top-level LTZ trim, which offers heated leather seats, a heated steering wheel, a navigation system and a power tailgate.
The 2012 Chevrolet Suburban 1500 comes with a 5.3-liter, eight-cylinder engine that is rated at 320 horsepower and 335 lb-ft of torque.  A six-speed automatic transmission is included with each edition of the Suburban, and two different four-wheel drive systems can be added to the SUV's equipment list.
06. 2012 Volkswagen Touareg
The 2012 Volkswagen Touareg is a surprising premium SUV competitor, especially given the fact that its German producer isn't known for competing against brands like Acura and BMW in terms of luxury features.  The Volkswagen's Touareg provides full-size accommodations for five passengers, can stow up to 71 cubic feet of luggage and even in base trim provides equipment such as heated seats, dual automatic climate control and HID headlights.
The 2012 Volkswagen Touareg's entry-level engine is a 3.6-liter V-6 that can be counted on to produce 280 horsepower and 265 lb-ft of torque.  The Touareg TDI substitutes a 3.0-liter, turbodiesel six-cylinder engine that churns out 225 horsepower and a startling 406 lb0-ft of torque.  Each of these power plants are paired with all-wheel drive and an advanced eight-speed automatic transmission.
07. 2012 Chevrolet Equinox
The 2012 Chevrolet Equinox is a strong competitor amongst compact crossovers thanks to its relatively agile ride and sporty styling.  The Chevrolet Equinox can accommodate up to five passengers, offers a sliding second row that opens up considerable legroom for those riding in the rear and also features just under 64 cubic feet of total hauling room with the last row out of the picture.
The 2012 Chevrolet Equinox provides the choice between four and six-cylinder drivetrains.  The base Equinox makes do with a 2.4-liter unit that generates 182 horsepower and 172 lb-ft of torque, while the vehicle's optional 3.0-liter V-6 puts down 264 horsepower and 222 lb-ft of torque.  A six-speed automatic transmission is included with all Equinox models, and all-wheel drive is available as an option across the board.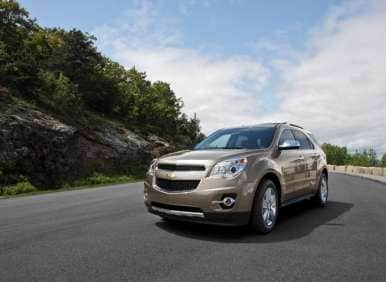 08. 2012 Lincoln MKX
The 2012 Lincoln MKX is a five-passenger luxury mid-size crossover that offers individual - if polarizing - styling as well as access to tech features such as the SYNC system and the MyLincoln Touch interface.  Also available with the Lincoln MKX are items such as 20-inch wheels, a surround sound audio system, a navigation system and adaptive cruise control.  When it comes time to put the crossover to work, the MKX pulls through with 60 cubic feet of total cargo space.
The 2012 Lincoln MKX is found exclusively with a 305 horsepower, 3.7-liter V-6 engine that also puts out 280 lb-ft of torque.  All-wheel drive is optional but a six-speed automatic transmission is standard with the crossover.