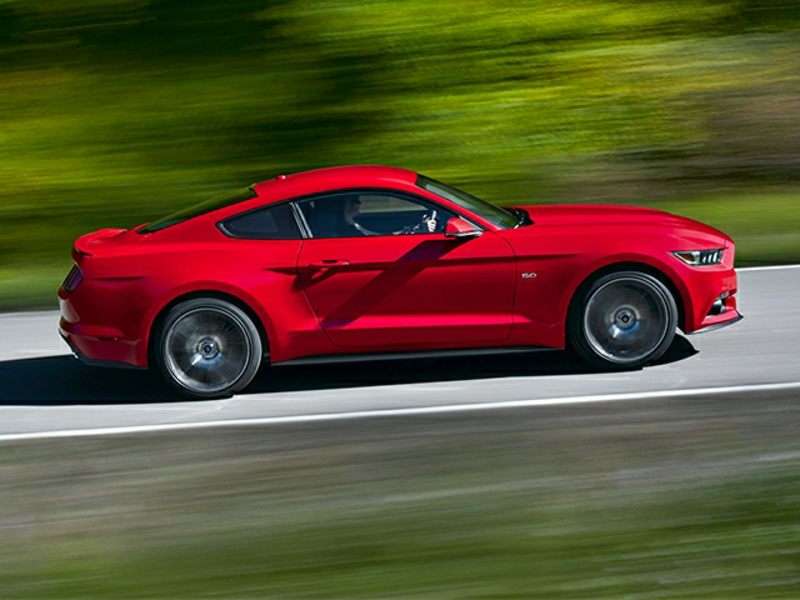 Affordable and sporty are two descriptors that are increasingly found together as more and more automakers add a bit of spice to the entry-level segment of their lineups. Hotter engines, spicier body kits and upgraded interiors are some of the perks found on performance-oriented editions of standard subcompact, compact and mid-size cars - not to mention a driving experience that is designed to bring a smile to your face every time you put the hammer down. Let's take a look at eight sporty cars that feature a starting MSRP of less than $25,000.
1) 2015 Honda Civic Si - MSRP $22,890
The 2015 Honda Civic Si is a popular sport compact - which can be had in both coupe and sedan form - that continues to offer an appealing mix of nimble handling, a rev-happy drivetrain and a snappier look than the standard Civic. In addition to its performance features, the Honda Civic Si also comes with goodies such as fog lights, a rear spoiler and front air dam, a leather-wrapped steering wheel and special sport seats. The 2015 Honda Civic Si features a 2.4-liter, four-cylinder engine that is good for 205 horsepower. It also offers up more torque (170 lb-ft) than the base model Civic, and helps the automobile hit 60 miles per hour in 6.9 seconds. A six-speed manual transmission is the only gearbox available with the 2015 Civic Si.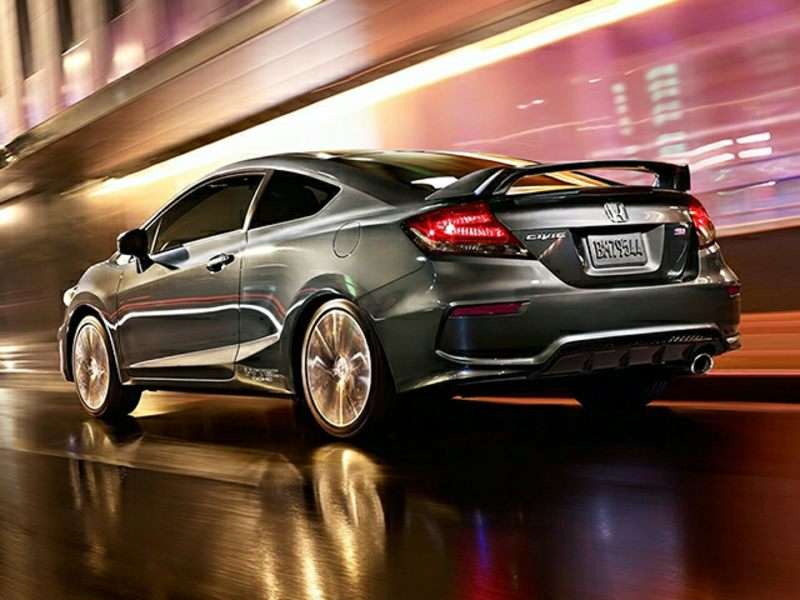 2) 2015 MINI Cooper S - MSRP $24,100
The 2015 MINI Cooper S offers subcompact shoppers an even more potent of the already agile MINI Cooper hatchback.The MINI Cooper S comes with a stiff suspension system, a dressed-up interior and plenty of sport-oriented options to maximize driving enjoyment. The 2015 MINI Cooper S is gifted with a 2.0-liter, four-cylinder engine that makes use of a turbocharger to produce 189 horses and up to 207 lb-ft of torque. Both manual and automatic six-speed transmissions can be ordered with the vehicle.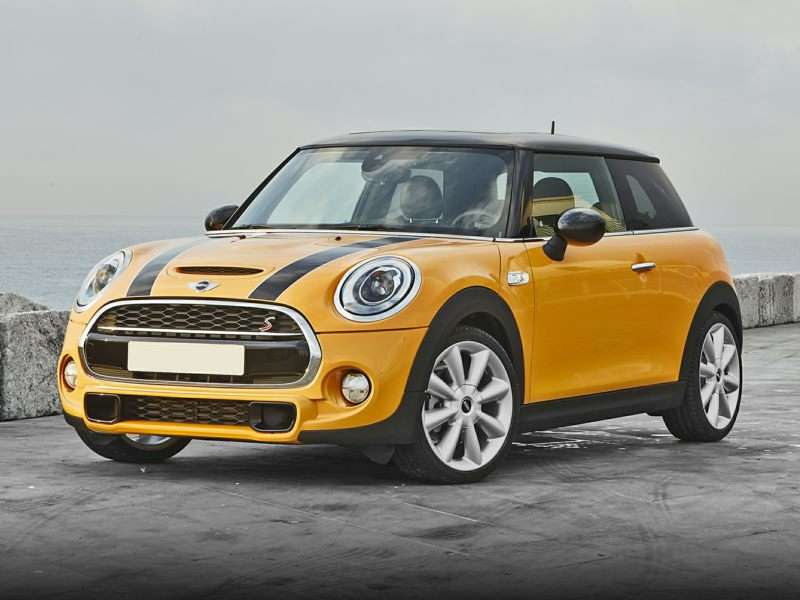 3) 2015 Chevrolet Camaro - MSRP $23,705
The 2015 Chevrolet Camaro is most familiar in its eight-cylinder SS trim, but the V-6 edition of the muscle car offers a respectable level of performance of its own. It is also possible to dress up the Chevrolet Camaro coupe with options for a more aggressive look. Further customization of the vehicle's exterior is also possible to mimic much of the higher-end Camaros' stage presence. The 2015 Chevrolet Camaro's 3.6-liter V-6 is tuned to provide 323 horsepower and 278 lb-ft of torque - numbers that just a few years ago would not have looked out of place in the top-spec edition of the car. A six-speed manual transmission comes free of charge with the base model Camaro, while a six-speed automatic is also available.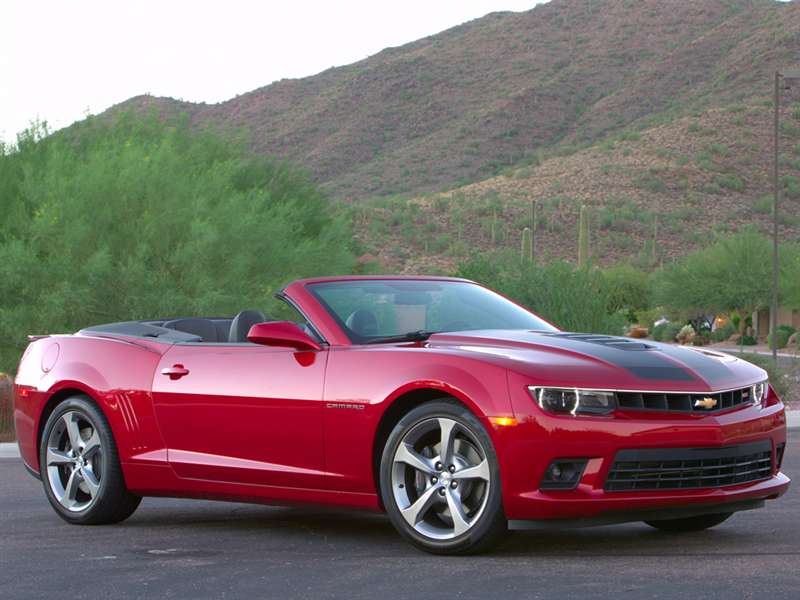 Photo by Chevrolet
4) 2015 Mazda Mazda3 - MSRP $16,945
The 2015 Mazda Mazda3 is one of the most potent cars in its price range on the market. With its extroverted styling in both hatchback and sedan forms, the Mazda Mazda3 is tough to miss in a crowd, and the vehicle also comes with a long list of standard features. The base version of the Mazda3 comes with a 2.0-liter four-cylinder engine that puts out 155 horsepower and 150 of torque, numbers that are modest compared to some other vehicles on this list, but the Mazda3 is designed to squeeze out every pony's worth of enjoyment. Higher-end trim levels offer an upgrade to a 2.5-liter four-cylinder with 184 horsepower and 185 lb-ft of torque. Both versions of the 2015 Mazda Mazda3 come with either a six-speed manual or a six-speed auto transmission.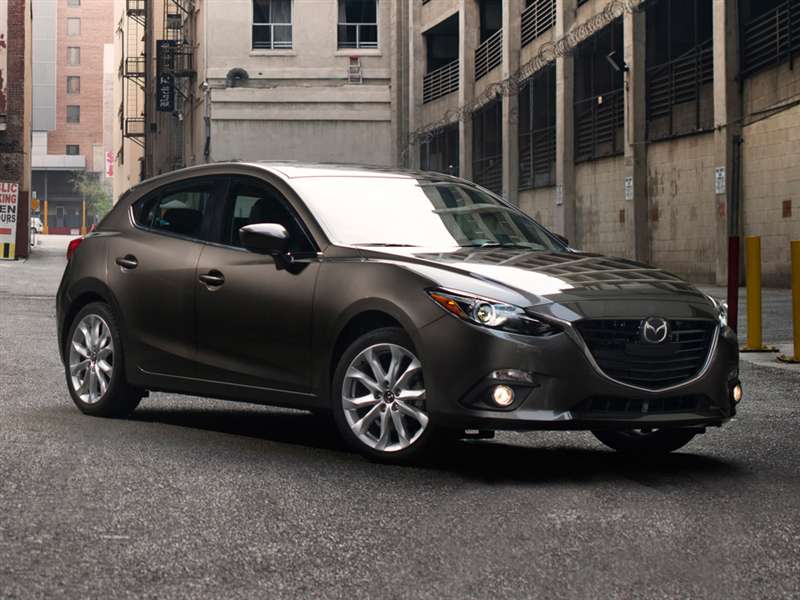 5) 2015 Mazda MX-5 Miata - MSRP $23,970
The 2015 Mazda MX-5 Miata provides modest horsepower, compared to some of the other cars on this list, but the Miata is in its 25th year, and Mazda's nailed the car's dynamics. The 2015 Miata represents some of the most fun you can have with a 167-horsepower, 2.0-liter four-cylinder mill. The Mazda MX-5 Miata owes its success to its lightweight chassis that transmits every nuance of the road straight through the wheel, and to the seat, so that every driver has a blast regardless of actual driving skill. This two-seat roadster embodies the saying that it's more fun to drive a slow car fast than a fast car slow.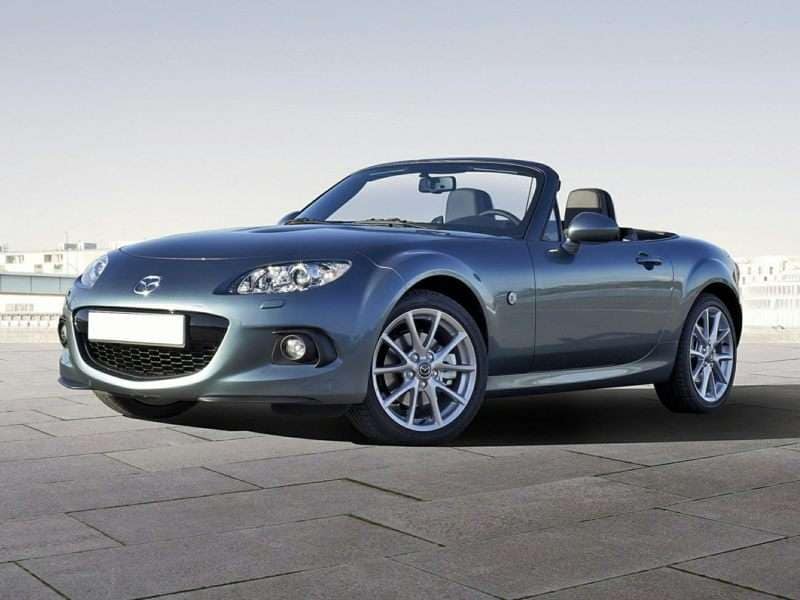 6) 2015 Volkswagen GTI - MSRP $24,785
Fully redesigned, the 2015 Volkswagen GTI is a mainstay when it comes to inexpensive and sporty automobiles. The Volkswagen GTI enjoys a reputation for balancing point-and-shoot handling with a solid and comfortable ride, and the vehicle features an interior that is bolstered by heated sport seats, air conditioning, and Bluetooth connectivity. Both two- and four-door editions of the hatchback can be specified. The 2015 Volkswagen GTI's 2.0-liter, four-cylinder engine is turbocharged to produce 210 horsepower and 258 lb-ft of torque, though the top trim levels offer a tuned version of that same engine that boosts horsepower to 220. A traditional six-speed manual transmission comes with the base GTI, while a unique dual-clutch automated manual featuring launch control can also be ordered with the car.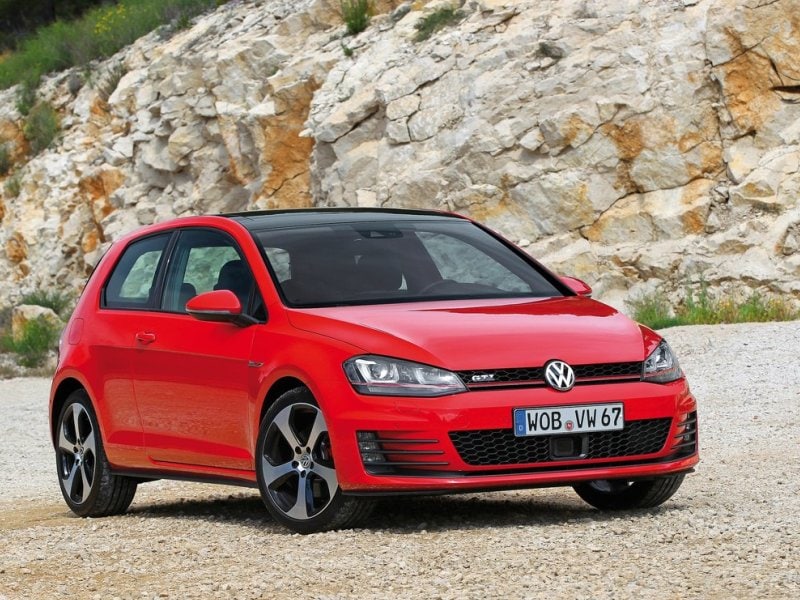 Photo by Volkswagen
7) 2015 Scion tC - MSRP $19,210
The 2015 Scion tC has been re-engineered in order to provide more confident handing, a stiffer ride and a look that once again manages to flaunt the dedication to style that Scion has become associated with. The Scion tC also offers an in-depth customization program that allows owners to order factory performance parts as well as body kits, interior trim pieces and entertainment gear for the compact coupe. The 2015 Scion tC's four-cylinder engine offers 2.5 liters of displacement, and its 179 horsepower and 172 lb-ft of torque give it a decent punch when the accelerator is floored. The Scion tC can accelerate to 60 mph in 7.3 seconds, a figure which is achieved thanks to its six-speed manual transmission. An automatic unit, which also features six forward gears, can be ordered as the tC's lone option.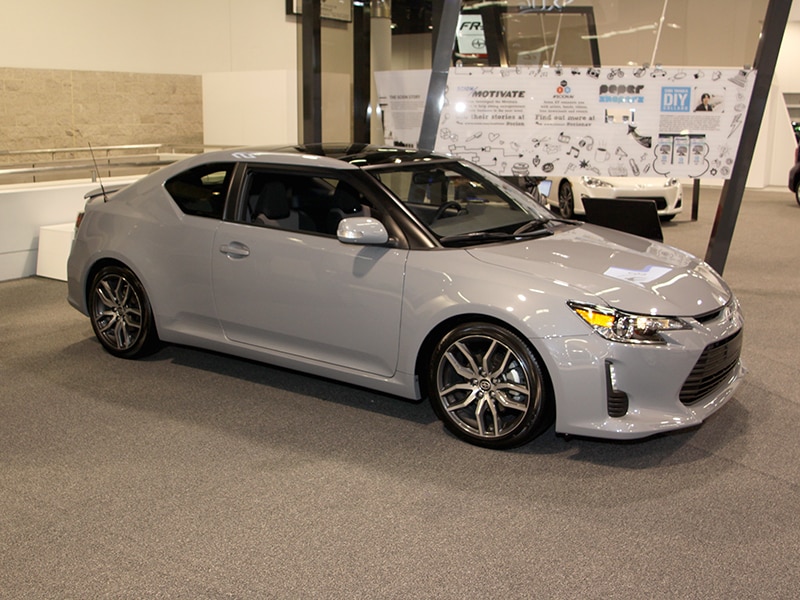 8) 2015 Ford Mustang - MSRP $23,800
Fully redesigned for this model year, the 2015 Ford Mustang continues to pull in bargain-hungry performance fans thanks to a brand new four-cylinder EcoBoost engine option as well as a one of the more attractive implementations of retro styling currently available. The 2015 Ford Mustang base model's 3.7-liter V-6 delivers 300 horsepower and 280 lb-ft of torque, channeled to the rear wheels via either a six-speed manual or six-speed automatic transmission. For extra fun, the 2015 Ford Mustang is also available as a convertible.