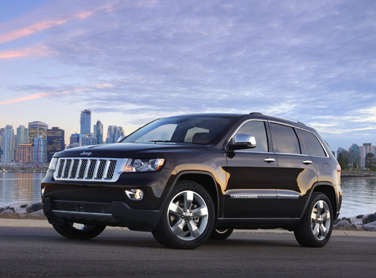 Do you want to take it all with you every time you head out into the wilderness in your trusted four-wheel drive sport-utility vehicle? Thanks to a wave of extremely competent luxury SUVs, there's no longer any reason to have to leave the comforts of home behind during a weekend of trail driving, rock climbing or just general exploration in your local state park or desert run.
Let's take a quick look at eight luxury SUVs that are fit for the trail and which can give you healthy dose of fun to go along with their opulent splendor.
01. 2011 Land Rover Range Rover
The 2011 Land Rover Range Rover is the latest in a long line of SUVs from the British luxury SUV manufacturer that have blended supreme on-road manners with extreme off-road competence. The full-size Land Rover Range Rover is packed with comfort features such as HID headlights, three zones of automatic climate control, heated leather seats, a navigation system (that includes on and off-road guidance) as well as a Harman Kardon surround sound system.
When the going gets rough, the Range Rover's adjustable air suspension system (which can add ground clearance), Terrain Response system (which offers custom throttle, suspension and traction settings for dealing with different surfaces) and hill-holding and descent control systems all step in and help out. Combined with a rugged four-wheel drive system and the choice of either a 375 horsepower, 5.0-liter V-8 or a supercharged, 510 horsepower edition of the same engine, this high level of equipment makes the Range Rover almost unstoppable regardless of what obstacles it might encounter.
02. 2011 Mercedes-Benz M-Class
The 2011 Mercedes-Benz M-Class may come across as more of a commuter than a battler, but the mid-size SUV is no slouch when it comes time to take a break from the asphalt. The Mercedes-Benz M-Class can be had with the brand's 4MATIC all-wheel drive system, which offers a permanent 50/50 torque split between the front and rear axles. 4-ETS traction control enhances this mechanical torque management by sending engine power only to those wheels which have traction, while the optional AIRMATIC feature provides dynamic suspension response to changing terrain.
When fully spec'd out, the 2011 Mercedes-Benz M-Class includes such niceties as a digital music storage system, heated front and rear leather seats, a navigation system and power-folding mirrors (which helps to keep them from being whacked by errant branches on narrow trails). Opting for the M-Class' available 3.0-liter turbodiesel inline six-cylinder engine provides not just 210 horsepower and a stump-pulling 400 lb-ft of torque, but also a level of fuel economy that will ensure you won't run out of steam one hundred miles from the nearest service station.
03. 2011 Infiniti QX56
The 2011 Infiniti QX56 is big – so big, in fact, that its mere presence immediately commands attention. The Infiniti QX56's plus-size dimensions conceal its off-road bones, lifted from the Nissan Patrol's impressive chassis and polished to luxury perfection. Standard equipment for the Infiniti includes three zones of automatic climate control, a full complement of leather seats front to rear and a voice-controlled navigation system, while options such as the Hydraulic Body Motion Control system help to keep the big truck stable no matter how rough the road – or lack thereof – might get.
The 2011 Infiniti QX56 also offers considerable power from its 5.6-liter V-8, which is good for a startling 400 horsepower. Optional four-wheel drive and a seven-speed automatic transmission round out the gifted SUV's mechanical package.
04. 2011 Toyota Land Cruiser
The 2011 Toyota Land Cruiser might seem like an unlikely addition to this list of luxury SUVs, but the full-size people mover is actually the top tier model in the Japanese automaker's lineup. The Toyota Land Cruiser comes in a single trim level that incorporates heated leather seats, four zones of automatic climate control, and a sunroof, while navigation, a rear-seat entertainment system and heated second row seats can be added to the truck as options.
More importantly, the 2011 Toyota Land Cruiser defends its title as one of the world's most competent trail vehicles thanks to features such as its Kinetic Dynamic Suspension System (which provides increased wheel articulation), Crawl Control that allows for safer climbing and descent of hills and a strong chassis mated to a low-range four-wheel drive system. A 381 horsepower, 5.7-liter V-8 provides substantial motivation for the Toyota SUV.
05. 2011 Jeep Grand Cherokee Overland Summit
All-new for the current model year, the 2011 Jeep Grand Cherokee Overland Summit represents the highest available trim level with the five-passenger sport-utility vehicle. The Jeep Grand Cherokee Overland Summit includes a power tailgate, heated and ventilated leather seats, wood trim and a navigation system to go with other features like a digital music storage system and 20-inch wheels.
The Grand Cherokee's top-of-the-line Quadra-Drive II four-wheel drive system comes with two electronic limited-slip differentials and can be combined with Quadra-Lift air suspension for additional ride height control. The available Off-Road Adventure packages are also on-hand to install items like hill descent control, knobby all-terrain tires and skid plates. The Jeep's most robust engine option is a 5.7-liter Hemi V-8 that grinds out 360 horses.
06. 2011 Porsche Cayenne
The 2011 Porsche Cayenne is best known for its impressive track performance and high speed hi-jinx. That being said, the Porsche Cayenne SUV is also a very comfortable and well-appointed vehicle, thanks to the availability of leather seats, a Bose surround sound system, adaptive HID headlights, a sunroof and of course a full range of electronic entertainment features and driver's aides. An eight-speed automatic transmission, an electronic torque management system that can shift 100 percent of engine torque to either the front or rear axles (via the vehicle's four-wheel drive system), descent control and a ride height control system all conspire to make the Porsche a worthwhile off-road companion.
There are many different engine options available with the 2011 Porsche Cayenne, but when it comes time to break trail it makes the most sense to stay away from the stunning power of the Turbo model and instead opt for the V-8 offered by the Cayenne S. This unit serves up 400 horses, which is more than enough to tear up the dirt without digging too deep of a hole in soft ground.
07. 2011 Lincoln Navigator
The 2011 Lincoln Navigator is often forgotten when compiling a list of which premium sport-utility vehicles can hold their own out on the trail. In reality, the Lincoln Navigator is based on the same full-frame design as the popular Ford F-150 pickup truck, which means that it has the strength and fortitude needed to absorb the punishment frequently encountered during wilderness driving. The Navigator's plush interior – resplendent with high tech options and wood and leather trim – is complimented by Control Trac four-wheel drive and a multi-link rear suspension system. 5.4-liters of V-8 power means there are 310 ponies available to help keep the Lincoln moving forward, and a six-speed automatic transmission provides the smooth gear changes expected out of this class of vehicle.
08. 2011 Lexus LX 570
The 2011 Lexus LX 570 has a secret, and that is that the SUV shares most of its mechanical details with the iconic Toyota Land Cruiser. Even more buttoned down than its less expensive sibling in around-town driving, the Lexus LX 570 overwhelms the luxury sensibilities of its occupants with four zones of automatic climate control, a power-folding rear seat, leather and the availability of heated and ventilated thrones for the driver and front passenger. Adaptive cruise control, a surround sound system and a voice-controlled navigation system are also offered with the Lexus.
In addition to its 383 horsepower, 5.7-liter V-8 engine, the 2011 Lexus LX 570 also comes with full-time four-wheel drive, Active Height Control (X-AHC) and an adaptive suspension system that allow the SUV to seamlessly transition between boulevard cruising and rutted road dominance. Hill-start assist, and Crawl Control also do their part to make driving past the end of the road as stress-free as possible.