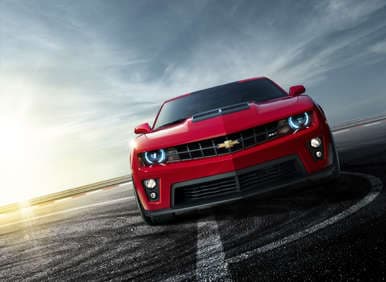 Chevrolet has become the go-to automaker for a wide swath of the American car-buying public. Stepping into a Chevy showroom reveals a lineup of vehicles ready to tackle almost any niche, from rugged pickups to practical crossovers to comfy sedans. Chevrolet has even started to push forward in the hybrid sphere, offering not just the Volt electric automobile but also a new range of mild hybrids designed to offer an affordable pathway towards excellent fuel economy.
Let's take a look at eight Chevrolet automobiles that cover almost all of the bases when it comes to pleasing the diverse needs of the car-buying public.
01. 2012 Chevrolet Avalanche
When the 2012 Chevrolet Avalanche first appeared on the scene so many years ago, some were puzzled by its unusual appearance and ability to straddle both the full-size pickup and sport-utility worlds. A decade later the Chevrolet Avalanche is still going strong, with buyers appreciating its mix of crew cab passenger capacity and unique midgate design that allows for the quick and easy reconfiguration of its cargo compartment to haul even oversized items.
The 2012 Chevrolet Avalanche is also a capable tow vehicle thanks to its beefy V-8 power plant and full-frame chassis. The Avalanche is motivated by a 5.3-liter engine that puts out 320 ponies and 335 lb-ft of torque, managed by a six-speed automatic transmission. Four-wheel drive is available as an option with the Avalanche, and it can haul up to 8,100 lbs of trailer weight. In city driving, the crossover returns fuel economy of 15-mpg, while highway cruising delivers 21-mpg.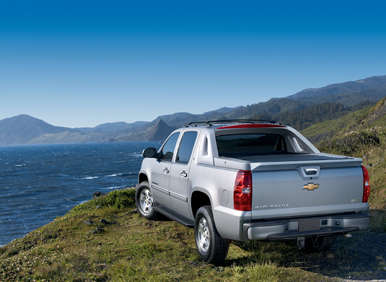 02. 2012 Chevrolet Colorado
The 2012 Chevrolet Colorado is aimed at drivers who need the open-bed practicality of a pickup but who want to avoid the bulk of a full-size truck. The Chevrolet Colorado comes in regular, extended cab and crew cab editions, with the latter two offering additional seating behind the front two positions. Five and six-foot cargo boxes are also available with the Colorado.
The 2012 Chevrolet Colorado features a trio of engine choices, including a 2.9-liter four--cylinder (185 horsepower), a 3.7-liter five-cylinder (242 horsepower) and a 5.3-liter V-8 (300 horsepower). Of the three, the entry-level engine provides the best fuel economy, checking in with 18-mpg around town and 25-mpg highway. Four-wheel drive can be ordered with the pickup, and transmission options include a five-speed manual (four-cylinder) and a four-speed automatic (everything else).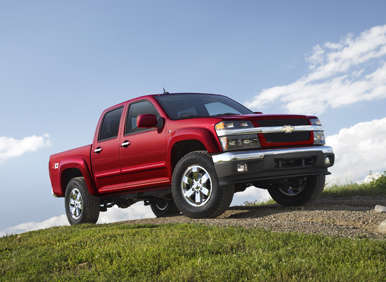 03. 2011 Chevrolet HHR
The 2011 Chevrolet HHR provides compact crossover shoppers with a tall wagon design lifted straight out of the early years of Chevrolet styling. The unique Chevrolet HHR backs up its retro looks with five passenger seating and the availability of a panel edition that maximizes interior storage space and offers up to 63 cubic feet of total cargo room. The passenger edition comes in close behind with 58 cubic feet of its own.
The 2011 Chevrolet HHR starts out with a 2.2-liter, four-cylinder engine under the hood that is good for 155 horsepower and 150 lb-ft of torque. A five-speed manual transmission is standard with this engine, while a four-speed automatic can be installed as an option. The HHR can be upgraded to a 2.4-liter, four-cylinder motor that improves output to 172 horses and 167 lb-ft of twist while maintaining the same transmission choices. Fuel economy for both engines is rated at 22-mpg in city driving and 30-mpg highway.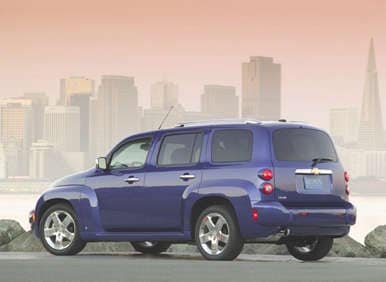 04. 2011 Chevrolet Impala
The 2011 Chevrolet Impala features full-size sedan comfort with the unusual option of six-passenger seating - a throwback to the glory days of plush, soft-riding American sedans. In addition to an available front bench seat, the Chevrolet Impala can also be had with heated leather upholstery, a trip computer, a Bose stereo system and a sunroof, features which do a good job of dressing up its spacious passenger compartment.
The 2011 Chevrolet Impala sees an improved power plant grace its engine bay for the current model year, with a new 3.6-liter V-6 taking up residence in the sedan. The unit, which is good for 300 horses and 262 lb-ft of torque, also returns fuel economy of 18-mpg in stop and go driving and 30-mpg on the highway - solid numbers for the Impala's segment. A six-speed automatic transmission handles the gear shifting duties for the full-size sedan.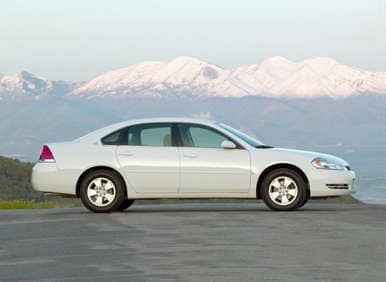 05. 2012 Chevrolet Malibu
The 2012 Chevrolet Malibu is a stylish mid-size family sedan that acquits itself well as both a daily driver and long-distance commuter. The Chevrolet Malibu can be spec'd all the way up to the LTZ trim, which loads the automobile with features such as automatic climate control, leather seats, a sunroof and 18-inch wheels. Even in base form, the Malibu comes with items such as power windows and door locks (with keyless entry), cruise control, a power driver's seat and an MP3-capable CD player.
The 2012 Chevrolet Malibu enjoys a 2.4-liter, four-cylinder engine as standard equipment, and this mill offers up 169 horsepower and 160 lb-ft of torque. Fuel economy for the frugal four-cylinder Malibu is an excellent 22-mpg around town and 33-mpg highway. For those who favor power over efficiency, the sedan can be had with a 252 horsepower, 3.6-liter V-6. Also capable of generating 251 lb-ft of torque, this unit delivers 17-mpg city and 26-mpg highway. Each version of the Malibu comes with a six-speed automatic transmission.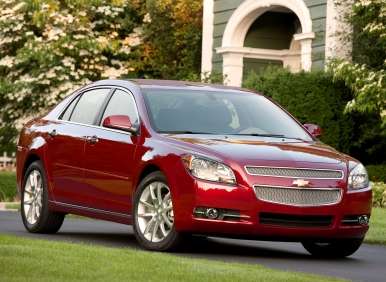 06. 2012 Chevrolet Sonic
The 2012 Chevrolet Sonic is an all-new subcompact competitor that obliterates any memories of the brand's sub-par entry-level offerings from past years. The Chevrolet Sonic can be had in both sedan and hatchback editions, with the latter expanding cargo capacity to a total of 30.9 cubic feet thanks to its folding rear seat.
The 2012 Chevrolet Sonic can be ordered in two different four-cylinder flavors. The first engine option is a 1.8-liter that generates 138 horsepower and 125 lb-ft of torque while putting up fuel mileage of 26-mpg in city driving and 35-mpg on the highway. The Sonic is also available with a 1.4-liter, turbocharged motor that provides identical horsepower but an additional 23 lb-ft of torque, along with improved fuel economy figures of 29-mpg city and 40-mpg highway. The Sonic can be shifted via either a six-speed auto or six-speed manual gearbox.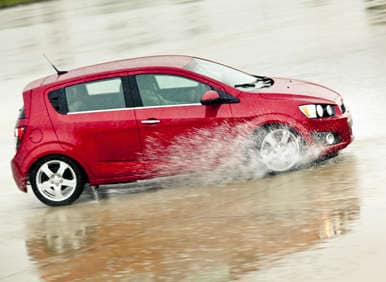 07. 2011 Chevrolet Traverse
The 2011 Chevrolet Traverse represents the largest sedan-based crossover built by the domestic brand. Capable of seating up to eight passengers or swallowing as much as 116.4 cubic feet of cargo within its cavernous interior, the Chevrolet Traverse impresses with its compliant suspension setup and pleasant driving characteristic, feeling more like a big family car than a ponderous SUV.
The 2011 Chevrolet Traverse packs considerable power in the form of a standard 3.6-liter V-6 engine. This motor is tuned to provide 281 ponies (288 with the dual exhaust option specified) and 266 lb-ft of torque, with fuel economy showing as 17-mpg around town and 23-mpg highway. A six-speed automatic transmission is included free of charge with the Traverse, and all-wheel drive can be added to the vehicle to give it some extra grip in foul weather driving.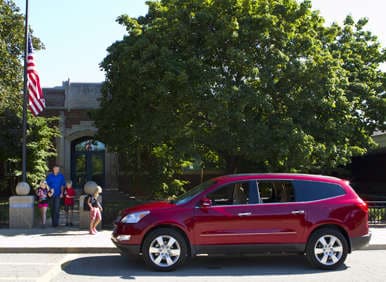 08. 2012 Chevrolet Volt
The 2012 Chevrolet Volt is a breakthrough in modern electric car design, a battery-powered automobile that also offers a gasoline engine as a range extender to keep the compact sedan moving forward after a full charge has been depleted. The Chevrolet Volt can travel up to 50 miles on battery power alone, depending on traffic and weather conditions, and the gasoline motor adds an additional 300 miles to this tally.
The 2012 Chevrolet Volt's drivetrain offers 149 horsepower and 273 lb-ft of torque, which is more than enough grunt to handle a wide range of modern driving situations. Interior room is quite reasonable for a compact car, and the vehicle also offers all of the expected modern conveniences along with a selection of premium options that include a navigation system, heated leather seats and parking assistance.