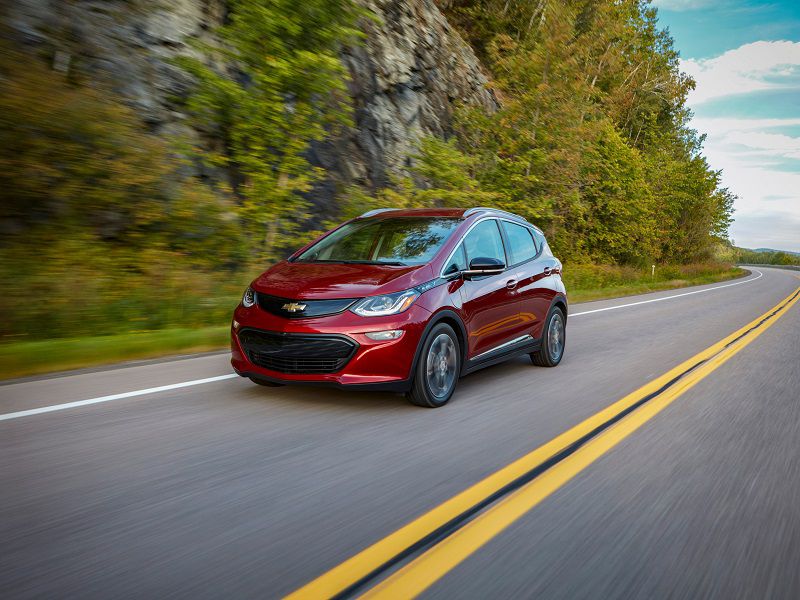 2019 Chevrolet Bolt EV Red Driving Front Three Quarter ・ Photo by General Motors
When we say the 8 cheapest electric cars, it must be understood that "cheap" is relative. An electric vehicle (EV) is costlier than its gasoline-powered counterpart, if one exists. So really, we're looking for zero emissions at the lowest prices.
This list actually is just a snapshot of a vehicle sector that's experiencing quite a lot of change. By focusing on the least expensive electric vehicles, choices are mostly limited to what might be called Version 1.0 cars — the ones with the lowest ranges and perhaps about to be replaced.
Speaking of change, make the most of the $7,500 federal tax credit and various state incentives while they're still available. There are rumblings that they may not be around for 2020 or 2021.
2019 Nissan Leaf
Easy to obtain, roomy, and practical, the Leaf - now in its second generation, therefore more evolved than many low-priced EV rivals - probably is the smartest pick of this bunch.
Its range of 150 miles is just about enough for people not to get anxious over whether they can get to their destination, and the starting price is a relatively affordable $30,985. But the SV trim, the next level up from the basic S, is a better buy (from $33,485) because of its equipment and eligibility for more options. Our main gripe is that the steering wheel only adjusts for tilt and not reach, but no doubt a buyer will get used to it. The Leaf is on sale in all 50 states.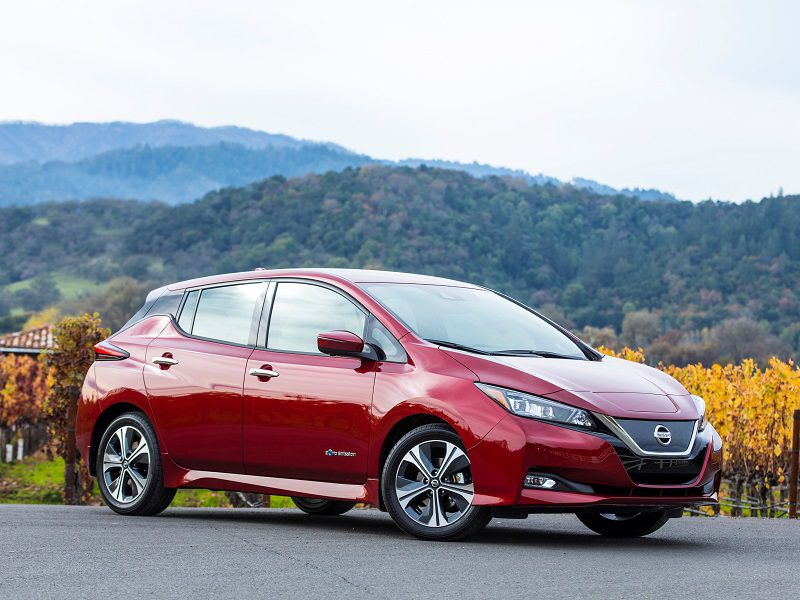 Photo by Nissan
2019 Kia Soul EV
The 2019 Soul EV is the last of the current generation. An all-new Soul EV debuts for 2020, but we don't have pricing for that yet. This model still is a smart package, though. It's a subcompact hatchback, but has plenty of rear headroom, thanks to a design that embraces and makes a virtue of boxy shapes. Its range is 111 miles.
Sold only in California and Oregon, the 2019 Soul EV starts at $34,845. The entry-level version comes with heated front seats, leather-wrapped/heated steering wheel, and satellite radio. This model year also has an updated infotainment system over last year. Versions sold in Oregon offer a battery heating system.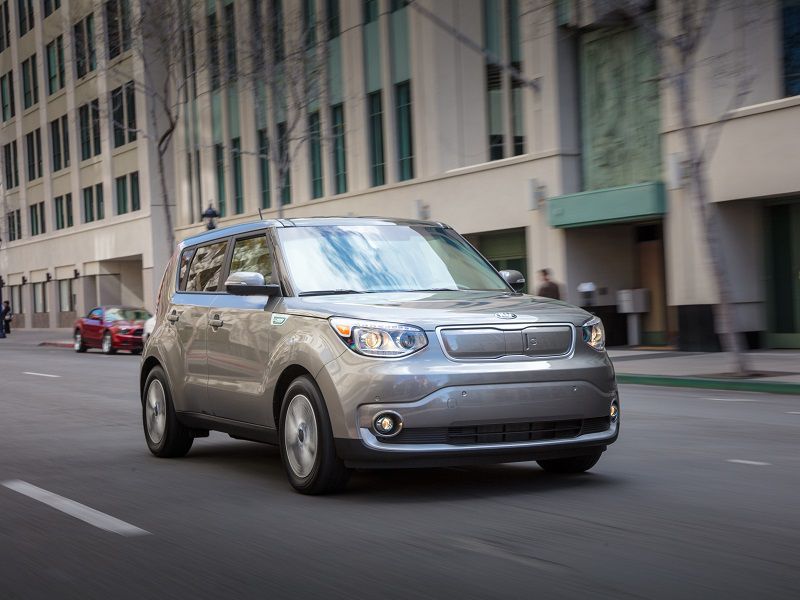 Photo by Kia
2018 Volkswagen e-Golf
This is a nice car, if you can find one. Volkswagen doesn't appear to be importing many, and the few that the company ships over are only sold in a handful of states. This is a shame, because the 134-hp e-Golf compact hatchback enjoys the same classy cabin, excellent driving manners, and maximum cargo space (52.7 cubic feet) as the regular Golf. Considering the battery pack is big enough to provide 125 miles of range, that's pretty clever packaging.
The 2018 e-Golf starts at $31,390. VW also includes a plan that if an e-Golf driver runs out of power within a 100-mile radius of home, the company will transport it to a charging facility and pay for any transportation expenses.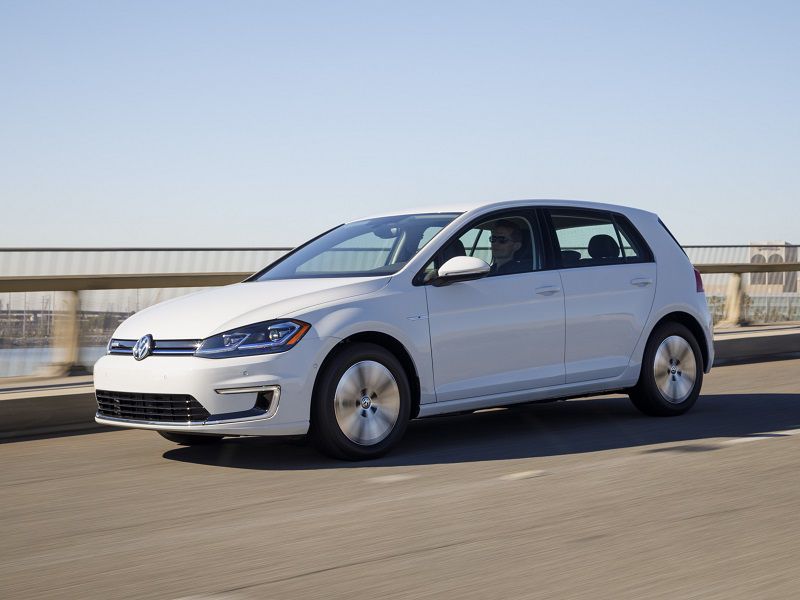 Photo by Volkswagen
2018 Ford Focus Electric
The regular Focus is one of the better-handling compact hatchbacks. It's a great, well-rounded package. Swap in an electric drivetrain with 115 miles of range and subtract some cargo space to make room for the battery pack, and we have the Focus Electric, starting at $29,995.
Unlike the gasoline-powered Focus, there isn't a sedan alternative. But like its combustible compadre, the rear seating area is a bit tight, and trunk space behind those seats shrinks from the usual 23.3 cubic feet to 14.5 cubic feet. But this still is a well-equipped variant, with dual-zone automatic climate control, rear parking sensors, and a Sony audio system. We recommend going for the optional 240-volt fast-charging feature.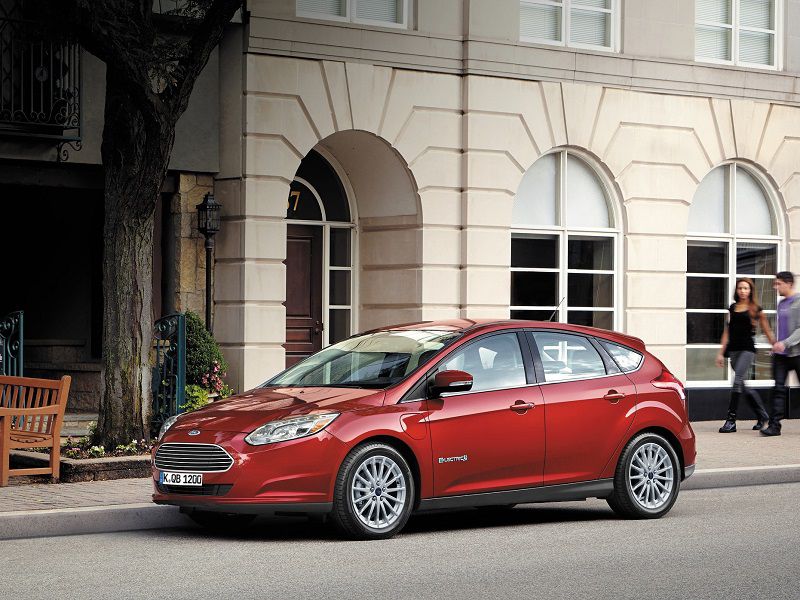 Photo by Ford
2019 Hyundai Ioniq Electric
This compact hatchback has a range of 124 miles and starts at $30,700. The Ioniq lineup (which also includes a hybrid and a plug-in hybrid) only has been around for a couple of years, so its tech is quite advanced.
For example, the battery is lithium-ion polymer, enabling 80 percent of charging in 23 minutes, which is quick (that's using a Level 3 facility). And this chemical composition allows for greater flexibility in packaging, resulting in useful cargo space. The only trouble is that the Ioniq Electric is a victim of its own success, since Hyundai can't make enough to keep up with demand. The company has said it will honor 2018 prices on cars already ordered.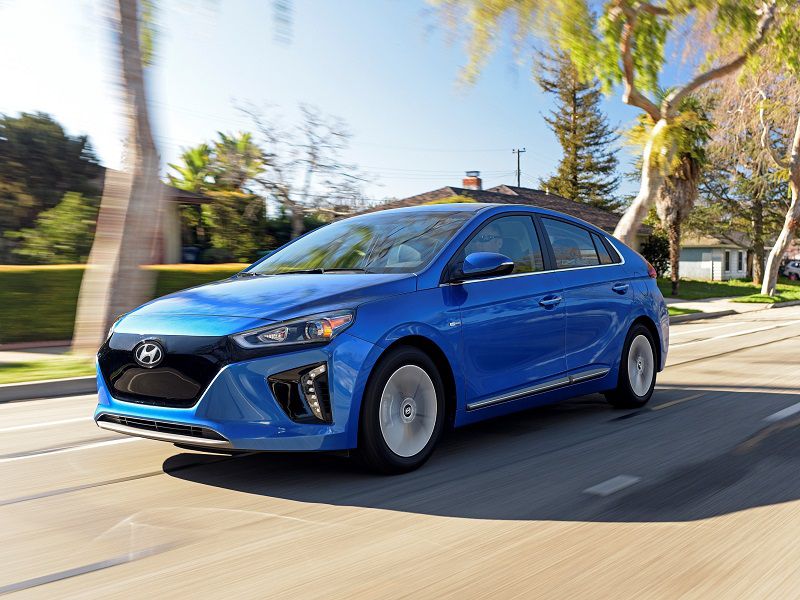 Photo by Hyundai
2019 Chevrolet Bolt EV
Now that Chevy has stopped making the Spark EV, this is the company's only battery powered car. And even though we're concentrating on the 8 cheapest electric cars, the compact 2019 Bolt EV begins at a stop-and-think-about-it $37,495 before incentives. But just as Tesla cars illustrate, higher prices equate to bigger ranges. While the other seven cars here can only hit 150 miles at best, the Bolt EV can cover 238 miles.
This definitely is a Version 2.0 kind of electric vehicle, underlined by the "one-pedal driving" approach. A driver can negotiate stop/go city traffic by merely pressing or lifting off the accelerator. The Bolt EV also enjoys a substantial 200 hp and is available throughout the United States.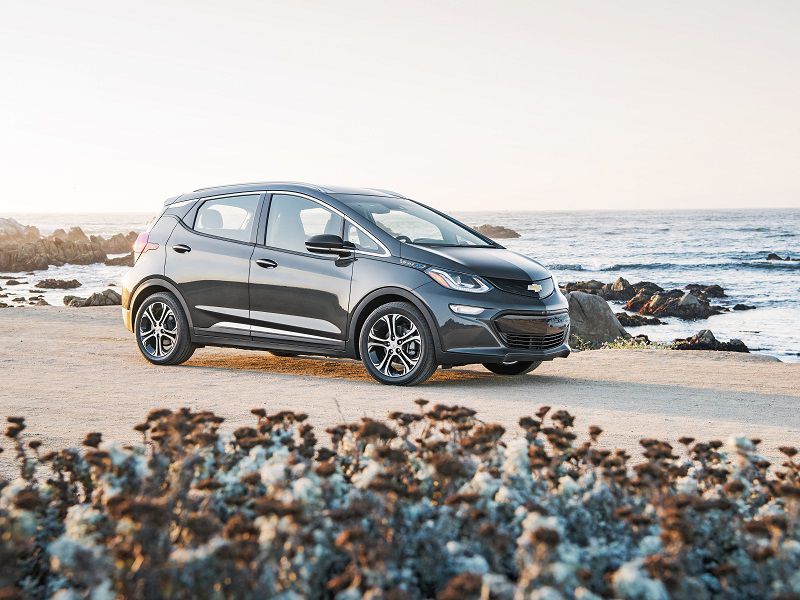 Photo by Chevrolet
2019 Smart EQ Fortwo
Coming with a fixed roof or as a convertible (cabriolet), this lightweight two-seater is the cheapest of our 8 cheapest electric cars. Well, that's something of an assumption, since 2019 pricing had not yet been announced when compiling this list. But the 2018 lineup started at $24,650, and we're not expecting a massive price jump.
Changes for this model year include a revised name (it was called Electric Drive, but EQ is a new sub-brand for Smart's electric vehicles), and a Level 1 charging cable becomes standard. Range is 58 miles, or 57 in the cabriolet, which also is the cheapest soft-top on the market as well as the only one to be powered solely by a battery. The Smart EQ Fortwo is available nationwide.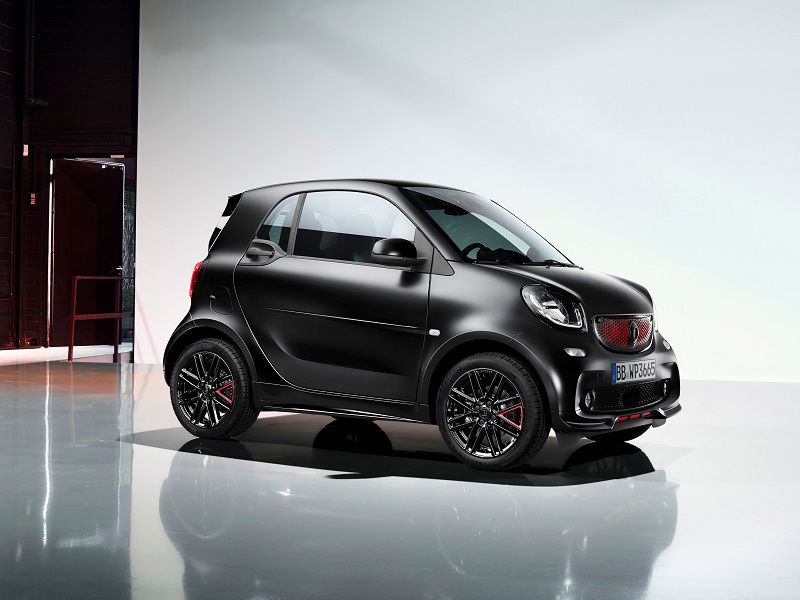 Photo by smart
2019 Fiat 500E
The 500E subcompact hatchback is one of the few from our 8 cheapest electric cars lineup that actually can deliver some driving fun. Placing the lithium-ion battery pack in the floor lowers the center of gravity, which contributes to a feeling of agility. Having the electric motor provide 111 hp in a car of this diminutive size is another plus. Range is 84 miles.
When it gets into dealerships - only in California and Oregon - this winter, the 2019 500E will start at $34,290. That's quite a tidy sum for such a tiny car. It's almost as if Fiat doesn't want people to buy them and has the model in its portfolio just to comply with corporate average fuel emissions regulations.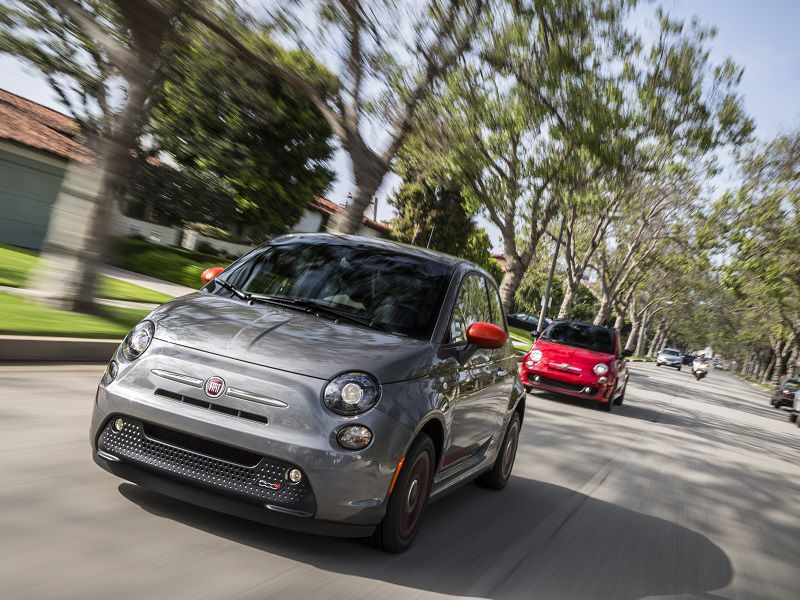 Photo by FIAT