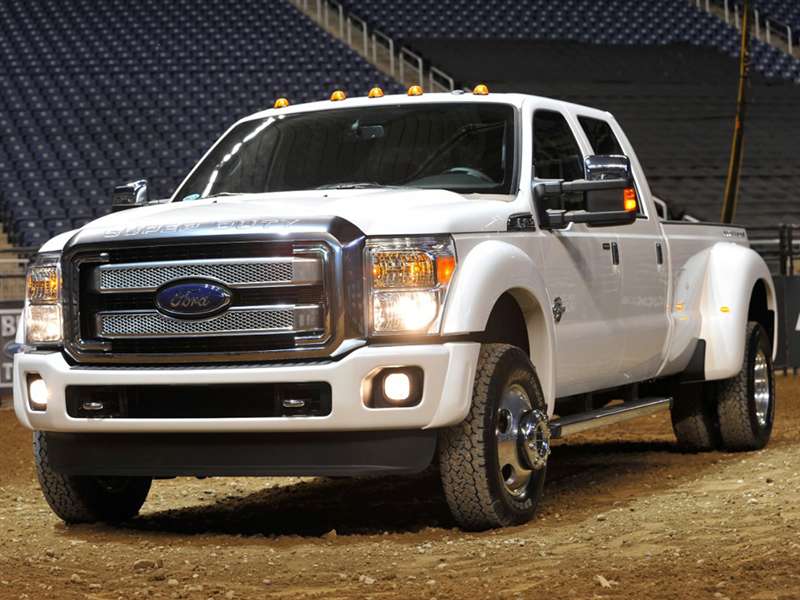 2015 Ford Super Duty F-350
Used dually trucks—with two wheels on each side of the rear axle—are an excellent option for owners who will be towing heavy loads on long hauls. That's because even though those extra wheels don't boost capability, they provide a lot more stability, along with an extra measure of safety: If you're pulling a couple of tons' worth of trailer down the highway, and have a sudden blowout of a back tire, a truck with single rear wheels will be compromised in a way a dually isn't. There's that much more rubber on the road when braking, too.
Gently Used Dually Pickup Truck Choices
Dually trucks can be a bit pricey, which is why we'll take a look at some possible pre-owned entries. Also, as most of these vehicles come from the four domestic truck brands, that's what we focus on here. We'll have four basic choices from each manufacturer, plus four others that may not be so common.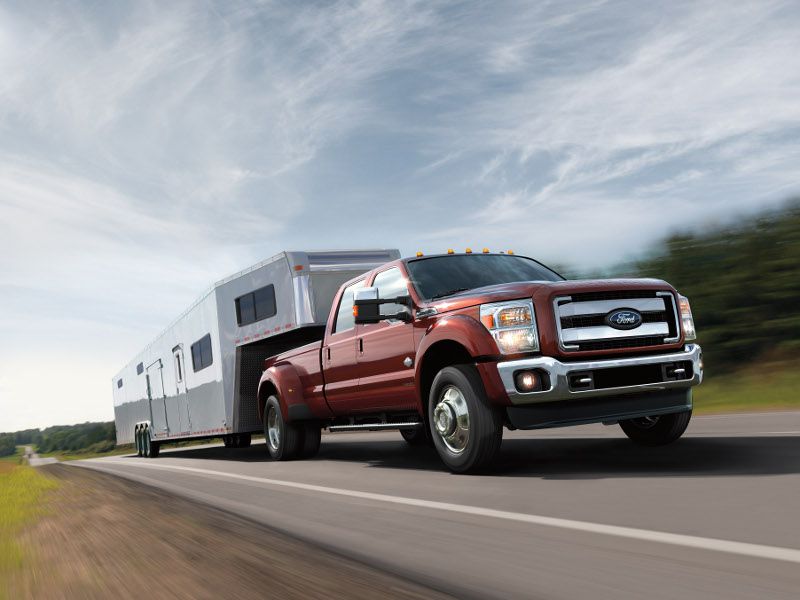 Photo by Ford Media
2013 Chevrolet Silverado 3500HD
Shoppers should keep in mind that the more recent used dually trucks don't come in the entry-level size for heavy-duty pickups. For example, the 2013 Chevrolet Silverado 3500HD—but not the 2500HD—offers a dual rear wheel setup, as well as an impressive score in that year's J.D. Power Initial Quality Study. The Silverado HD trucks led the "Large Heavy Duty Pickup" segment that year, due in large part to a comprehensive upgrade for 2012. That means the assembly team had a year's worth of experience for the 2013 edition, while the truck itself led the segment for towing and payload at the time—backed by benchmarks of 23,000 lb. and 7215 lb., respectively.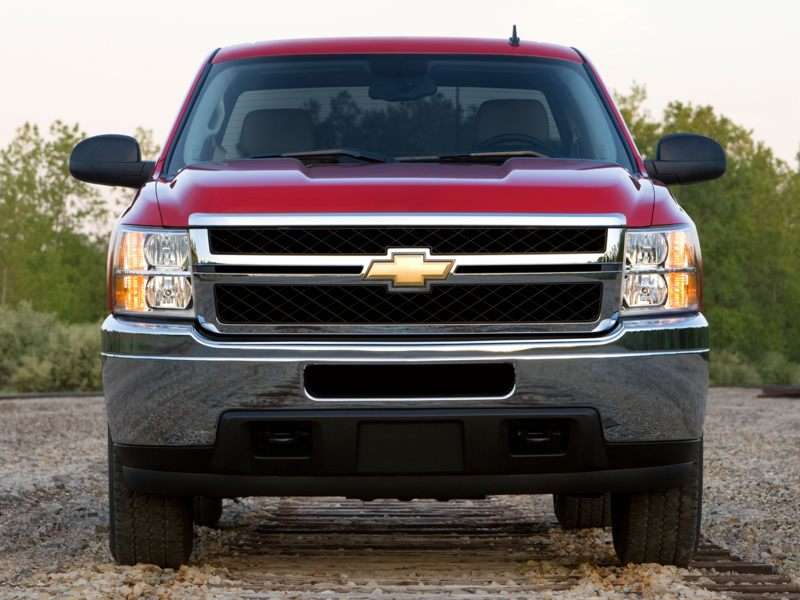 2013 Chevrolet Silverado 3500HD Chassis Cab
For Bowtie fans of used dually trucks, "13" might be a lucky number, since the brand also introduced its 6.7-liter Duramax diesel engine for the 2013 Chevrolet Silverado 3500HD Chassis Cab. Owners enjoy 397 horsepower and 765 lb.-ft. of torque with that unit, along with the ability to run on B20 biodiesel fuel, and for the time, the truck had best-in-class grades for payload (7222 lb.), conventional towing (18,000 lb.) and fifth-wheel towing (23,100 lb.). Regular-, double- and crew-cab body styles are all available, as are comforts like climate-controlled seating, navigation, and Bluetooth connectivity. Of course, Chevy chassis cabs can be upfit for a wide variety of commercial applications, including for use as dump trucks, utility trucks, and flatbeds.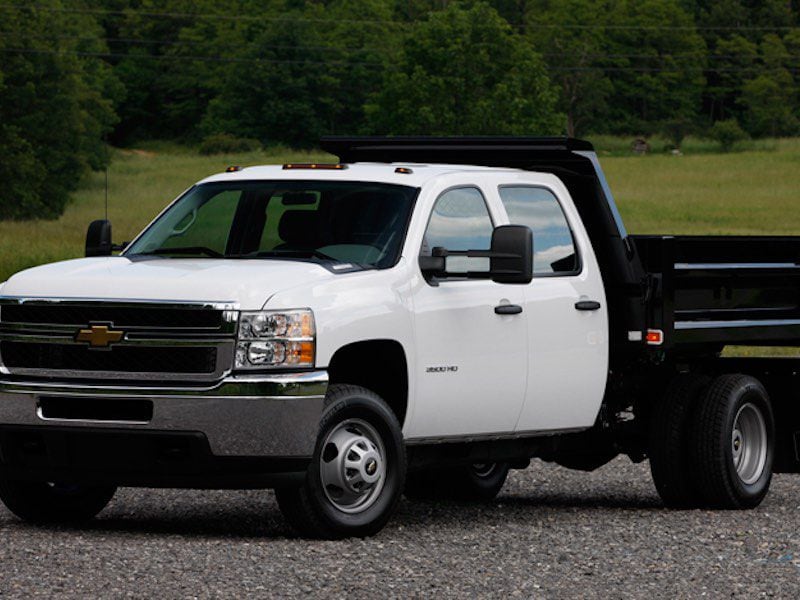 Photo by General Motors
2015 Ford Super Duty F-350
The Blue Oval is bringing out an all-new roster of heavy-duty pickups later this year, and those 2017 entries will be showcasing plenty of military-grade aluminum and sophisticated technologies, just like the light-duty F-150. In turn, you can expect some Ford owners will be eagerly trading in their old rides for new. A potential bright spot for other shoppers, for used dually trucks, therefore will be the 2015 Ford Super Duty F-350. It's been in service long enough to lower the cost some, but it's new enough that diesel models received Ford's engine update for that year. As a result, towing capacity jumped 3,500 lb. between the 2014 and 2015 model years, reaching 26,700 lb. in the latter.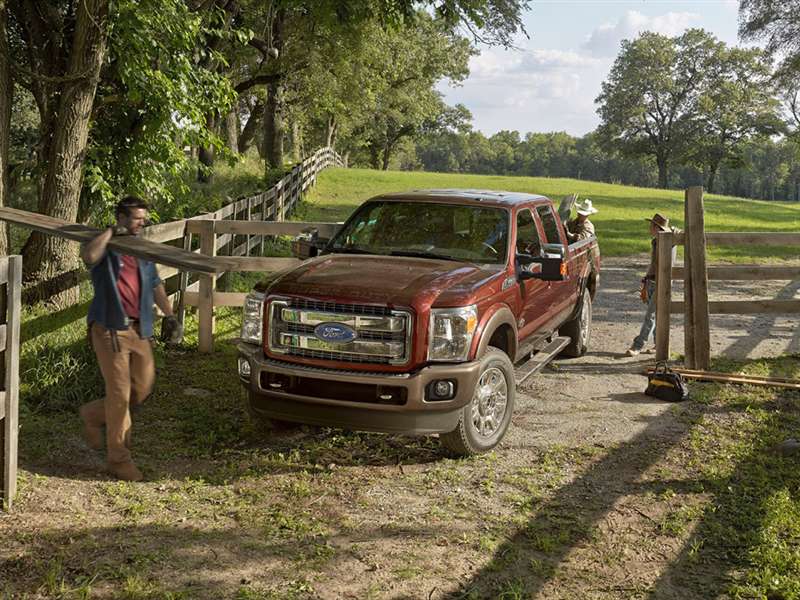 2015 Ford Super Duty F-450
The Blue Oval further ups the used dually ante with the 2015 Ford F-450. This big bruiser is most of the way toward being a Class 5 medium-duty truck—which means, despite its name, it's more robust than the so-called 3500 "heavy duty" pickups—and the 2015 model year brought major improvements to the automaker's available 6.7-liter Power Stroke diesel engine. Thus, the 2015 edition can pour out an extra 40 horsepower and 60 lb.-ft. of torque, for new totals of 440 and 860, and that also drives up the truck's maximum tow rating by 6,500 lb. With a new towing mark of 31,200 lb., the F-450 can out-pull all of its 3500 series rivals.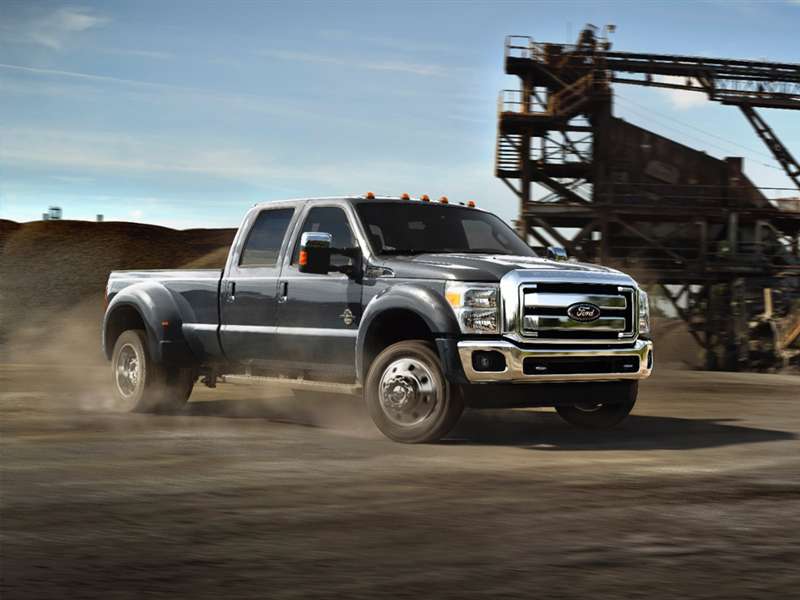 2012 GMC Sierra 3500HD
If you're searching for used dually trucks with a fair number of premium cues, yet want the affordability of a slightly older choice, we suggest considering the 2012 GMC Sierra 3500HD. The brand's heavy-duty pickups had just been refreshed for that model year, so that upper-level 3500 trims wear new chrome grilles and offer 17-inch polished-aluminum wheels. Additionally, a host of upscale options were added to the mix, allowing customers to combine work-friendly features, such as a 23,000-lb. towing limit and an Allison 1000 automatic transmission, with civilized options including a rear-seat entertainment system, a leather-appointed cabin, navigation, and Bluetooth connectivity. And that's without having to pay extra for the Denali name—although there's something to be said for going that route, as explained next.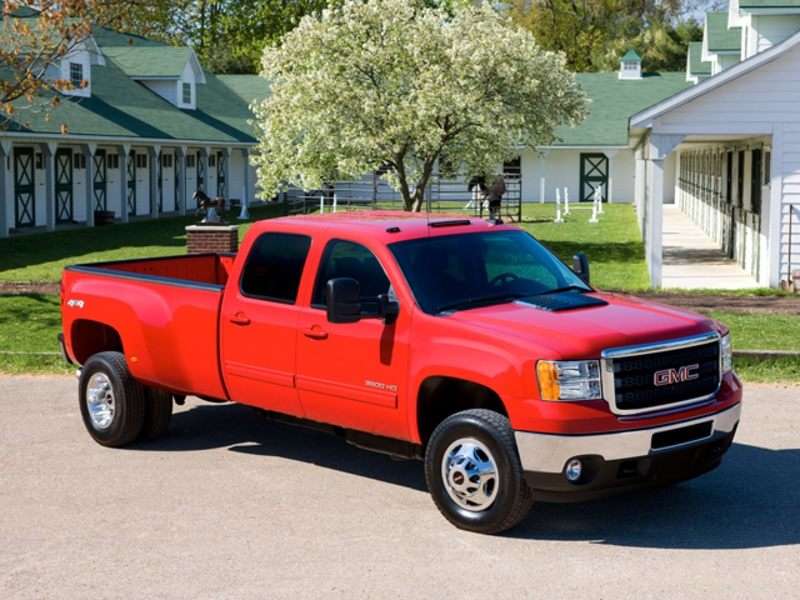 2015 GMC Sierra 3500HD Denali
More and more customers want their pickups to furnish premium amenities, and that holds true even when customers are looking for used dually trucks. Luckily, more and more are available, like the 2015 GMC Sierra 3500HD in the brand's range-topping Denali trim. This truck still touts the same sort of powertrain options and performance enhancers as the rest of the Sierra HD lineup, including 4-wheel drive, the CornerStep rear bumper and an EZ Lift and Lower tailgate. But it then gets the full Denali style and luxury treatment, from heated and ventilated, leather-appointed front seating to a Color Touch infotainment setup with an 8-inch screen, navigation and, in models built after September 2014, a mobile Wi-Fi hotspot.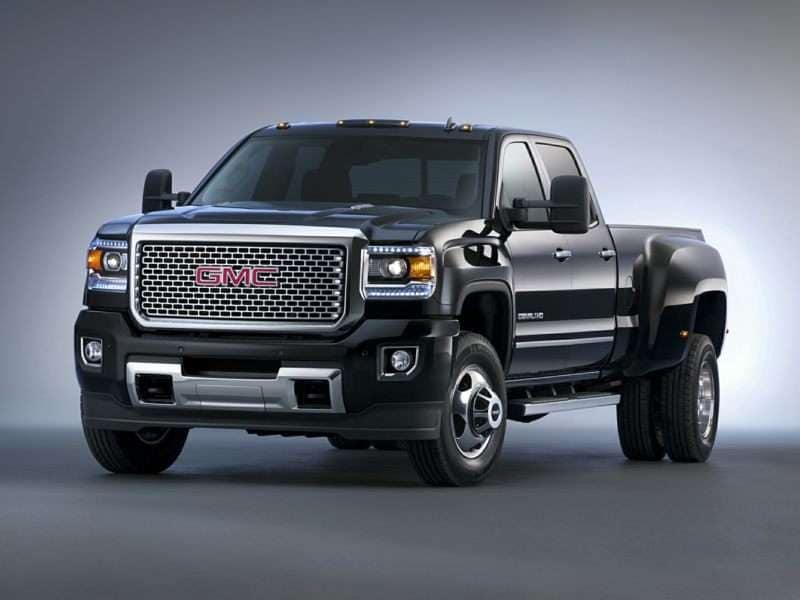 2014 Ram 3500
If you're shopping for used dually trucks that run on gasoline, the 2014 Ram 3500 Heavy Duty is a good place to start. After all, that was the first model year for the truck's 6.4-liter Hemi V8, which—as the largest engine in the segment at that time—could deliver a best-in-class 410 horsepower and 429 lb.-ft. of torque. The Ram's 2014 heavy-duty workhorse also serves up a 6.7-liter from Cummins, with that powerplant good for the best torque and tow ratings from a diesel engine during that period: 850 lb.-ft. and 30,000 lb. Also good for owners is the truck's available air suspension, and yes, that is available for duallies, and without affecting the vehicle's towing maximum.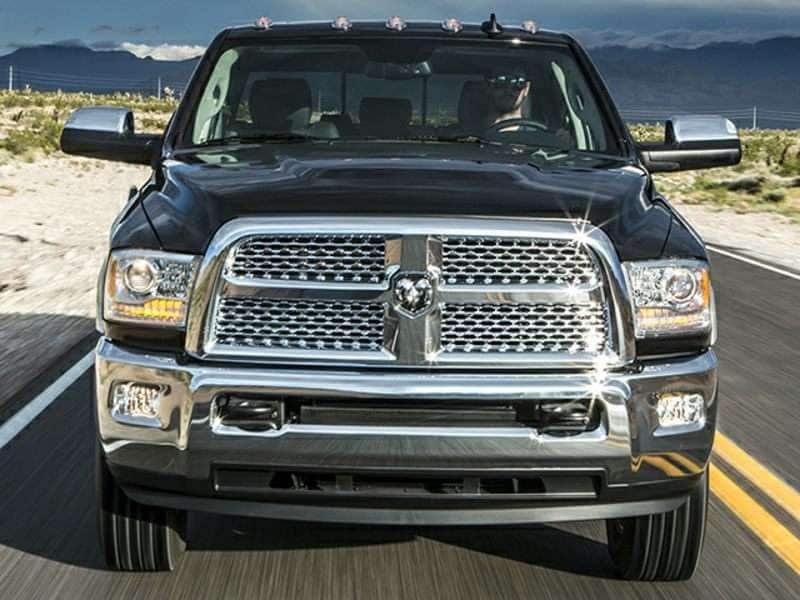 2012 Ram 3500 Laramie Longhorn
Nor is GMC the only brand to furnish premium appointments in used dually trucks. The 2012 Ram 3500 Laramie Longhorn can supply a lavishly detailed cabin with a leather-wrapped and heated steering wheel, leather-trimmed and heated/ventilated seating, and what Ram reports was the first 10-speaker surround-sound audio system in the segment. Also relevant: Mega Cab models had the most passenger volume and the most interior cargo space available at the time, allowing owners to bring a full crew on board. There's serious power on tap, too, with a high-output turbodiesel that cranks out 800 lb.-ft. of torque and a 383-horsepower Hemi gas engine—which also welcomed a new 6-speed automatic transmission for the 2012 model year.