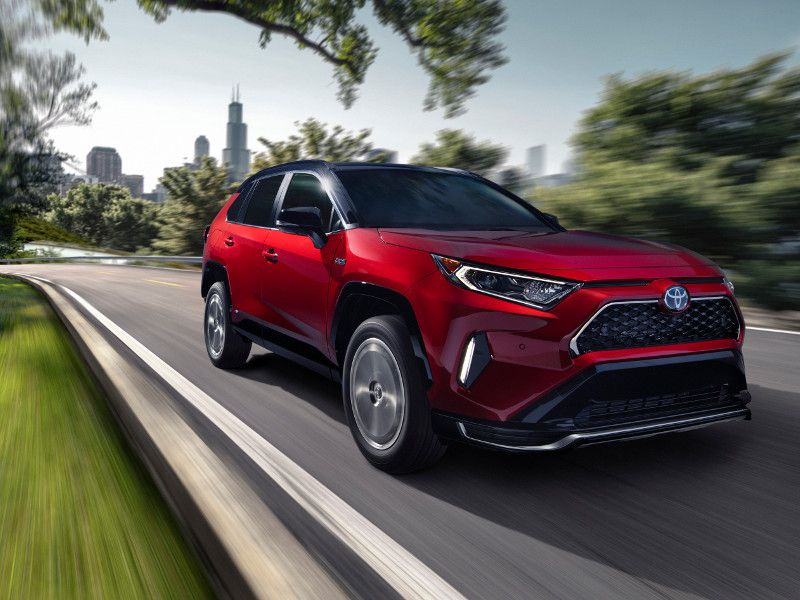 2021 Toyota RAV4 Prime ・ Photo by Toyota
Today's SUVs have gotten incredibly fuel-efficient, burning less gasoline than many sedans from just a few years ago. And you can magnify those gains if you choose one of the many great hybrid crossovers on sale today. 
These vehicles combine gasoline engines with electric motors to reduce fuel consumption. Some, called plug-in hybrids, even let you charge up at a power outlet for a dose of all-electric range before switching to regular hybrid operation. When you're ready for a roomy vehicle that sips fuel like a small car, it's time to take home one of these eight best hybrid crossovers. We've listed them in order of price. 
1. 2021 Kia Niro
You may not consider the Kia Niro a crossover. With no all-wheel drive and a subcompact body, you might just call it a tall hatchback or station wagon — not "crossed" with an SUV in any way. 
Still, with 54.5 cubic feet of cargo room, it's as useful as many crossovers. And it starts at just $24,690 with EPA ratings of up to 53 mpg in the city and 48 mpg on the highway. You can also get a plug-in hybrid that travels an EPA-estimated 26 miles per electric charge and then gets 46 mpg after the charge is used up. The Niro isn't fast or fancy; its gas engine and electric motor combine to produce a mere 139 horsepower. But if you don't need something bigger or more off-road capable, it's a terrific combination of utility and value.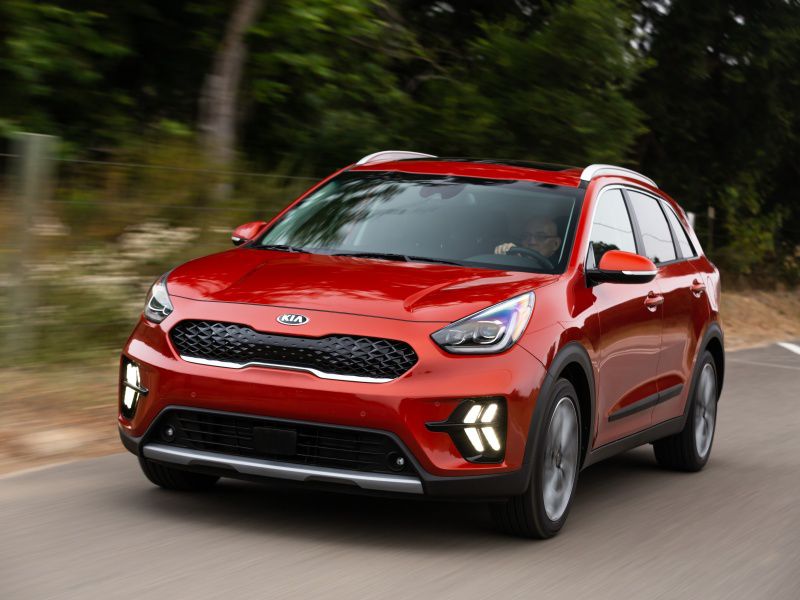 Photo by Kia
2. 2021 Toyota RAV4 Hybrid
The Toyota RAV4 Hybrid is typically the best-selling hybrid in America. It builds upon the RAV4 compact crossover, also the most popular model in its class; they share the same rugged-looking exterior and interior design, roomy cabin, and agreeably ride and handling. 
The hybrid is the better choice in multiple ways, though. Not only is it far more economical than the gas-only RAV4, especially in city driving, but this 219-horsepower crossover is quicker and quieter as well. Prices start at $28,800 with all-wheel drive as standard equipment, and the EPA estimates it will get 41 mpg in the city and 38 mpg on the highway. There's also a plug-in hybrid version of the RAV4 called the RAV4 Prime; it travels a whopping 42 miles per electric charge before averaging 38 mpg. It's quick, too — with 302 horsepower, it's faster than every Toyota except the six-cylinder version of the Supra sports coupe. No RAV4 feels like a luxury vehicle, but if you prefer an outdoorsy vibe, you won't mind anyway.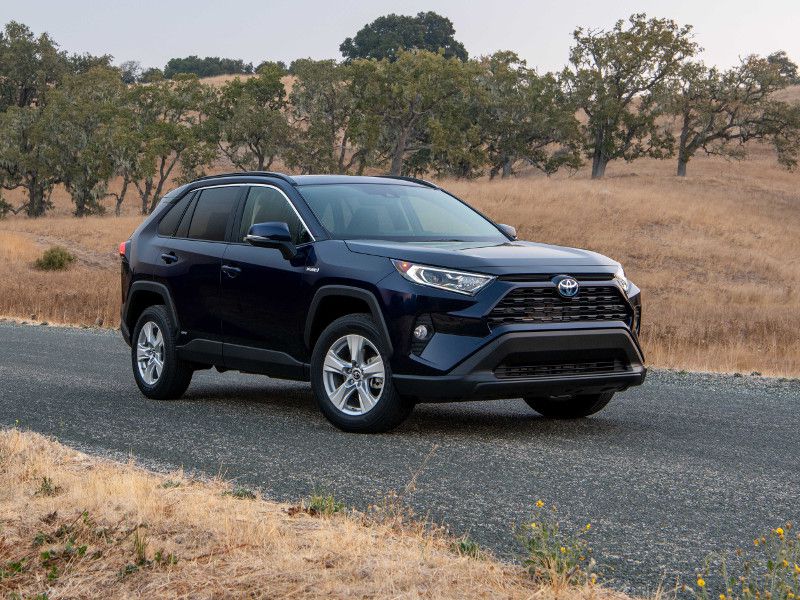 Photo by Toyota
3. 2022 Hyundai Tucson Hybrid
The RAV4 Hybrid faces several newly introduced challengers, including excellent gas-electric versions of the Honda CR-V and Ford Escape. But we're most impressed by the new 2022 Hyundai Tucson Hybrid. 
Every 2022 Tucson drives with composure, has an adult-friendly backseat, boasts class-leading cargo capacity of 80.3 cubic feet, and has edgy new styling. But while the gas Tucson has middling acceleration and fuel economy, the Tucson Hybrid earns up to 38 mpg in the city and 38 mpg on the highway — while its 227-horsepower powertrain provides livelier acceleration than the standard gas-only four-cylinder. A long list of standard features and three years or 36,000 miles of free scheduled maintenance further boost its value for the money. And its interior is more upscale and modern than competing compact hybrid crossovers. The RAV4 and Escape hybrids are slightly more economical than the Tucson Hybrid, but it's a small difference. Our only major objection: The biggest infotainment screen is paired only with touch-sensitive controls and no physical buttons and knobs. A plug-in hybrid model will also join the lineup later this year.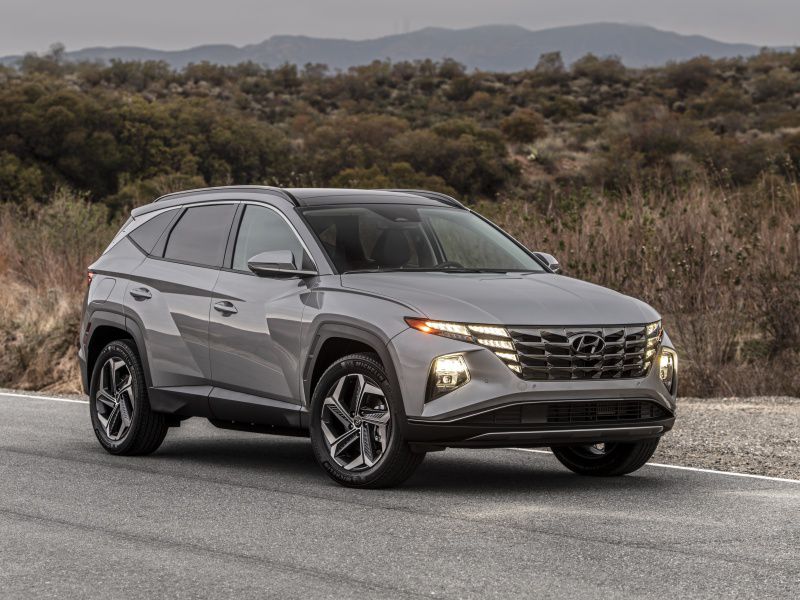 Photo by Hyundai
4. 2021 Kia Sorento Hybrid
When you want great gas mileage and three rows of seats, the new Kia Sorento Hybrid might be a winner. It's priced from $33,590 with plenty of standard equipment, including leatherette upholstery and a long list of safety features. It's less bulky than most mid-size crossovers and handles with more agility, and it shares the five-seat Tucson Hybrid's peppy 227-horsepower powertrain. (Hyundai and Kia have the same parent company.) 
The Sorento Hybrid delivers EPA estimates of 39 mpg in the city and 35 mpg on the highway; in our experience, the vehicle beats those numbers in stop-and-go conditions but falls short on the open freeway. Some families might also need a roomier interior; the Sorento Hybrid doesn't have a ton of cargo capacity or third-row legroom, and it's only sold as a six-seat vehicle. You can't get all-wheel drive, either. But when you want an economical commuter vehicle that can squeeze in extra passengers in a pinch, this Kia impresses.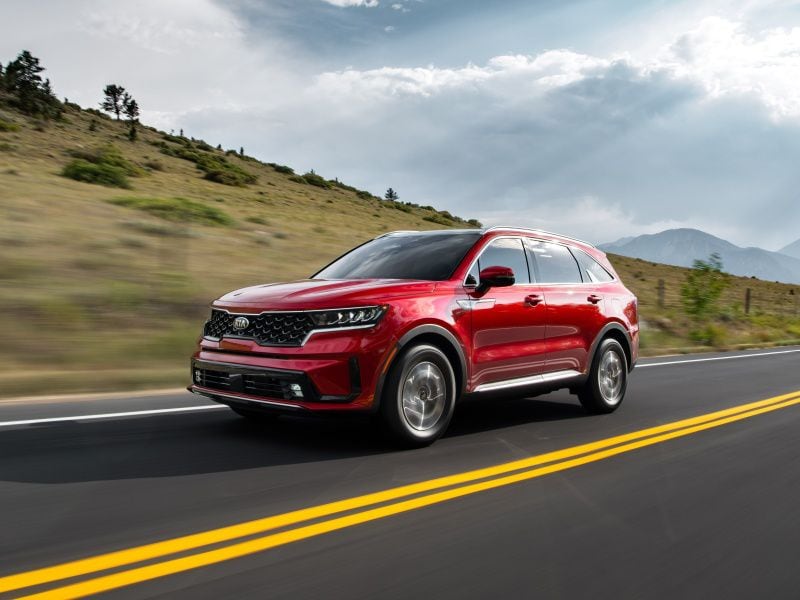 Photo by Kia
5. 2021 Toyota Highlander Hybrid
The Toyota Highlander Hybrid isn't as economical, agile, or affordable as the Sorento Hybrid, but with more interior room, seating for up to eight passengers, and available all-wheel drive, it's the more practical choice for many families.
The latest Highlander Hybrid ditched earlier generations' smooth, powerful V6 engine for a 243-horsepower four-cylinder powertrain. But what it gives up in luxury, it gains in efficiency: The EPA estimates it will achieve 36 mpg in the city and 35 mpg on the highway in its most efficient trim level. We wouldn't take one home before checking out the Toyota Sienna minivan, though; it has the same mechanical equipment as the Highlander Hybrid, but it significantly costs less, has significantly more space, gets slightly better gas mileage, and even has more upscale interior decor. The Highlander Hybrid is priced from $38,735 versus $34,460 for the Sienna van.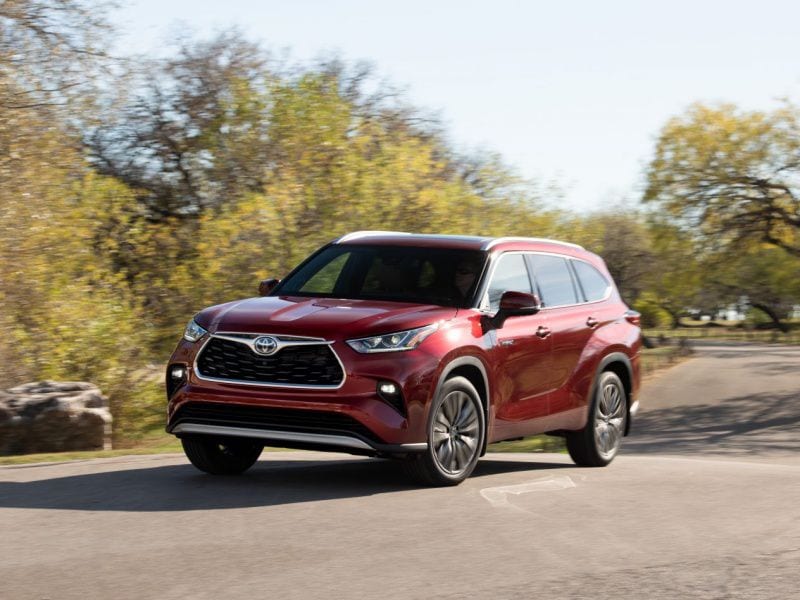 Photo by Toyota
6. 2021 Audi Q5 e
The last three of our eight best hybrid crossovers are luxury models. Most luxury hybrids are plug-in hybrids, which maximize their fuel savings on short trips with fully charged batteries. 
We'll start with the Audi Q5. It has a clunky name for its hybrid version: Q5 55 TFSI e. But the vehicle itself is anything but clunky. This is a top-notch compact luxury SUV, and the 362-horsepower hybrid powertrain gives it extra-zippy performance along with superior fuel economy. When there's no electric charge, mileage improves just 2 mpg to 27 mpg. But if you live within 10 miles of your office, its EPA-estimated 19-mile range would let you cover nearly your entire commute on electricity — and then take a weekend road trip with no range anxiety. That means the Q5 hybrid isn't for everyone, but for others, it's a fantastic option. Prices start at $51,900 and buyers qualify for a $6,712 federal tax credit.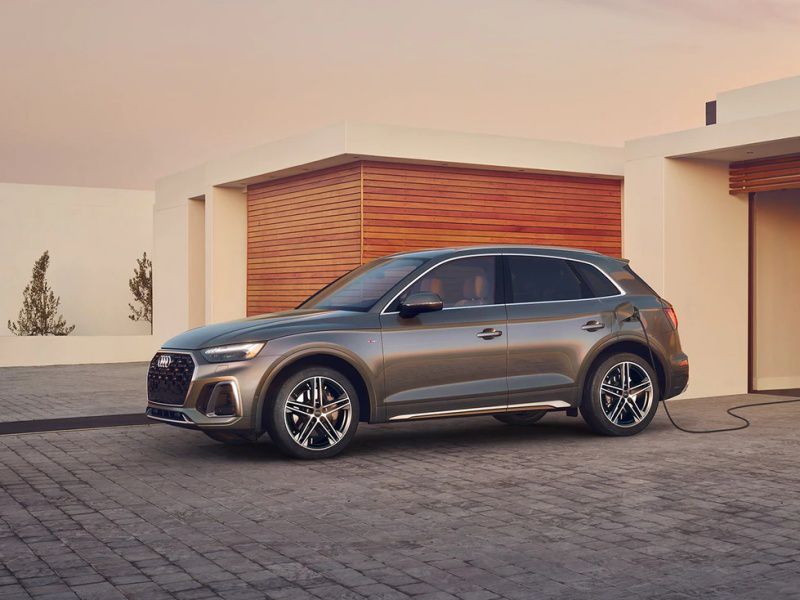 Photo by Audi
7. 2021 Volvo XC90 Recharge
The Volvo XC90 is another luxury plug-in hybrid with extra-quick acceleration (400 horsepower) and fuel economy that will work better for some than others (EPA-estimated range of 18 miles per charge and 27 mpg afterward). 
The XC90 Recharge starts at $63,450. It's a size larger than the Audi Q5, has three rows of seats, and includes more standard features. A $5,419 federal tax credit takes some sting off the price tag, too. This Volvo is neither thrilling nor as smooth-riding as we'd prefer, but its comfortable and beautifully finished interior are great assets even before you consider its hybrid performance and efficiency.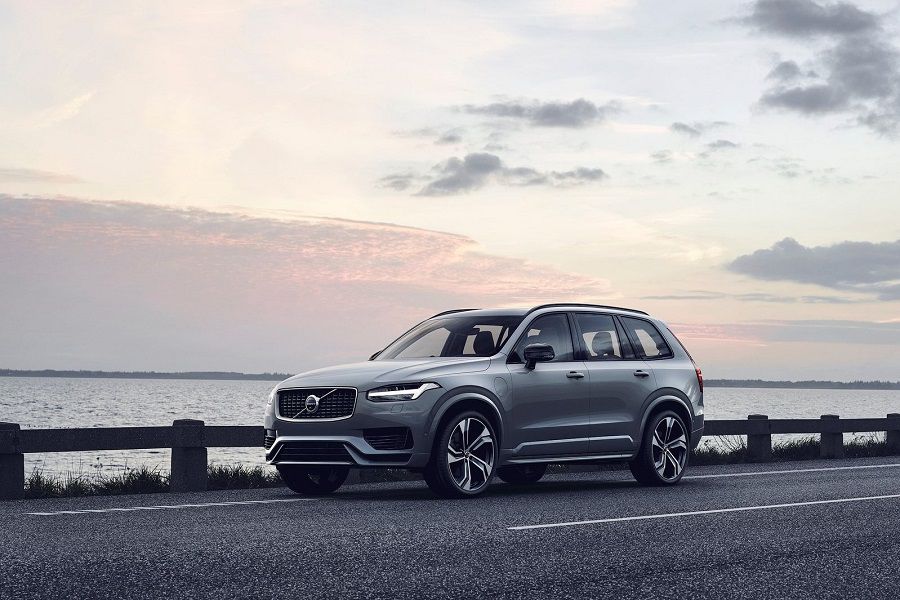 Photo by Volvo
8. 2021 Porsche Cayenne E-Hybrid
When you want to use an electric motor for grins as well as efficiency, the expensive but excellent Porsche Cayenne E-Hybrid is a winner. In addition to sports-car-like handling, the Cayenne Hybrid lives up to its brand reputation with a choice of 455-horsepower and 670-horsepower powertrains. 
The Cayenne Hybrid isn't the most economical option among the best hybrid crossovers. The EPA estimates it will only average 21 mpg after using up its 16-mile all-electric range. Still, the equivalently powerful gas-only Cayenne gets just 17 mpg; that means the hybrid is a 24 percent improvement even before you consider the time it doesn't burn any gasoline. If you're looking for speed with less guilt, yet aren't ready to take the plunge to a speedy all-electric crossover, the Cayenne E-Hybrid is one of the best. Just be prepared to pay up: The $6,712 federal tax credit only puts a small dent in the E-Hybrid's $81,800 base price.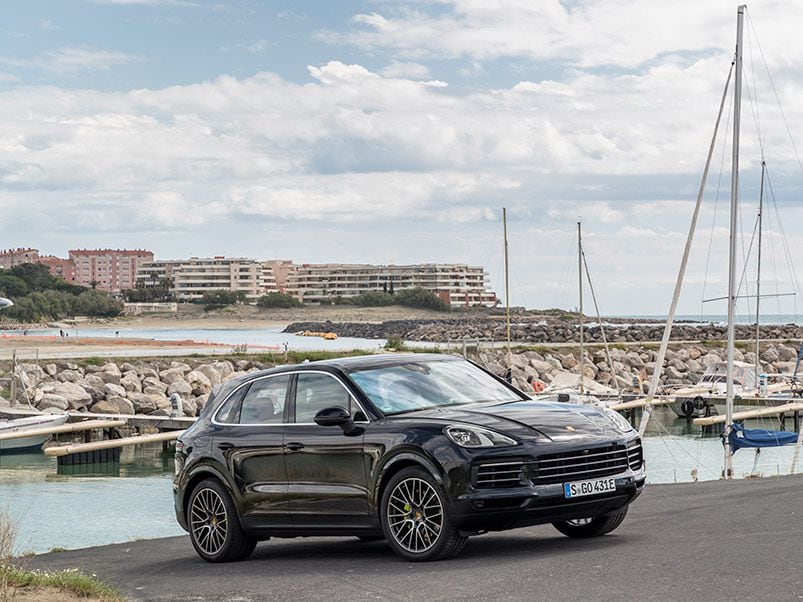 Photo by Porsche