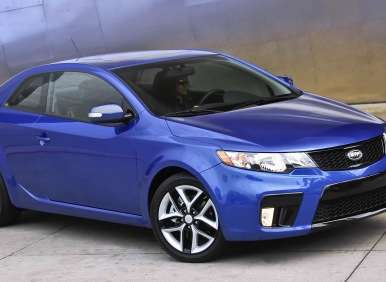 Small cars that look great, are fun to drive and don't cost an arm and a leg to park in your driveway? Yes, please. It's an excellent time to be an automotive enthusiast on a budget, with so many different brands building high quality compact coupes that deliver when it comes to all of the above-listed criteria.
It's not always easy to know which compact coupe is right for you, especially with the long list of intriguing options that are currently available. Let's take a look at eight affordable compact coupes that present a tempting combination of value and excitement.
01. 2012 Kia Forte Koup
The 2012 Kia Forte Koup is a surprisingly strong entry into the compact two-door market. Representing the first real competitive small car formula offered by the Korean brand, the Kia Forte Koup is available in both EX and SEX trims, with the latter providing a stiffer suspension system, nicer wheels and a sportier interior.
The 2012 Kia Forte Koup starts out with a 2.0-liter, four-cylinder engine pulling duty under the hood. Rated at 156 horsepower and 144 lb-ft of torque, this unit bows to the Koup SX's 2.4-liter four-cylinder when it comes to performance thanks to the latter's additional 17 horses and 24 lb-ft of extra torque. Transmission choices for the Forte Koup include a six-speed manual and a six-speed automatic, and while the smaller engine might not offer as much grunt as its bigger brother it does boast better fuel mileage (26-mpg city / 36-mpg highway).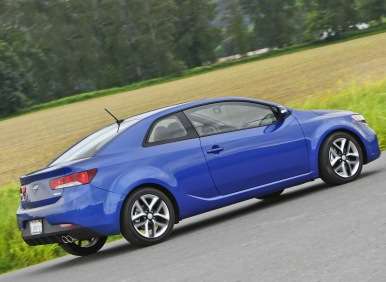 02. 2012 Hyundai Genesis Coupe
The 2012 Hyundai Genesis Coupe takes a different tack when approaching the compact coupe concept. The Hyundai Genesis Coupe offers a rear-wheel drive setup that is more rewarding to take to the track than most front-wheel drive competitors, and it can also be ordered in Track and R-Spec trims which dial up the performance through the addition of suspension and brake upgrades (amongst other improvements).
The 2012 Hyundai Genesis Coupe offers two distinct power paths for gearheads attracted by its sleek lines. The 2.0-liter, turbocharged four-cylinder base motor is a tuner's dream, with a number of tweaks capable of improving on its stock rating of 210 ponies and 223 lb-ft of torque. Bigger numbers are available right out of the box through the selection of the Genesis Coupe's 3.8-liter V-6, which puts down 306 horsepower and 266 lb-ft of torque. The turbocharged motor can be matched with either a six-speed manual or five-speed automatic, while the V-6 sees an additional forward gear for the autobox. Fuel economy for the turbo Genesis is superior to the six-cylinder model, checking in at 21-mpg around town and 30-mpg highway.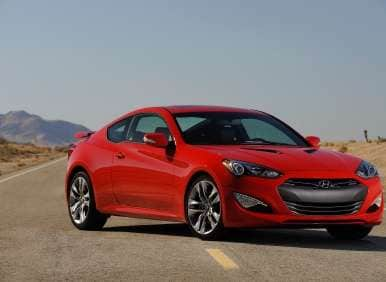 03. 2012 Honda Civic Coupe
The 2012 Honda Civic Coupe has been completely redesigned for the current model year, and it comes with revised styling, evolutionary changes to the interior and a number of mechanical improvements. The Honda Civic Coupe is also sold in the Si trim, which installs a host of performance gear including a rear spoiler, grippier seats and a limited-slip front differential.
The 2012 Honda Civic Coupe features a 1.8-liter, four-cylinder entry-level engine that develops 140 horsepower and 128 lb-ft of torque. Fuel economy for this thrifty mill is rated at 29-mpg around town and 41-mpg during highway cruising, and buyers can select from either a five-speed manual or automatic transmission. The Civic Si swaps in a 201 horsepower, 2.4-liter four-cylinder that also generates 170 lb-ft of torque. A six-speed manual is the only available Si gearbox.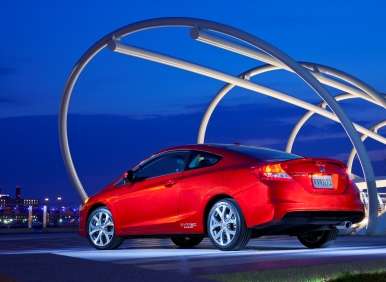 04. 2012 Ford Mustang
The 2012 Ford Mustang is capable of delivering not just V-8 performance but also stout acceleration and impressive fuel economy from its standard V-6 drivetrain. The Ford Mustang provides retro-themed muscle car styling and the availability of a long list of different options packages that can give it both race car looks and race car performance.
The 2012 Ford Mustang's 3.7-liter V-6 steps up to the plate with 305 horsepower and 280 lb-ft of torque on tap - gaudy numbers considering its fuel mileage rating of 19-mpg in city driving and 31-mpg on the highway. The Mustang GT provides a completely different driving experience thanks to the inclusion of a 5.0-liter, 414 horsepower V-8 that also puts down 390 lb-ft of torque. A six-speed manual transmission is included free of charge with either model while a six-speed automatic is also available.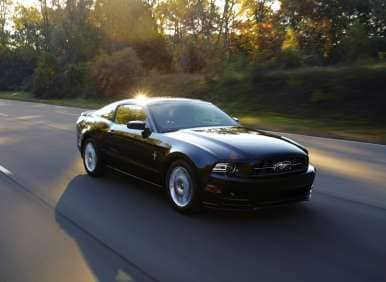 05. 2012 Scion tC
The 2012 Scion tC marches to the beat of the Toyota sub-brand's fashion-forward drum, which means that the compact coupe scores big in the style department. The Scion tC also benefits from the availability of Scion's extensive in-house customization and accessory program, which offers owners the chance to add a personal touch to the vehicle with unique trim pieces, high performance mechanical components or electronic gadgets and entertainment features.
The 2012 Scion tC is exclusively offered with a 2.5-liter, four-cylinder engine that can be counted on to produce 180 horsepower and 173 lb-ft of torque. Fuel mileage for this engine checks in at 23-mpg in stop and go driving and 31-mpg on the highway, and transmission choices for the coupe include a six-speed manual and a six-speed automatic.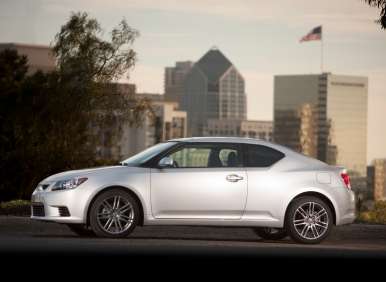 06. 2013 Subaru BRZ
Although it has yet to make it to North American dealerships the 2013 Subaru BRZ is a hotly anticipated newcomer to the compact coupe segment. The Subaru BRZ was designed from the ground up to feature a tossable chassis, lightweight maneuverability and the kind of look-at-me styling that has been missing from recent iterations of the Subaru lineup. The BRZ also stands tall as the first rear-wheel drive Subaru to ever be offered in the United States.
The 2013 Subaru BRZ is outfitted with a 2.0-liter flat four-cylinder engine that has been mounted as low and as far back from the front of the car as possible in order to enhance handling. The unit's 200 horsepower and 151 lb-ft of torque are a solid match for the car's low-mass design, and gearbox options for the BRZ include a six-speed manual and a six-speed automatic. Drivers can expect fuel mileage of 19-mpg when driving in the city and 27-mpg on the highway.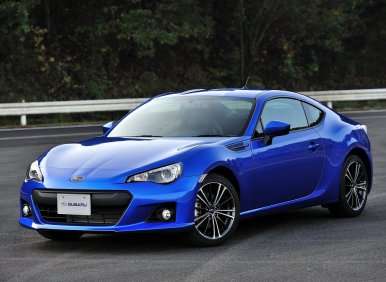 07. 2012 Chevrolet Camaro
The 2012 Chevrolet Camaro's hard-edged contemporary take on the hallowed '69 Camaro's look and feel has played a significant role in attracting buyers to showrooms. The Chevrolet Camaro also throws in a heaping helping of horsepower as well as the availability of a decent level of luxury equipment on the options list to help keep compact coupe shoppers interested.
The 2012 Chevrolet Camaro's base power plant is a 3.6-liter V-6 that offers 323 horsepower and 278 lb-ft of torque while returning fuel economy figures of 19-mpg city and 30-mpg on the highway. The Camaro SS lights a fire under the tires thanks to its 426 horsepower, 6.2-liter V-8 that also grinds out an appreciable 420 lb-ft of torque. A six-speed manual transmission and a six-speed automatic can be matched with either engine. Muscle fans take note: the self-shifting V-8 drops a fair amount of power in order to protect the autobox's delicate internals.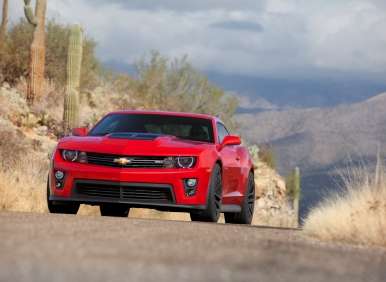 08. 2012 MINI Cooper Coupe
Although considerably smaller than most of the other contenders on this list, the 2012 MINI Cooper Coupe deserves a mention amongst compact contenders. The MINI Cooper Coupe is an arresting style exercise from the British automaker, and the vehicle's two-seat setup, helmet-head roofline and elegantly turned-out interior will draw considerable attention from those looking for a fun daily driver.
The 2012 MINI Cooper Coupe begins with a 1.6-liter, four-cylinder engine that produces 121 horsepower and 114 lb-ft of torque - figures which are well-suited to accelerating the lightweight Coupe's platform with authority. Opting for the S trim level adds a turbocharger to the equation to push the same motor to the 181 horsepower and 177 lb-ft of torque plateau. A six-speed manual tranny is standard, with a six-speed automatic also on tap as an option. Fuel economy for the Coupe shows as 29-mpg city and 37-mpg highway.