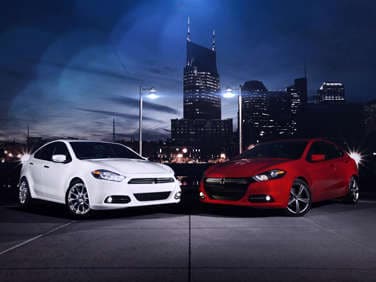 At this year's North American International Auto Show in Detroit, Michigan, all eyes were on Dodge unveiling the brand new 2013 Dodge Dart compact car. The 2013 Dodge Dart is the first entry-level sedan offered by the domestic brand in a number of years, and it will play an important role in drawing younger buyers to the company's showrooms. The Dodge Dart is up against some stiff competition in the compact segment, however, with a good number of appealing options currently available for bargain-conscious shoppers.
Let's take a closer look at the 2012 Dodge Dart as part of our list of eight compact cars worthy of a test drive.
01. 2013 Dodge Dart
Peel away the skin of the 2013 Dodge Dart and you will find Italian engineering from Alfa Romeo underpinning the compact sedan. The Dodge Dart is based on the the Alfa Romeo Giulietta and it represents one of the first forays into platform sharing between Dodge and corporate parent Fiat.
Slightly larger than its European cousin, the 2013 Dodge Dart benefits from the availability of three new four-cylinder engines. The first is the 2.0-liter "Tigershark" that generates 160 ponies, followed a 1.4-liter, turbocharged Multiair unit that also pushes out the same amount of horsepower. At the top of the range for the Dart is a 2.4-liter "Tigershark" engine that is good for 184 horsepower. Dodge has promised that six-speed manual, dual-clutch automated manual and traditional automatic transmissions will be available with the vehicle, along with over 150 Mopar accessories intended to help drivers customize their rides. The Dart is targeting fuel economy of 40-mpg in its most efficient form when it goes on sale in the near future.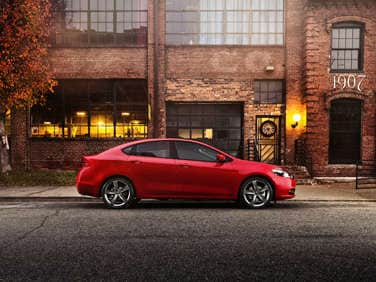 02. 2012 Ford Focus
The 2012 Ford Focus proves that it's possible to build an inexpensive automobile without sacrificing driving dynamics in the process. Available as both a sedan and a hatchback, the Ford Focus' chassis and suspension are perfectly happy to be pushed through the corners yet do not exhibit any undue harshness when driven around town at standard cruising speeds. The Fiesta also offers a host of intriguing technologies including the SYNC vehicle interface, an automated parking system and even an upcoming electric edition of the car.
The 2012 Ford Focus makes use of a 2.0-liter, four-cylinder motor that generates 160 horsepower and 146 lb-ft of torque. A six-speed manual transmission is provided free of charge with the compact, while a six-speed dual-clutch automated manual can also be ordered. Fuel economy for the thrifty Ford shows as 28-mpg in city driving and 38-mpg on the highway.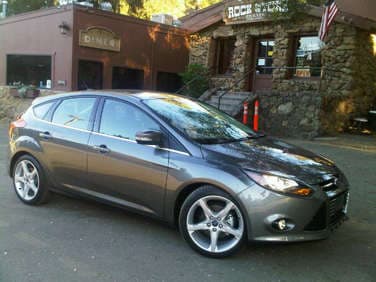 03. 2012 Chevrolet Cruze
The 2012 Chevrolet Cruze is the linchpin in GM's small car strategy, providing its first real competitive effort in the compact marketplace in decades. The Chevrolet Cruze can be had in trim levels ranging from fuel economy-focused all the way up to the sporty RS package, which gives the sedan more capable handling and an aggressive interior and exterior appearance.
The 2012 Chevrolet Cruze starts out with a 1.8-liter, four-cylinder engine under the hood that is good for 136 horsepower and 123 lb-ft of torque. Fuel mileage for this mill checks in at 25-mpg city and 35-mpg highway. A 1.4-liter, turbocharged four-cylinder is also available with the Cruze, and while it provides the same amount of horsepower as the larger unit it manages to squeeze out a heftier 148 lb-ft of torque and deliver improved fuel economy figures of up to 28-mpg city and 42-mpg highway. Transmission choices for the Chevrolet include a six-speed auto and a six-speed manual.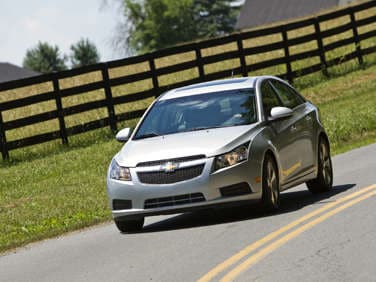 04. 2012 Volkswagen Golf
The 2012 Volkswagen Golf is a compact hatchback aimed at buyers looking to get behind the wheel of something that feels a bit more premium than the competition. The Volkswagen Golf, which offers two and four-door body styles, trades on its overall sporty demeanor combined with one of the most elegant interiors to be found in an entry-level car.
The 2012 Volkswagen Golf provides one gasoline and one turbodiesel drivetrain to choose from. The 2.5-liter, five-cylinder gas unit has been tuned to provide 170 horsepower and 177 lb-ft of torque, while the 2.0-liter four-cylinder turbodiesel offers up 140 horses and a commendable 236 lb-ft of twist. Fuel economy for the former is rated at 23-mpg city and 33-mpg highway, while the latter ups the ante considerably with an estimated 30-mpg around town and 42-mpg on the highway. The gas Golf can be ordered with either a six-speed manual or six-speed automatic gearbox, while the turbodiesel replaces the standard automatic with a six-speed dual-clutch automated manual.
05. 2012 Hyundai Elantra
The 2012 Hyundai Elantra is exciting to look at and equally impressive in terms of the amount of gear that comes with the model at a reasonable price. The Hyundai Elantra can be equipped with air conditioning, an iPod interface, heated mirrors, heated front and rear leather seats, a navigation system and Bluetooth integration, all of which makes it a formidable compact choice for feature-hungry shoppers.
The 2012 Hyundai Elantra's 1.8-liter, four-cylinder base motor puts out 148 horsepower and 131 lb-ft of torque and benefits from a standard six-speed manual transmission. The Elantra also comes with the option of a six-speed automatic, and fuel economy for the 1.8-liter engine is advertised as 29-mpg city and 40-mpg highway.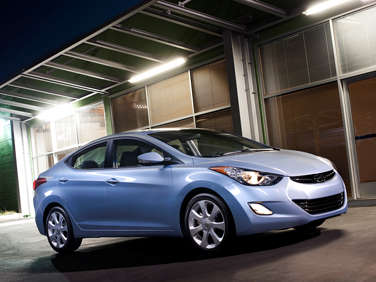 06. 2012 Mazda MAZDA3
The 2012 Mazda Mazda3 continues the Japanese brand's tradition of incorporating some of its sports car DNA in almost all of its models, no matter how affordable or practical they are intended to be. Sedan and hatchback editions of the Mazda MAZDA3 ensure that the vehicle is available with a reasonable amount of utility, and the MAZDASPEED3 factory hot rod adds a serious performance flair to the compact car's lineup.
The 2012 Mazda MAZDA3 is initially outfitted with a 148 horsepower, 2.0-liter four-cylinder engine. Also good for 135 lb-ft of torque, this motor is shifted through either a five-speed manual or a five-speed automatic and delivers fuel economy of 25-mpg city and 33-mpg highway. Somewhat confusing is the availability of a newer, Skyactiv engine that displaces the same 2.0-liters as the entry-level unit but pushes out 155 horses and 148 lb-ft of torque while simultaneously boosting fuel mileage to 28-mpg city and 40-mpg highway. Six-speed auto and manual gearboxes are offered with the Skyactiv drivetrain. A 2.5-liter four-cylinder is also offered on top of the line editions of the MAZDA3, and it improves power production to 167 horsepower and 168 lb-ft of torque. Transmission options for this engine lose a forward cog compared to the Skyactiv models, and fuel mileage drops to 20-mpg around town and 28-mpg highway.
07. 2012 Subaru Impreza
The 2012 Subaru Impreza is an all-new effort that dramatically enhances the efficiency of the market's only standard all-wheel drive sedan and hatchback pairing. Lighter, more stylish and with a higher rent interior the 2012 Subaru Impreza manages to distance itself from the previous year's model in the best way possible.
The 2012 Subaru Impreza features a downsized four-cylinder engine as its only available option for the current edition of the car. The 2.0-liter motor offers 148 horsepower and 145 lb-ft of torque, which is a downgrade from 2011's numbers - but in practical terms, the low mass design ensures similar acceleration and passing power. The revised engine and choice of either a continuously-variable automatic transmission or a five-speed manual helps the Impreza deliver fuel mileage of up to 27-mpg city and 36-mpg highway, giving it firmer footing to stand on in an increasingly efficient compact class.
08. 2011 Toyota Corolla
The 2011 Toyota Corolla is the old stand-by of the compact car world. The Toyota Corolla hasn't been updated in several years and it doesn't have any particularly advanced technologies to brag about. What it does offer, however, is conservative and approachable styling, a smooth ride and Toyota's reputation for reliability.
The 2011 Toyota Corolla keeps things simple in the drivetrain department with a 1.8-liter, four-cylinder engine. The motor's 132 horsepower and 128 lb-ft of torque are enough to keep up with the flow of traffic, and transmission choices are limited to a five-speed manual and a four-speed automatic. Fuel economy for the Corolla checks in at 28-mpg city and 35-mpg highway when the shift-it-yourself gearbox is selected.